Picking a name brand for quartz can be hard. Sure, big names like Cambria and Vicostone help but are they really different? Yes, every brand is different.
Vicostone and Cambria have multiple differentiating factors too. Build, sizing, design, and colors are the major ones you'll see.
Quartz is like neutral color, it goes with pretty much everything. There are lots of options for quartz slabs like Vicostone and Cambria.
So which one should you pick? Here is a side-by-side comparison to help you decide.
A Quick Summary of Comparison
| | | |
| --- | --- | --- |
| Feature | Vicostone Quartz | Cambria Quartz |
| Build | Vietnam-made, higher heat resistance rating | USA-made, no official heat resistance rating |
| Sizing | Two sizes, 4 thickness options | Two sizes, 3 thickness options |
| Color and designs | Almost 100 designs and 5 finishes | Over 140 designs, 2 finishes |
And that's the gist of it all. If you want the detailed breakdown, keep reading!
Key Differences Between VICOSTONE And Cambria Quar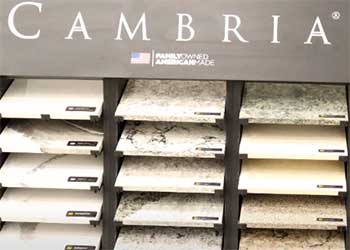 As quartz manufacturers, Vicostone and Cambria don't have many differences.
Both are high-quality, have a wide range of products, and are known for good service.
This is why picking one from these two is pretty hard. But don't worry, it isn't impossible.
There aren't many differences but there are some.
And these differences are big enough to set these two brands apart. Build, sizing, color, and design; there are more than you'd think.
Let's see how these differences work out in both Vicostone and Cambria.
Vicostone and Cambria both are top-notch in this department. They're durable and sturdy. The difference is their components (according to their representatives) and heat resistance rating.
Vicostone is a Vietnam-based product. But don't let that fool you, there's a reason why people trust Vicostone so much.
The types of quartz they use are some of the most high-quality ones you'll see. Vicostone representatives claim their slabs are made of 99% quartz and the rest is other elements.
Vicostone quartz also comes with a clear heat-resistance rating. They can stand up to 200F according to their words. That doesn't translate to much in real life but having an actual rating definitely helps.
Cambria has a different material composition. They are 93% quartz and the rest is other chemical components. Cambria also doesn't have an official heat resistance rating so that's a downer.
Either way, Vicostone isn't too far ahead. Not having an official rating doesn't mean a lower rating.
And considering how pretty much all quartz slabs use 93% quartz, Vicostone's claim of 99% is probably by weight only.
Sizing is one of the biggest pains in the butt when it comes to quartz surfaces. The slabs can be too big or too small, and there's the issue of the seams too. Vicostone and Cambria both have very similar-sized slabs. The difference is mostly in thickness and seaming.
Vicostone slabs come in two sizes- regular and jumbo. The regular slab is 56" x 120" and the jumbo one is 65" x 129". Their strong point is the thickness options.
Vicostone quartz slabs come in 4 thickness options whereas most brands usually come in 3 options. You have the classic 1-3 cm thickness and then an extra 1.2 cm.
Cambria is really close in size. Their slabs also come in two sizes- regular and jumbo. The regular slab size is 55.5" x 122" and the jumbo one is 65.5" x 132".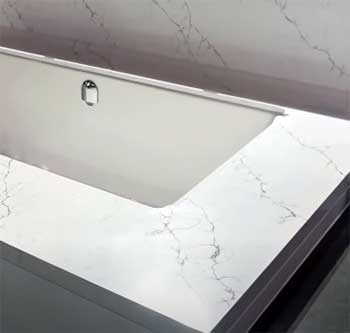 So the slab sizes are pretty similar to Vicostone, you just get a little extra length in Cambria slabs.
Another point to note is the seaming. Vicostone slabs are smaller and they're made for smaller spaces.
Even then you'll get seams for sure because one slab usually doesn't cover one whole area.
Cambria seams are more visible if you order custom sizes.
You get the regular connecting seam from Cambria slabs when you do the usual surfaces.
But if you order the slabs in custom size for bigger areas, the manufacturers might connect two slabs to make the piece.
That means it will come with seams and depending on the architecture, will show more seamlines after the job is done.
And here comes the visual part. One of the strongest points of Cambria is its wide range of designs. Vicostone has a pretty wide range too but not like Cambria.
The advantage of Vicostone is in the finish. They offer 5 whereas Cambria offers 2.
Vicostone offers around 100 distinct designs. Most of them are subtle and low-key patterns.
There are flashier options, but they are like token options. The plus point of muted patterns is that they go with almost every color palette.
Other than 100 designs, Vicostone also has 5 finishes you can pick from. They have polished (glossy), honed (smooth), eggshell (smooth but less reflective), brushed (textured), and antique finish (textured and aged).
Vicostone slabs don't have a completely matte finish, the closest to matte is eggshell.
Cambria is much richer when it comes to designs. They have over 133 designs in pretty much all tones.
Cambria's signature pattern is slightly bigger and bolder grains. Most of these designs are better suited for big commercial spaces.
Cambria is slightly behind in the finishing department. They only have glossy and matte. But the color and design range easily make up for finish options.
Which Quartz Should You Go For?

As you know now, both Vicostone and Cambria have their own pros to offer. With how close the comparison is, it is a little hard to pick one.
But don't worry, it isn't impossible. You'll just have to do some trade off in your head to decide what you want.
If you want more finish and thickness options or don't want to focus on designs only, Vicostone is a good option. They're easily available and you can also cut back on costs a little.
If you want more stand-out options, need more design options, and can manage to splurge a little then nothing will beat Cambria.
Their designs never miss and you'll get more edge profiles. Cambria also has a better warranty option so that's another plus.
The only problem is, Cambria is hard to access because they don't sell through local resellers. If you can get your hands on it, Cambria is the best option here overall.
Frequently Asked Questions (FAQ)
Here are a bunch of questions people usually ask about Vicostone, Cambria, and quartz in general.
Is VICOSTONE a good quality quartz?
Yes, Vicostone is one of the best quartz brands in an affordable price range.
What quartz is comparable to Cambria?
That depends on personal preferences but Zodiaq quartz is Cambria's biggest competitor.
Which brand quartz is best?
That depends on your personal preference. But the leading contenders would be Cambria, Silestone, Zodiaq, Vicostone, and Pompeii.
Where is VICOSTONE manufactured?
Vicostone quartz is manufactured in Hanoi, Vietnam.
Final Verdict
Picking one quartz brand is hard when there are so many good options. That's why there's a whole Vicostone and Cambria quartz debate.
It all comes down to preference but if you had to choose one, Cambria would be the better choice overall.