When it comes to choosing new countertops for your kitchen or bathroom, quartz has become an increasingly popular option thanks to its durability, low maintenance, and stylish appearance.
Two of the top brands for quartz countertops are Viatera and Cambria, but deciding between the two can be tricky. This guide will break down the key differences, pros and cons of Viatera and Cambria quartz to help you make the right choice for your home renovation or new construction project.
A Brief Comparison Table
| | | |
| --- | --- | --- |
| Feature | Viatera | Cambria |
| Number of Designs | About 50 | Over 140 |
| Finishes Available | Naturale, Lustro | Naturale |
| Price Range | $$-$$$ | $$-$$$$ |
| Brand Origins | LG Hausys, South Korea | Based in Minnesota, USA |
| Antimicrobial Protection | Advanced Hygienic Technology | Built-in Bacteriostatic Protection |
| Warranty | 25 years | Limited lifetime |
| Availability | Special order | Widely available |
| Maintenance Needs | Very low | Occasional sealing recommended |
| Color Consistency | Excellent, minimal variation | Very consistent |
| Durability | Extremely durable and scratch resistant | Extremely durable and scratch resistant |
Overview of Viatera Quartz
Viatera is a premium quartz surface produced and distributed by LG Hausys, a division of the LG Corporation based in South Korea. It was first introduced to the US market in 2013.
Some key facts about Viatera quartz: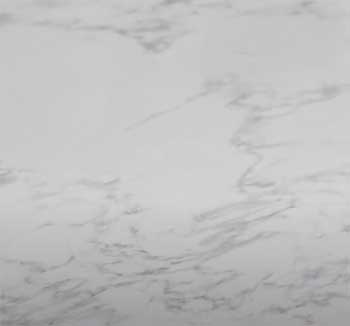 Over 90% natural quartz making it highly durable and scratch-resistant
Contains LG's patented Advanced Hygienic Technology to inhibit bacteria growth
Available in a wide range of colors and patterns including realistic marble and stone looks
Carries a limited lifetime warranty
Priced in the upper-mid to high price range for quartz
LG uses state-of-the-art Bretonstone technology from Italy to manufacture Viatera slabs, giving the quartz an incredibly smooth, consistent appearance.
It's available in a variety of colors and patterns to suit any design aesthetic.
Overview of Cambria Quartz
Cambria is one of the most well-known and popular premium quartz brands in the US and Canada. Based in Minnesota, Cambria has been making quartz surfaces since 2000.
Some key facts about Cambria quartz: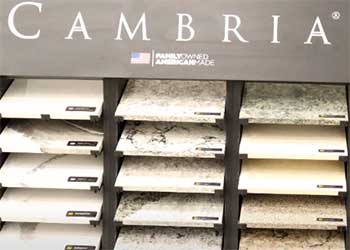 Made from about 90% natural quartz and 10% polymer resins
Available in over 140 unique designs including realistic marble and stone
Features bacteriostatic technology to inhibit bacterial growth
Offers a limited lifetime warranty
Upper-mid to high price range
Cambria uses the latest Bretonstone machinery to produce incredibly smooth slabs with consistent color and pattern distribution. Their collection of designs is constantly growing and uses new technology to achieve stunning visuals.
Key Feature Comparison of Viatera And Cambria
Now that you know the basics about each brand, here's a detailed look at how Viatera and Cambria quartz stacks up across some of the most important factors:
Appearance
Both Viatera and Cambria offer beautiful styles ranging from solid colors to realistic stone and marble patterns. Cambria has over 140 designs compared to around 50 from Viatera.
Viatera and Cambria have naturale finish for a matte look. Viatera also offers lustro which has more shine.
The quartz used in both brands has low black and brown speckling for a cleaner, more upscale look.
Color and pattern consistency is excellent with both Cambria and Viatera.
Durability
As engineered quartz products containing over 90% crushed quartz, both Viatera and Cambria are extremely durable and scratch resistant.
Both brands are nearly maintenance free and resistant to most stains, etching and heat.
Viatera and Cambria have excellent flexural and tensile strength meeting kitchen countertop needs.
With proper care, both options can potentially last a lifetime.
Quality
Viatera and Cambria use top notch Bretonstone manufacturing technology for density and polish.
Quality control is rigorous for both brands to ensure color consistency slab to slab.
The warranty lengths reflect the excellent quality – Viatera offers a limited lifetime warranty while Cambria warrants for as long you own your home.
Bacteria Resistance
Both quartz products contain antimicrobial technology to inhibit bacteria growth.
Viatera uses LG's Advanced Hygienic Technology while Cambria has builtin bacteriostatic protection.
This makes Viatera and Cambria ideal for kitchens and bathrooms where reducing bacteria is essential.
Price
Viatera and Cambria cost ranges are similar – from about $60 per square foot installed on the low end, up to $100 per square foot for premium selections.
Cambria's lower cost Value Collection starts at around $55 per square foot. Viatera's least expensive options are around $65 per square foot.
The pricing overlaps quite a bit, but Cambria may have more lower cost choices.
Colors/Patterns
Cambria has a much wider range of unique designs – over 140 choices compared to Viatera's 50 options.
Both brands offer popular marble looks and trendy options resembling natural stone.
Viatera has less dramatic variation between slabs for a more uniform appearance.
Pros and Cons of Viatera Quartz Countertops
Now that we've directly compared the two brands, let's break down the advantages and disadvantages of choosing Viatera quartz for your home:
Pros
Minimal speckling results in a very smooth, clean appearance
LG's unique Advanced Hygienic Technology provides antimicrobial protection
Durable, scratch-resistant, and essentially maintenance free
Stylish range of colors from neutrals to bold standouts
Distinctive patterns including realistic marble and concrete
25 year limited warranty provides peace of mind
Cons
Less unique design options compared to other leading brands like Cambria
Lustro finish can show fingerprints, smudges, and water spots more readily
Not widely available – may require special order and longer lead times
LG has less name recognition compared to Cambria in the quartz industry
On the whole, Viatera offers high performing and stylish quartz in a more limited range of options compared to other premium quartz brands.
Pros and Cons of Cambria Quartz Countertops
Now let's examine the key advantages and disadvantages of choosing Cambria quartz:
Pros
Huge range of unique designs, colors and patterns – over 140 to choose from
Natural stone and marble looks are very realistic and stylish
Excellent quality control results in beautiful, consistent slabs
Durable, low maintenance, and resistant to etching, stains, and heat
Contains antibacterial technology to inhibit growth
Limited lifetime warranty provides exceptional coverage
Widely available through major home improvement stores
Cons
Slightly more porous than other quartz, sealing maintenance recommended
Occasional complaints about discoloration or blotchiness over time
Higher price range than Viatera and other value quartz options
Some designs seem trendier rather than timeless classics
Overall, Cambria quartz provides unparalleled design choices from a highly reputable American brand. It performs very well, but the pricing is on the higher side.
Key Differences Between Viatera And Cambria At A Glance
To recap the noteworthy differences between the two brands: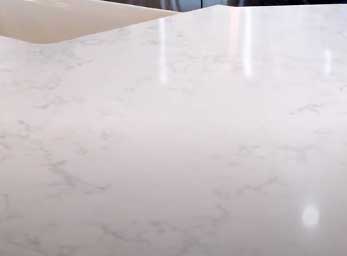 Design Options: Cambria has a much wider range of colors and patterns (over 140 choices vs. 50 from Viatera)
Finishes: Viatera offers lustro shiny finish in addition to naturale matte. Cambria is naturale matte only.
Prices: Both qualify as premium quartz but Cambria pricing extends higher on average. Viatera's lowest prices tend to be lower.
Availability: Cambria is widely available through major home stores. Viatera requires special order through designer showrooms or flooring retailers.
Warranty: Cambria offers limited lifetime, Viatera has 25 years limited. Both cover manufacturer defects.
Brand Recognition: Cambria is a leading US quartz manufacturer. Viatera comes from the well-known LG brand but has less presence in the quartz market.
Which Is Better For Your Home?
With their differences laid out, choosing between Viatera and Cambria quartz ultimately comes down to your priorities and preferences for appearance, budget and quality.
Here are a few key factors to consider when deciding between the two for your kitchen or bath remodel project:
Styles – Browse all the designs that Viatera and Cambria offer. Do you prefer the wider range from Cambria or find a perfect match among Viatera's more curated options?
Usage – For heavy day to day use in the kitchen you may want Cambria's superior stain resistance. For lesser used spaces like bathrooms, differences in durability will be negligible.
Budget – Viatera starts lower cost but goes high end too. Cambria's pricing reaches the stratosphere for exotic options. Make sure it fits your budget.
Availability – If you want quartz countertops installed ASAP, Cambria's wide availability may work better. Viatera requires ordering slabs.
Upkeep – Occasional sealing is recommended more often with Cambria than Viatera, whose slabs tend to be less porous.
Get your exact measurements, understand your budget, and decide which brand's colors, patterns and warranties most appeal to your preferences. This will lead you to the best quartz countertop decision for your home.
Frequently Asked Questions (FAQ)
What quartz is comparable to Cambria?
The closest comparisons to Cambria in terms of quality, appearance and price point are other high end, premium quartz brands like Viatera, Caesarstone, Silestone and DuPont Zodiaq. All offer great durability, appearance and warranties.
Who makes Viatera quartz?
Viatera quartz is manufactured by LG Hausys, which is part of the LG Corporation based in South Korea. They introduced their Viatera quartz line to the US market in 2013.
Is Viatera quartz good quality?
Yes, Viatera is a high quality premium quartz product. It contains over 90% quartz for excellent durability and stain resistance. Viatera quartz also features antimicrobial protection and qualifies as food safe.
Is Cambria quartz better than other quartz?
As a premium brand, Cambria quartz is comparable quality to high end options like Viatera, Caesarstone and Silestone. Key benefits are huge design selection, bacteriostatic protection, and excellent durability. But other quartz brands have similar qualities at lower price points.
Final Thoughts
Quartz countertops offer an excellent combination of beauty, durability and functionality. Both Viatera and Cambria allow you to get the look of natural stone with less maintenance.
Carefully weigh the pros and cons of each against your budget, lifestyle and design aesthetic.
Be sure to inspect quartz slabs in person before finalizing your decision. This will help you determine the best color consistency, pattern and overall appearance.
Invest in high quality installation and care to ensure your new Viatera or Cambria quartz countertops look amazing for years to come.