Getting your hands on the right quarts for your home is something you don't want to toss aside as mere and unimportant. It is essential to do a certain amount of research to skim through and choose fine-quality quartz.
You wouldn't want to waste your money on something low-tier and then further spend more money on its repair or replacement!
In this article, I will share my experience with quartz from the brand VICOSTONE.
Features of VICOSTONE Quartz

Widely used in interior applications such as kitchen countertops, bathroom vanities, etc., this quartz-based company has made its mark in the market since its establishment in 2002.
They have upheld the reputation of being providers of high-quality and aesthetically pleasing quartz for your home.
While all of this is undoubtedly true, let's dig a little deeper into this matter and find out more about VICOSTONE Quartz.
Water Etched Rings and Stains Are Found Easily
Although it is lovely, it is dissatisfying and disappointing to have witnessed how quickly water leaves etched water rings and stains.
Despite being regularly cleaned with a quartz-safe product and wiped down surfaces, the rings are still not removed. They appear to be everlasting—more like how marble responds.
In fact, I've noticed that sadly, despite extreme and careful handling, the spots still appear without any sign of disappearance. This is honestly very disheartening.
Although the white color effectively conceals the rings and stains, it is still very irritating that they don't vanish while cleaning or simply using the counters in between cleanings.
It is rather shocking as well since these quartz-based materials are known to be in demand for bathroom vanities and in the kitchen, areas in which water splashes are bound to occur.
One would expect them to be far more resistant to water stains.
Wide Color Palette To Choose From
This was very fascinating to stumble upon. They have a great range of colors for you to take your time and choose from.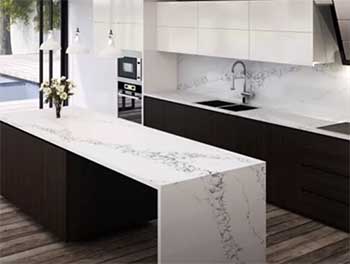 As a matter of fact, they provide more than 120 designs in a wide variety of colors to meet the interests and lifestyles of their consumers!
Whether you want your home's aesthetic to be minimal, vibrant, or whichever theme you prefer, there will be no need to worry about not finding a suitable shade.
Personally, this was very convenient for me since after going through several brands it was a relief to finally find one that covered a vast range.
Saved me from the trouble of getting the wrong shade.
They exhibit scuffs from silverware, pans, and foil, in fact, you'd think all things that touch them leave an unpleasant mark.
The marks can be removed with a lot of effort put into scrubbing them off but after all that is done, it loses their shine.
Needs Consistent Cleaning
As mentioned before in the 1st and 3rd points, the quartz is not very stain resistant. So, it is really no surprise that this needs constant cleaning.
You might even need to clean it about 3 to 4 times a day. It feels very unsettling to live under the constant fear that if not cleaned immediately, a permanent stain will stay back.
It Costs Less Than Other Quartz Products In The Market
It is affordable and saves money.
If you are concerned about your finances and looking for something that won't lead to spending too much, then this is the brand for you.
It was a big plus point to see it be affordable. So given the drawbacks, it came with, you end up feeling somewhat relieved that it is not an expensive purchase.
Responsive And Excellent Customer Service
They have ensured excellent behavior and responsibility in the matter of customer service.
They are very immediate to respond to any query and provide efficient solutions to your problems and will help you search for the perfect product you may need.
They have interactive websites as well in which you and several other buyers can interact for product experience and information.
Of course, there are also company representatives present to professionally guide you through.
We've already established that it takes quite some effort to keep this spotless. It is not any better to further find out that it is also expensive to maintain.
The company claims that it is important to clear off most messes with dish soap and plenty of warm water, but through experience, it has been observed that this is not the case. And even if it works, it leaves the surface dulled out.
In this case, you will require to make a purchase for specialty cleaners such as Weiman Quartz Clean & Shine and Granite Gold Quartz Brite®.
Or you could even purchase one provided by VICOSTONE itself. That's right, they sell their own cleanser as well.
This sounds great but it also felt like a money-luring tactic. Since the stated dish soap and warm water did not do much maybe this will just tempt the buyer to feel bound to make the purchase.
Plus, who knows how many you would need to end up buying since it stains so easily.
And in case neither of these works, you might need to get in touch with either your installer or VICOSTONE dealer for professional assistance which would further cost more.
Overall, it's just a lot of work and money.
Frequently Asked Questions (FAQ)
You will now get answers to some common questions that are frequently asked. It is natural for any buyer to have such inquiries, so we've got it covered.
Is VICOSTONE good quartz?
Reputably affordable and great for commercial use.
Does VICOSTONE quartz stain?
Yes, it does. There is still room for improvement in this feature.
How long does VICOSTONE last?
VICOSTONE offers a 15-year residential warranty and a 10-year commercial warranty on all products. With proper care and maintenance, VICOSTONE will last a lifetime.
What brand of quartz is best?
There are several quartz providers out there. The best would have to be Caesarstone.
Conclusion
Through reading this article which you could say basically has VICOSTONE quartz reviews from a user, they are quite so-so.
Yes, they've built their own empire, but they won't be the best recommendation for something fancy or an interior you might feel attached to. You might want your home décor to be a good investment.
But in case you're fine with something that gets the job done, is cheap, or serves the purpose based on your priority, go for it.