Marble countertops are the pinnacle of luxury and sophistication in any kitchen. But natural stone comes with a hefty price tag and requires meticulous maintenance.
That's where faux marble countertops like Wilsonart and Formica Calacatta come in – offering the look of marble without the hassle or cost. But which one truly reigns supreme?
Weighing the pros, cons, features, and differences can help you decide which of these faux marble brands is the better choice for your next kitchen countertop project.
A Brief Comparison Table
| | | |
| --- | --- | --- |
| Comparison Points | Wilsonart | Formica |
| Appearance | Very realistic, 10 distinct patterns | Very realistic, 6 patterns |
| Substrate Options | Laminate, Quartz, Engineered Stone | Virtuo laminate only |
| Durability | Good to excellent depending on substrate | Very good with Virtuo |
| Pricing | $30-$150 per sq. ft. installed | $50-$120 per sq. ft. installed |
| Colors/Patterns Available | 10 Calacatta-inspired options | 6 Calacatta-inspired options |
| Warranty | 10 years all substrates | 10 years Virtuo, 5 years laminate |
| Seamless appearance | Excellent | Very Good |
| Scratch resistance | Good to Excellent | Very Good |
| Stain resistance | Good to Excellent | Very Good |
| Heat resistance | Good to Excellent | Up to 350°F |
An Overview of Wilsonart Calacatta Marble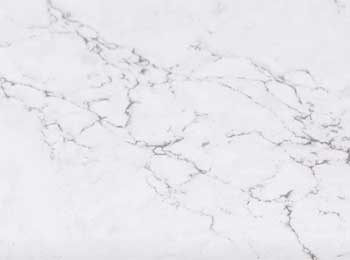 Wilsonart has been a leader in laminate countertops since the 1960s, and their faux Calacatta marble line exemplifies their commitment to realistic stone looks.
Wilsonart Calacatta marble patterns mimic the elegant gray veining against bright white background found in premium Italian Calacatta marble.
Wilsonart uses high definition photographic imaging technology to capture the nuances of real Calacatta marble slabs.
This results in remarkably realistic faux marble patterns that capture the depth, movement, and veining characteristics of natural Calacatta marble.
Wilsonart Calacatta marble laminate is available in polished and matte finishes. The polished finish offers a radiant shine while the matte finish has more of a natural stone-like appearance. Both finishes allow you to achieve the look of real marble without pesky water marks, stains, or etching that can damage natural stone.
Wilsonart offers their Calacatta marble patterns on a variety of laminate countertop substrates. Opt for a traditional laminate surface bonded to particle board, a more durable Wilsonart Quartz surface, or the top-tier Wilsonart Engineered Stone which offers maximum structural integrity and scratch-resistance.
Here's a quick overview of key specs for Wilsonart Calacatta marble countertops:
Realistic HD photographic faux marble patterns
Polished and matte finish options
Variety of laminate substrates from budget to premium
Wilsonart 10-year limited warranty
Average total installed cost of $40-$100 per square foot
Now let's see how Formica's Calacatta marble offering compares.
Formica's Take on Calacatta Marble Countertops
Like Wilsonart, Formica has been producing laminate surfaces since the 1950s. They offer a similar faux Calacatta marble line that competes directly with Wilsonart's patterns and products.
Formica's HD photographic imaging also captures the fine gray veining and whirls found in premium Calacatta slabs. Their polished finish has a bright sheen while the matte finish provides a honed stone appearance.
Instead of offering different laminate substrates, Formica uses their proprietary Virtuo® surfacing product for all their Calacatta marble countertops. Virtuo consists of a decorative top layer fused to a moisture-resistant laminate core.
Formica claims this provides extra surface protection against scratches, stains, and heat damage up to 350°F.
Here are the key details for Formica Calacatta marble countertops: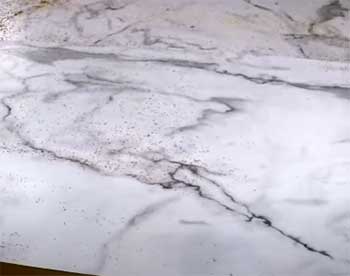 Realistic marble patterns like Wilsonart
Polished and matte options
Single substrate option: Virtuo laminate
Formica 10-year limited warranty
Average total installed cost of $50-$120 per square foot
Now that we've got the basics covered, let's directly compare Wilsonart and Formica Calacatta marble to see how they stack up head-to-head.
Key Comparison Points of Wilsonart And Formica
Wilsonart and Formica take slightly different approaches to achieving the look and feel of real Calacatta marble slabs in their faux countertops. Here are some key factors to consider when choosing between the two brands:
Both Wilsonart and Formica use HD printing technology to capture the intricacies of Calacatta marble patterning. When viewed side-by-side, their faux slabs are nearly indistinguishable from the real material.
Some minor differences:
Wilsonart offers around 10 distinct Calacatta-inspired patterns compared to Formica's 6 options.
Formica leans slightly brighter white backgrounds while Wilsonart has more variation.
Both have remarkably realistic and consistent veining.
In terms of appearance, Wilsonart and Formica are neck-and-neck with neither having a distinct advantage. Choosing between the two brands comes down to other factors.
Here Wilsonart pulls ahead by offering various countertop substrates rather than just one. Their substrate options include:
Wilsonart Laminate – Most affordable option, basic laminate over a particle board core. Prone to swelling from water damage.
Wilsonart Quartz – More durable, resists scratches and stains. Contains quartz for strength.
Wilsonart Engineered Stone – Top level substrate, extremely hard and scratch/damage-resistant.
Formica counters use Virtuo laminate substrate exclusively. Virtuo falls between regular laminate and quartz in durability. For maximum durability and long-term performance, Wilsonart's substrate options edge out Formica's Virtuo.
As you move up the durability levels, Wilsonart's substrates get more expensive. But their base laminate option still starts lower than Formica Virtuo. General price ranges: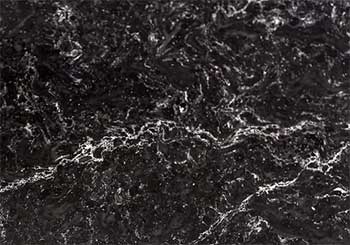 Wilsonart Laminate – $30-$70 per square foot
Formica Virtuo – $50-$120 per square foot
Wilsonart Quartz – $55-$100 per square foot
Wilsonart Engineered Stone – $80-$150 per square foot
Wilsonart's range of products provides more budget-friendly options.
Formica Virtuo costs a premium for its enhanced durability compared to regular laminate.
Wilsonart wins out here with 10 Calacatta-inspired patterns compared to 6 from Formica. More variety in detailed veining and tonality across Wilsonart's patterns.
The warranties are similar – both Wilsonart and Formica offer 10 years limited protection. Wilsonart edges out Formica by covering their quartz and engineered stone substrates for the full 10 years. Formica Virtuo is only covered for 5 years.
Pro Tips for Picking the Perfect Countertop
Now that we've broken down the Wilsonart vs. Formica comparison, here are a few professional tips for choosing the right faux marble countertop for your kitchen:
Hands on inspection is a must – be sure to examine slabs in person before finalizing your selection. Subtle pattern differences are hard to distinguish in photos.
Lighting is critical – view slabs under natural light, showroom lights, and your existing kitchen lighting to preview the look.
Match your kitchen style – hone in on patterns and tones that align with your overall kitchen design, cabinetry, and other finishes.
Consider cutting techniques – faux marble works best with smooth seamless appearances rather than highly visible seams and complex cutting.
Polish vs. matte comes down to personal preference – matte finish hides fingerprints/watermarks but polish has that luxurious shine.
Invest in high durability if going for marble look – faux marble requires careful maintenance so durability should be a priority.
Frequently Asked Questions (FAQ)
Still have some lingering questions about choosing between Wilsonart and Formica faux marble? Here are answers to some of the most common faux marble countertop questions:
Which is better Formica or Wilsonart?
Wilsonart is better overall thanks to more substrate options, patterns, and competitive pricing. Formica Virtuo counters are still an excellent choice, but Wilsonart's selection nudges them ahead for most uses.
What is the best marble for kitchen countertops?
For real marble, Calacatta marble is prized for its striking gray veining and bright white background. For faux marble, Wilsonart and Formica Calacatta patterns capture the look stunningly while being more budget-friendly.
What are the disadvantages of Formica countertops?
While durable, Formica Virtuo won't resist damage from cuts and impacts as well as natural stone surfaces. Formica also only offers one substrate option, whereas Wilsonart has 3 choices for customized durability.
What is better than Formica countertops?
Natural stone like granite and quartz are higher end than Formica. Wilsonart's engineered stone and quartz substrates can also out-perform Formica Virtuo for scratch resistance. But Formica remains far more affordable than natural stone and Wilsonart's premium substrates.
The Bottom Line
While Formica Virtuo offers outstanding marble aesthetics and durability, Wilsonart takes the win for faux Calacatta marble countertops. With better pattern variety, pricing, substrate options, warranties, and overall performance, Wilsonart edges out Formica as the superior faux marble brand.
But both offer incredible realism and value compared to natural Calacatta marble.
Ultimately, deciding between Wilsonart and Formica comes down to your budget, kitchen style, and personal preference. Carefully weigh the key differences explored above as you choose your perfect faux Calacatta marble countertop to create a luxury feel without breaking the bank.