Quartz countertops in the kitchen and bathroom have become popular among homeowners. It leads to many manufacturers making and selling quartz countertops, some of which are excellent in quality.
But there are some quartz brands you must ignore for your own good.
Installing Quartz countertops is an expensive project. So, you would want it to last long without any issues. While some products from reputed brands will deliver that results, many fail to do so.
Here I will talk about some of the worst quartz brands you should never go near. So, let's get right in.
Worst Quartz Brands I Would Avoid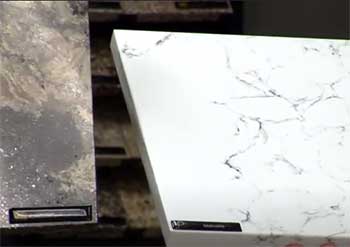 Here is a list of them:
Any Chines Quartz Brands
Santa Margherita Quartz
Vicostone
Radianz Quartz
QuartzStone
Quarella
Pental
MSI Q Quartz
Marble.com
LG Hausys
Let's talk about them in more detail and try to understand why should you avoid them too like me!
A lot of Chinese quartz brands are available here in the US. But you should not go near any of the Chinese quartz brands. The first reason is that Chinese quartz countertops are made from inferior materials compared to other countries. As a result, they are prone to crack and chip with time.
Many Chinese quartz countertops are manufactured by hand. So, consistency is a big issue with these products.
Again, you should be concerned about the safety of your health and environment, as most Chinese quartz countertops are made from harmful chemicals.
As a result, they often fail to qualify for the safety standards of the US government. You will not even get any warranty from these quartz products.
So, there are no after-sales services available for them. The pigments used in these products are also lower in quality.
So, the colors and patterns will fade away soon. And they are also thinner than their competitors from other countries, making them at risk of damage.
Plus, they are expensive as well because of the tax structure.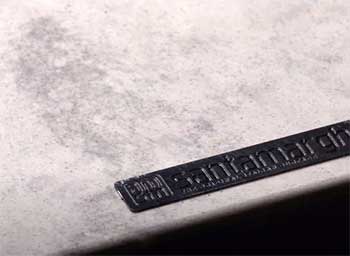 Santa Margherita Quartz is an Italian-made quartz for countertops.
There are several complaints against this brand.
Firstly, they start showing small chips all over the countertops shortly after installation.
The pigments of the quartz are not solid. So, they become white after chipping.
The after-sales service of the brand is also very disappointing. Many users have said that they have yet to show up for months after lodging complaints about damages, even after having a warranty. The epoxy used on this product is also of poor quality.
Most importantly, they are insanely expensive compared to their quality. So, I suggest you avoid Santa Margherita Quartz.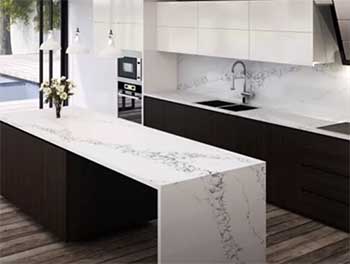 Vicostone is another brand you should cut off from your list while shopping for quartz countertops.
The main reason for that is the difficulty of cutting and installing this quartz.
You will find Vicostone quartz very hard to cut while installing.
So, you will need to hire experts for that; even after that, it might seem challenging.
On top of that, their heat-resistant capability is not up to the mark. There's always a chance of damage because of the heat-retention issues.
The price of the Vicostone quartz doesn't match the quality either. They are pretty expensive compared to their quality.
Lotte Chemical, a South Korea-based manufacturer, now manufactures Radianz Quartz. But the quality of the products of this brand could be more satisfactory.
Radianz quartz is harder than natural stone and quartz of other brands. So you will find them difficult to cut.
Since they are made from entirely manmade stones, they differ from their natural stone-made counterparts. They do not even look as unique as natural stone quartz countertops.
They are also tricky to install. On top of that, Radianz Quartz is one of the most expensive quartz options available in the market.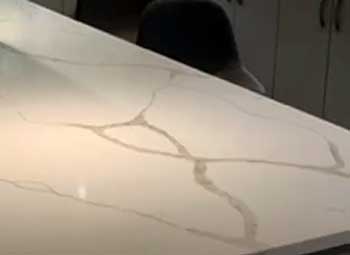 QuartzStone has many downsides.
One of the biggest problems with this quartz brand is its products are not heat-resistant.
It performs very poorly in heat retention, forcing you to use cutting boards all the time on top of these quartz countertops.
Additionally, acidic foods and cleaning agents will easily damage QuartzStone quartz. So, cooking food and cleaning your countertop will become a difficult task for you.
Besides, QuartzStone quartz for countertops is generally more expensive than other quartz, marble, and granite. That's why it's a less desirable option.
Quarella is another brand you should avoid while shopping for quartz countertops. This quartz brand is not quite well that you should consider for your home. Partly because of the price of its products as they are pretty expensive. But the most disheartening thing about the quartz is its poor heat-resistant capability.
So, you must be extremely careful while using hot pots and pans on these countertops. Even you might have to use cutting boards on top of it, which is inconvenient, as you can imagine. That's why I would never suggest you go with this brand.
Pental is a well-known quartz brand in the USA, but it has many drawbacks. The biggest of them is their missing scratch-resistant capability.
Yes, you read it right. Pental quartz is not scratch-resistant. If you install this product, you will always have to be under the fear of getting scratched.
After knowing this, I don't think you will ever consider buying Pental quartz. But the issue with this brand doesn't stop here. Products of this brand also have chipping problems. They start chipping shortly after installation.
Plus, you will have to spend more than $60 per square foot for this brand, which is pretty expensive.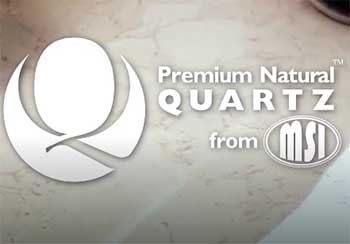 MSI Q Quartz comes in many colors and styles.
But the main issue with this brand is that its countertops need sealing every year or two, which can be a pain for you.
Without sealing, MSI Q Quartz is very prone to damage.
Price is another downside of this brand. It is one of the most expensive quartz brands here in the USA.
So, it will not be a good option for you in terms of price and quality because you will have to make an effort to seal your countertop time and again. Otherwise, it will get scratched.
The quartz of Marble.com is quite good, but the problem with this brand lies with its services. It does not offer any installation services.
As a result, you will have to hire a professional or contractor for the task, which will make the cost even higher.
On top of that, there's no showroom for this brand. They only sell online. So, there's no option for a trial.
You will have to purchase samples from its website before you make your decision. It doesn't seem convenient to most people. That's why I would tell you to scrap this name from your list if you have one.
The last name on our list is LG Hausys. It's a new player in the quartz industry. So, it has many things to learn in the first place.
However, there are some specific issues with this brand. The quartz of this brand is very susceptible to stains. If something spills on these countertops, there's a chance of getting permanent stains.
For LG Hausys, you will have to clean immediately if you accidentally spill something on your countertop. So, it's not ideal for household use.
Plus, they are costly despite being new in the market. You should avoid this brand for all these reasons.
Frequently Asked Questions (FAQ)
What brand of quartz is best?
Quartz is the alternative material to marble and granite for countertops. Several brands manufacture and sell this engineered natural stone that is high quality and durable. Some top names are Caesarstone, Cambria Quartz, Silestone, Polarstone, Cambria Quartz, Compac, etc.
Is there poor-quality quartz?
Yes, many poor-quality quartz brands are selling inferior products. Most Chinese quartz brands make and sell inferior quartz with poor-quality materials.
Apart from the Chinese brands, many other brands are also not satisfactory. These quartz countertops will stain, scratch pretty quickly, and has less heat retention.
Does brand matter with quartz?
Brand name hugely matters, even for quartz. That's because the quartz quality of all the brands is quite different. It depends on the quality of materials, pigments, thickness, style, colors, and many other factors. That's why you should go with a reputed brand.
What is the best grade of quartz?
There are several grades of quartz. The best among them is the 'premium grade.' Quartz of this grade has a very smooth finish, looks precisely like marbles, and comes with vibrant color with rich pigments. You will also find them with very few veins and are scratch & heat-resistant.
Wrapping Things Up
As you can see, most brands on this list have a few common problems. They are irrationally expensive compared to their price, do not have scratch & heat resistance capability, and are difficult to install.
You would want these quartz brands to avoid. So, I don't have any doubt that this write-up will come in handy while choosing quartz brands, as now you know which ones to avoid.
All the best with your countertops.