A nice bath can make you relaxed and cozy after a tiring day. But you'll need a feature-packed tub that gives you all the comfort you need. There are so many options available, and you can quickly become confused.
That's why I'll tell you everything about MAXX and Kohler tub since they are the best. You can compare them and choose one that fits you. So, without wasting more time, let's get this show on the road.
Quick Comparison Between MAXX And Kohler Tub
Here is a quick comparison between these two brands:
| | | |
| --- | --- | --- |
| Aspects | MAXX | Kohler |
| Special Feature | Integrated Armrest And Backrest For Maximum Comfort | Integral Lumbar Support On Both Sides |
| Available Designs | 6 Available Designs | 6 Available Designs |
| Materials | Cast Acrylic | Enamel Cast Iron, Lithocast, and Acrylic |
| Available Colors | White, Bone, Chrome, and Brushed Nickle. | White, Biscuit, Honed White, Almond, Dune, Black, Black Plum, Indigo Blue, and Lavender Grey. |
| Water Capacity | 35 to 64 Gallon | 60 to 90 Gallon |
| Warranty | 25-Year Limited Warranty | Lifetime Limited Warranty |
Key Differences Between MAXX And Kohler Tub
Knowing the features and aspects of these two tub brands will help you understand their differences better. So, here are some key differences between MAXX and Kohler Tub.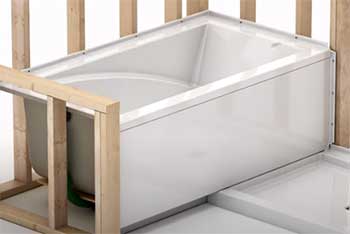 MAXX bathtubs come as a two-piece set, and You can install the faucet as deck-mounted or floor-mounted. Linear waste and overflow come factory installed with the package.
An integrated armrest and backrest will maximize the comfort of each MAXX tub.
Besides, you will get textured floors, Stabili-T anti-slip bottom, integrated tiling fling, F2 drainage, etc., options with MAXX tubs. Their low deck height of 14 to 16 inches and compatibility with utile wall panels make them an excellent choice for any bathroom.
Kohler tubs offer integral lumbar support on both sides, making them very comfortable. You will get a textured bottom surface that will protect you from slipping. A depth of 16 to 21 inches on various Kohler tubs will provide an excellent soaking experience.
Installing Kohler tubs are pretty easy. The fluted shroud, slick and clean lines, and excellent looks make the tubs comfortable, versatile, and stylish simultaneously.
When it comes to bathtubs, people take design as one of the critical factors in choosing. So, the number of available designs is significant for any brand selling bathtubs. MAXX offers 6 designs of tubs in total.
This brand offers Freestanding, Alcove, Corner, Drop-In, Undermount, and Wall-mounted tub designs. There are multiple products with various features and options under each design.
On the other hand, Kohler also has 6 styles of bathtubs in its portfolio. The designs are Freestanding, Drop-In, Alcove, Undermount, Corner, and Overflow tubs. You can also select from a massive collection of bathtubs under each style.
The main difference between the two brands in design is that MAXX has a Wall-Mounted tub design which the other one doesn't have, and Kohler has an Overflow tub design that MAXX doesn't have.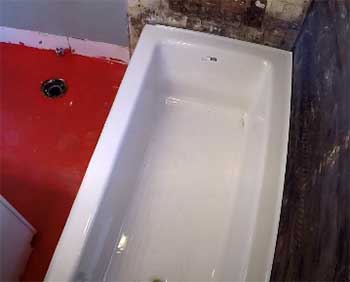 Material is another critical factor for tubs. It determines how sturdy and durable your tub is going to be.
I'm sure you look into the material while choosing a tub for your bathroom. That's why I'll tell you all the available material options for these two brands.
MAXX uses thick cast acrylic to make its tubs. As a result, these tubs are sturdy and durable. Besides, they can withstand a considerable amount of load.
On the contrary, Kohler tubs are made from three different materials. This manufacturing brand uses Enameled Cast Iron, Lithocast, and Acrylic to make all its tubs. Because of different material options, Kohler tubs are versatile as well as sturdy and durable.
You might want to match your tub with the interior of your bathroom. If that is the case, multiple color options will definitely come in handy. The good news is that Maxx offers a few colors for their bathtubs. You can choose from 4 colors: White, Bone, Chrome, and Brushed Nickle.
In contrast to MAXX, Kohler bathtubs come with nine color options. They are White, Biscuit, Honed White, Almond, Dune, Black, Black Plum, Indigo Blue, and Lavender Grey.
But you have to remember one thing: both brands' tubs do not come with all the color options. Some of them have only one color, and some of them have multiple colors.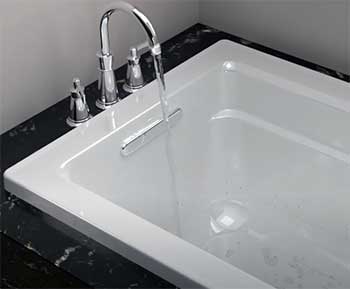 You must know the water capacity range of both brands' tubs. The capacity of water depends on the tubs' sizes and depth. So, it will vary from tub to tub.
But I will give you a rough idea so you can understand which one will best fit you.
MAXX bathtubs have water capacity from 35 to 64 gallons depending on the size and depth. In contrast, Kohler tubs can store 60 to 90 gallons of water.
So, it's clear that Kohler tubs have more water capacity than MAXX tubs.
Warranty is essential because it shows the quality of a product. You will get 25 years of Limited Warranty for residential use with MAXX bathtubs. Besides, you can return your tub within 2 months and claim a refund.
On the contrary, Kohler offers Lifetime Limited Warranty with its bathtubs. It also has a refund policy within 45 days from purchase.
MAXX bathtub costs between $783 to $5936 based on style, design, and size. On the other hand, you will have to spend $763 to $15,000 for various styles, designs, and sizes of Kohler tubs.
As you can see, Kohler bathtubs are pretty expansive compared to MAXX bathtubs.
Which Tub Will Be The Best For Your Bathroom?
After knowing all these facts, it shouldn't be tough for you to choose one brand. However, let me help if you are lost in the details. I suggest you choose a Kohler bathtub for your bathroom. I'll tell you why.
Kohler tubs have better features than MAXX's. Besides, you will get more color and materials options from Kohler. Yes, the price is high, but the warranty is better compared to MAXX. So, Kohler is a clear choice here.
Frequently Asked Question (FAQ)
Which bathtub brand is best?
Many brands offer high-quality bathtubs; Kohler is a prominent name with elegant design, robust material, loads of features, excellent warranty, and whatnot.
Who makes MAAX bathtubs?
MAXX is a well-known name in the industry for its bathtubs and other products. This brand is now a part of American Bath Group, the manufacturing company that makes all MAXX bathtubs. This company has eight production facilities in North America.
Are MAAX tubs acrylic or fiberglass?
MAXX uses Cast Acrylic to make its tubs. This is not regular acrylic; instead, the brand uses thick acrylic, which is strong and durable. So, you can say MAXX tubs are acrylic, not fiberglass.
Is Kohler a good tub brand?
Kohler is one of the best names for tubs and other bathroom equipment. It has an excellent brand reputation because of its best quality products. That's why they are leading this industry in North America.
Final Thoughts
A good-looking, well-functioning, and right-size bathtub will make your bathroom look fabulous and make your life a lot easier. But your suffering will have no bound if you fail to choose the right one.
After reading all the information about MAAX vs. Kohler tub, there is no chance of confusion. Kohler is the right choice between these two. So, look no further.