Planning to remodel your bathroom? 
If that's the case, then you might want to try out this great bathtub from Bootz. Especially if your requirement for the bathtub is 60 x 30 inches dimension, then I have got just the thing for you. 
Among a lot of users, the Bootz Maui tub has become an overwhelming hype. To give you a complete understanding of why this is the case, I have this Bootz Maui tub review. 
By the end of this article, you will pretty much know whether you should get this or not. Let's get on ahead with this thing then. 
Features of The Bootz Maui Tub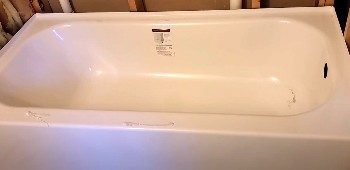 The best way to determine the value of any noteworthy bathtub is to go through the features that it provides.
You get to know the value of the tub, considering what it has to offer. 
Here are the features that you get to experience with this fantastic Bootz Maui tub – 
Durable Porcelain Surface 
First of all, you get a very durable porcelain surface on this bathtub. You don't have to worry about damaging or breaking the surface anytime soon. 
It is sure to last for quite a long time unless you decide to smash the tub with a hammer. From most of the Bootz Maui tub reviews, I got the impression that they just love the build quality of this tub. 
You also get to experience a good-looking bathtub with a high durability build. I don't know if it matters to you or not, but it's something that you can surely admire. 
I mean, maybe it's not something that you will worry about too much yourself. But if someone is visiting, then it will surely leave a great impression on them as a good-looking bathtub. 
Here, I have to go back to the build quality factor of the tub. Because of the porcelain finish on the surface, it's so easy to clean the tub. 
You don't need to spend too much product or put too much force to clean this tub. It only takes a few minutes, and the process is also straightforward. 
You have to scrub the tub with decent force, and the job gets done within moments. 
The bathtub itself is pretty lightweight compared to regular bathtubs out there. This makes it very easy to move around when installing the bathtub. 
Also, it gives you the liberty to move the bathtub if you ever think of remodeling or fixing any issue with your bathroom. 
Altogether, having a lighter bathtub is something that you can get benefit from out of indifferent scenarios for sure. However, it's not something that will dictate your decision entirely.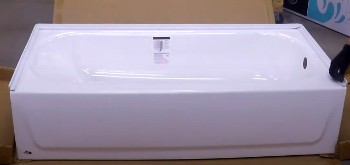 Do you feel your old tub isn't deep enough? If that's the case, then this can be your solution to that problem for sure. 
You don't have to worry about depth on this one with its 15" long and 2" deep bathing space.
It has got a pretty deep bathing space where you can just lie down and enjoy a bath without any concern about cramping up your body. 
In continuation from the spacious facility, it also has a design that promotes comfort over anything else. This one provides a 35-degree lumbar support system, so you can get much more comfort while taking a bath on this tub. 
When you match that up with the space you get, it just provides you the best possible comfort from any bathtub that you can hope of. 
Slip Resistance In The Bottom 
One trouble you can say goodbye to with this bathtub is the slippery floor. This bathtub comes with slip-resistance on the bottom part of the tub. 
So, whenever you are standing up after taking a bath in the bathtub, you won't have to worry about slipping at all. 
This is something that makes the whole thing much better and safer for you. It's a feature that you will surely enjoy having in your bathtub. 
I bet you are confused with this one. You might be wondering what does protection means in a bathtub. Well, by protection, I simply mean that resistance this bathtub has to different issues and conditions. 
You get abrasion resistance, corrosion resistance, and even chemical resistance on this bathtub. Along with that, it's also flameproof, so you don't have to worry about this bathtub burning anytime soon. 
As you can see, there are so many good things going on for this tub from Bootz. But it's not all good for this one either. 
Before you decide on getting this one, you should also know about the negatives of the tub to determine with proper knowledge. 
What Could Have Been Better?
I wouldn't say there is something fundamentally wrong with this tub. But there are indeed some things that could have been better for sure. 
Here are the things that you wish would have been a bit better on this tub –
Installation Is Complicated 
The installation process could have been a bit easier with this tub. There is a high chance that you will come across some difficulties while installing the tub. 
The overflow height of the tub can feel a bit shorter when you get into the installation part of it. Especially if you opt for DIY installation, it can get a bit rough. 
Let me get this straight; this isn't the most affordable or budget-friendly tub out there. You can easily find cheaper options than this one. So, this can be a deal-breaker for some people out there. 
Conclusion
In short, after going through the Bootz Maui Tub review, you can pretty much tell how good the tub truly is. It surely deserves the love it's been getting from people in general. 
As for the cons, I think it's always better to let the professionals install your bathtub or any other item. 
Considering all the benefits and features you get, the price is also worth it. Also, the durability factor will not disappoint you either. So, everything just works out well for you here.