Today's bathroom has been transformed into a spa, a place to unwind and rejuvenate the body, equal parts meditative and useful. The tub has evolved from a functional device to a gorgeous and, in many cases, fascinating feature in bathroom design.
Today we will look into Aquatic and Sterling bathtubs and compare them to see which one is better. Stay with me for a while.
A Quick Comparison Table
Before we go in-depth between Aquatic and Sterling bathtubs, let's look at this comparison table where you can get a brief idea.
| | | |
| --- | --- | --- |
| Specifications | Aquatic | Sterling |
| Type | Luxury hydrotherapy system and everyday bathtub | Everyday bathtubs |
| Massage bath | Multiple options | Few options |
| Finish | Acrylic | Vikrell, fiberglass finish |
| Cost | High | Low |
| Functionality | High | Lower than aquatic |
In-Depth Differences Between Aquatic and Sterling Tubs
Now that you have a general idea about the tubs, let's look into the in-depth differences between the two brands. Here I've talked about the two brands from different aspects.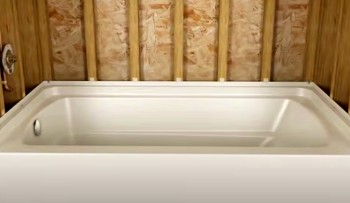 Aquatic is famous for its luxury hydrotherapy system and innovative ideas for turning everyday showers into a different experience.
Its everyday series is also very famous to those who do not want the extra luxury.
They have the ingenuity to give whatever calming effects you require.
Whirlpools use pulsating water jets to target sore muscles, while air baths provide a full-body massage. Soaking tubs that are deep and heated provide modest tension reduction.
Aquatic also has hydrotherapy models that integrate all the possibilities into one for total relaxation.
Sterling is mostly for everyday shower use. They focus on giving customers a comfortable shower experience with mid-range pricing. They are mainly known for their build material, finish, and cost.
They are very easy to clean as well. But they are less durable as they are lightweight and have a more inconsistent surface.
Full-body air massage or pulsating water jets that target specific areas.
For a simple hot bath or a multimodal spa treatment, Aquatic has hydrotherapy bath products with unique technology to deliver whatever soothing effects you require, as well as a selection of exquisite aesthetic alternatives that blend effortlessly with your area.
Sterling by Kohler also has some whirlpool jet water Jacuzzis and tubs for hydrotherapy. However, they are mostly famous for their everyday use products.
Bathtubs, sectional showers, and tub showers in a variety of shapes and sizes are available in their Everyday Series. With their large selection of styles and price ranges, you'll have plenty of opportunities to make a statement.
Aquatic bathtubs are generally made of Acrylic. Acrylic is a form of plastic that has a high gloss appearance and is extremely durable.
Solid acrylic is a mid-priced, long-lasting alternative to fiberglass. Another advantage is that scratches are less obvious because the color is consistent throughout.
Acrylic is a popular material for unusually shaped whirlpools with molded armrests and other decorations since it is easy to mold into designs. It's also lightweight, which is vital in huge tubs where structural parts can be damaged.
On the other hand, Sterling bathtubs are made of Vikrell. Vikrell is the brand name for a type of material that is used to make bathtubs and other bathroom fixtures. Fiberglass and polyresin are combined to create this substance.
Plastic and tiny glass strands make up the fiberglass itself. When polyresin is added to it, the final product becomes even more durable. That is why it is so popular as a base for shower fixtures.
It is more durable, lightweight, long-lasting, and easy to clean. However, its installation can be quite tricky.
As Aquatic bathtubs use innovation and new technologies in their products, it is safe to say the price is relatively higher than other brands like Sterling.
Also, Acrylic tubs are constructed of clear plastic that has been vacuum molded and reinforced with fiberglass layers for further strength. As a result, acrylic tubs are more expensive than fiberglass tubs due to their production process.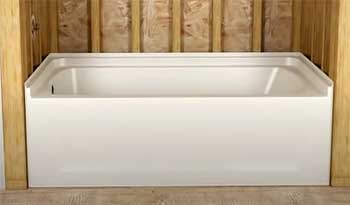 Aquatic Industries is one of the industry's premier luxury whirlpool bath manufacturers.
Aquatic sets the bar for real hydrotherapy with advanced manufacturing techniques, high-quality materials, technical advancements, and responsiveness to changing consumer needs.
Each Aquatic product offers great features and benefits to fulfill your hydrotherapy demands, with over 120 types to choose from.
Aquatic's vast variety offers an unequaled range of shapes and sizes, from the premium Millennium Series to the budget-friendly Builder Select Collection.
Among them their whirlpool baths, air baths, and soaking baths are noteworthy.
On the other hand, Sterling bathtubs are less innovative compared to Aquatic tubs and are pretty basic. They do have to massage tubs but nothing like their rivals.
The tubs are more prone to scratches and cracks but can be easily repaired compared to acrylic tubs.
Which Bathtub Will Be A Suitable Choice For Your Home?
When it comes to selecting a tub, the options are practically endless these days. Whirlpools and soakers; claw-footed tubs; contoured shapes, ovals, squares, and circular; tubs with neck supports and armrests; tubs set into platforms; and tubs you step down into—or even walk into—are all options.
If you are looking for a luxurious bathing experience and do not have to worry about spending the extra cash or are in dire need of hydrotherapy, then Aquatic bathtubs are the perfect choice for you. They are more innovative and use new technologies which are parallel to none. Their customer service is very responsive as well.
But if you are looking to use regular bathtubs, it is very tough to pick one in terms of price as both are at very similar price points. Go for Sterling bathtubs if you don't want to dedicate too much time to cleaning and want easy repair assurances.
On the other hand, Aquatic bathtubs are more durable, innovative, and versatile in appearance. So pick according to your requirements.
Frequently Asked Questions (FAQs)
After I purchase my Aquatic Whirlpool, may I install an in line heater?
You can add an in-line heater to your Aquatic unit after purchase, but the warranty on the jetting system will be void. Please keep in mind that you are doing this at your own risk, so make sure the individual you choose to install the system is qualified. The in-line heater is an option offered by Aquati.
What is the best way to clean a silver tub and shower?
For weekly cleaning of your bath or shower constructed of solid Vikrell material, Sterling recommends using mild cleansers. Abrasive cleaners and acidic solvents should not be used on Vikrell surfaces because they can dull or discolor them.
What is the duration of Vikrell?
A Vikrell bathtub can last for many years with no problems. In fact, Vikrell provides a 10-year home warranty on its goods, including bathtubs, as well as a three-year commercial warranty.
Is it true that acrylic tubs keep water warm?
Acrylic tubs retain heat better than other materials for the price of the tub, keeping bath water warm for longer.
Is Vikrell a better alternative to acrylic?
Acrylic is significantly more durable than Vikrell because to its solid structure. As a result, it can better bear physical pain and survive for longer periods of time. Vikrell is more prone to wear and tear than the other two. As a result, acrylic would outlast Vikrell in terms of durability.
Final Words
At the end of the day, which product you will get is dependent on you. If you want a luxury bathing experience and are ready to splash the cash, you already know Aquatic won't disappoint you.
Their mid to low-range tubs are also more durable and versatile compared to others.
On the other hand, Sterling bathtubs are also a good choice considering their lower price tag and maintenance effort. So do proper market research and know what you want before buying one.