If you're in the market for a new toilet, you may be considering some of Kohler's most popular models – the Elmbrook and the Cimarron. Both offer great features and performance, but there are some key differences to weigh when deciding between these two toilets.
In this comprehensive guide, we'll compare the Kohler Elmbrook and Cimarron toilets across critical categories to help you determine the better option for your needs and budget.
A Brief Comparison Table
| | | |
| --- | --- | --- |
| Feature | Kohler Elmbrook | Kohler Cimarron |
| Flushing Technology | Class Five siphon jet | AquaPiston canister flush |
| MaP Score | 1000 grams | 1000 grams |
| Water Usage | 1.28 gpf | 1.28 gpf |
| Bowl Type | Elongated | Elongated |
| Bowl Height | Chair height (16.5″) | Chair height (16.5″) |
| Seat | Slow-close plastic | Slow-close plastic |
| Design Style | Contemporary | Transitional |
| Colors Offered | 4 colors | 4 colors |
| Price | $199 – $324 MSRP | $242 – $617 MSRP |
| Tank Dimensions | 6″ x 30.25″ x 16.5″ | 6″ x 21″ x 16.5″ |
| Warranty | 1 year limited | 1 year limited |
Overview of the Kohler Elmbrook Toilet
The Kohler Elmbrook is a two-piece toilet with an elongated bowl design made from vitreous china. It has a sleek, modern style that will complement nearly any bathroom decor. Key features of this toilet include: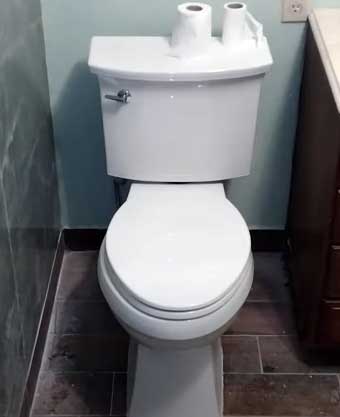 Powerful flush: Uses Kohler's Class Five flushing technology, providing a strong flush that efficiently clears waste. It consumes 1.28 gallons per flush (gpf), meeting EPA WaterSense standards for water efficiency.
Comfort height: Chair-height seating position makes sitting down and standing up easier compared to standard toilets. The seat height is approximately 16.5 inches.
Quiet-close seat: The included plastic toilet seat has a slow-close hinge that prevents loud slamming.
Skirted trapway: The concealed trapway smooths out the design for easier cleaning.
12-inch rough-in: Designed to fit standard 12-inch rough-in plumbing for a seamless replacement install.
ADA compliant: Meets the Americans with Disabilities Act specifications for accessible design.
The Elmbrook comes with Kohler's standard one-year limited warranty. It's available in four classic Kohler colors: white, biscuit, almond, and black.
Overview of the Kohler Cimarron Toilet
The Kohler Cimarron is a high efficiency two-piece toilet with an elongated bowl and comfort height seating. Key features include:
Water-saving flush: Uses 1.28 gpf to meet EPA WaterSense criteria for water conservation. The flush is rated at 1000 grams, providing effective removal of waste.
Ergonomic design: Chair-height elongated bowl and 16-1/2-inch seat height for comfortable use.
AquaPiston canister: Flush valve with a canister design for plug-free performance, 360° water flow, and consistent flush power.
Quiet-close seat: Slow-close plastic toilet seat prevents slamming.
Standard 12-inch rough-in: For easy installation in existing 12-inch bathroom footprints.
ADA compliant: Meets ADA guidelines for accessibility.
1-year limited warranty: Standard Kohler coverage protects against defects.
The Cimarron is available in four colors: white, dune, almond, and black.
Key Differences Between Kohler Elmbrook And Cimarron Toilets
Now that we've covered the key specs and features, let's compare the two models across important categories.
When it comes to flushing power, both the Elmbrook and Cimarron perform very well, using Kohler's latest innovations in toilet flushing technology.
Elmbrook – This toilet has Class Five flushing, Kohler's most powerful siphon jet flushing system. The siphon jet pulls water into the bowl from all sides for a robust, high-efficiency flush.
In independent Maximum Performance (MaP) testing, the Elmbrook scored 1000 grams, indicating it can flush large mass waste in a single flush. The wide 3-inch flush valve also contributes to the strong flush.
Cimarron – Utilizes AquaPiston flushing, Kohler's canister-style flush valve that allows water to flow into the bowl from all sides for a strong but quiet flush.
The Cimarron scored 1000 grams in MaP testing, on par with the Elmbrook. The flush is effective at clearing bulk waste thanks to the 360-degree water flow.
For flushing effectiveness, it's a draw between these two models. Both achieve a superb MaP score and consumer ratings back up their excellent performance. Either toilet can handle heavy usage without clogs or double flushing.
Winner: Tie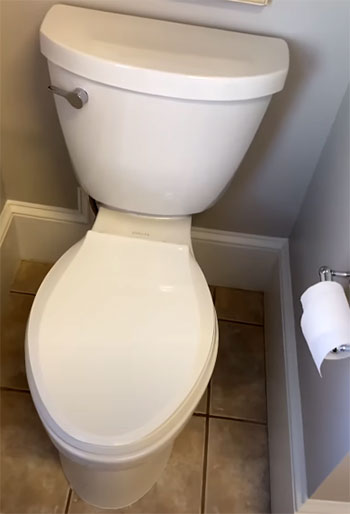 Water conservation is crucial for any new toilet, and regulations require high-efficiency 1.28 gpf models.
Both the Elmbrook and Cimarron meet EPA criteria.
The Elmbrook uses 1.28 gpf across all variations, which is 20% less water than the old 1.6 gpf federal standard.
This earns the toilet WaterSense certification.
Similarly, the Cimarron has 1.28 gpf flush volumes to achieve WaterSense labeling.
There is no difference between the two in water usage.
You'll conserve water and save on utility bills with either option.
Winner: Tie
Shoppers often choose Kohler toilets like the Elmbrook and Cimarron for their attractive, contemporary styling. Which one looks better comes down to personal preference, but here are some design factors to compare:
Elmbrook – This toilet has a very sleek, minimalist look. The tank is streamlined with subtle curves and lacks any exterior holes or protrusions. The skirted trapway allows the elongated bowl to blend seamlessly into the base for clean sightlines. The Elmbrook looks great paired with modern vanities and fixtures.
Cimarron – While still contemporary in style, the Cimarron has slightly more traditional design influences. The tank is more angular with distinct facets and has an armored accent near the base.
The elongated bowl is not fully skirted. The Cimarron suits transitional bathroom designs that straddle modern and classic elements.
In terms of color options, the Elmbrook comes in biscuit, white, almond, and black. The Cimarron offers white, almond, dune, and black. The wider range of neutral and deep hues allow the Cimarron to fit broader design schemes.
Winner: The smoother, skirted Elmbrook has a more contemporary edge, while the angular Cimarron suits transitional decor. Color choice flexibility goes to the Cimarron. Which look you prefer depends on your desired bathroom style.
The elongated bowl is considered the most comfortable type of toilet bowl shape. This extended front-to-back oval design provides more room for the thighs and matches the natural contours of the body.
Both the Elmbrook and Cimarron feature elongated bowls that measure approximately 18 inches long.
In addition to the elongated shape, bowl height affects comfort. Standard height toilets measure around 15 inches from floor to seat top. The chair-height configuration of both the Elmbrook and Cimarron improves comfort with seats 16-1/2 inches high.
This height mimics sitting in a chair, making it easier to get on and off the toilet. The taller seat also yields a more ergonomic position for relieving oneself.
When it comes to the all-important toilet seat, both models come with slow-close plastic seats. The hinges prevent the abrupt slamming of the seat down onto the bowl, a nice feature for households with kids.
With their elongated bowls and chair-height seating, the Elmbrook and Cimarron offer superior comfort compared to many other toilets. It's another tie between the two.
Winner: Tie. The Elmbrook and Cimarron have equally cozy elongated bowls and chair-height seats.
Installing the toilet yourself or hiring a plumber to do it? Either way, you'll want a toilet with hassle-free installation. Kohler designs both these models to go in without headaches.
The Elmbrook and Cimarron feature a standard 12-inch rough-in. This means the distance from the wall behind the toilet to the center of the drainpipe is 12 inches, the typical measurement in residential plumbing.
A 12-inch rough-in allows the toilet to readily align with existing bathroom infrastructure. Just remove the old toilet and bolt the new one on—no pipe alterations needed.
Both toilets come with a wax ring, bolts, and instructions to smoothly replace and install them. Their two-piece design with a separate tank also eliminates the cumbersome maneuvering of a one-piece.
With easy 12-inch rough-in compatibility and two-piece configurations, first-time DIYers can install the Elmbrook or Cimarron. For pros, they'll install in no time.
Winner: It's a draw again, with both models featuring hassle-free 12-inch rough-in installation.
Pricing often becomes a key factor when choosing between toilets that otherwise offer similar specs and performance. Here's how the Elmbrook and Cimarron compare: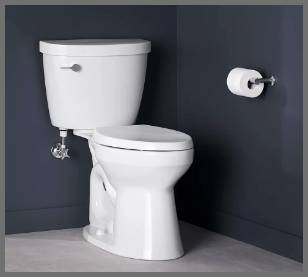 The Elmbrook has a manufacturer's suggested retail price (MSRP) of $199 to $324, depending on the exact model.
Cimarron models retail for $242 to $617 MSRP. There are numerous variations and styles that affect pricing for both toilets.
Due to the ranges, you can find base models of the Elmbrook for less than the Cimarron's starting price.
However, higher trim Cimarrons retail above top-end Elmbrooks.
Real world prices may vary. Discounts at home improvement chains often bring the toilets closer in cost. Either way, the Elmbrook generally has lower retail pricing. But weigh this against any design or feature preferences before deciding based on price alone.
Winner: The Kohler Elmbrook wins for lower average cost. But verify real pricing for the specific models you want.
Configuration dimensions are another important consideration if you need to fit the toilet into a small space. Here are the vitals:
Elmbrook
Height: 30-1/4 inches
Width (elongated bowl): 18-1/2 inches
Depth: 28-1/4 inches
Tank dimensions: 6 inches x 30-1/4 inches x 16-1/2 inches
Cimarron
Height: 30-1/8 inches
Width (elongated bowl): 18-1/2 inches
Depth: 28-1/2 inches
Tank dimensions: 6 inches x 21 inches x 16-1/2 inches
The Elmbrook and Cimarron have nearly identical bowl widths and depths. Heights are also within 1/4-inch of each other. The Cimarron tank is several inches narrower, a difference of 3-1/4 inches.
Overall footprints are close. The Cimarron may fit marginally tighter spaces, but real-world differences are minor. Both work fine for standard bathrooms. Those with tiny powder rooms may favor the Cimarron.
Winner: Cimarron by a nose for its slightly more compact tank.
Heavy usage, kids, pets—toilets take a lot of wear. You don't want to replace it after just a few years. Build quality affects durability, and the toilet warranty provides an indication of expected lifespan.
The Elmbrook and Cimarron both utilize sturdy vitreous china in their porcelain construction. The material resists chips, scratches, stains, and fading. Internal mechanisms like the flapper, fill valve, and flush valve all meet Kohler's standards for quality.
Kohler stands behind both toilets with a 1-year limited warranty. This covers defects in materials or workmanship. While not the longest coverage, it does provide protection in that initial year.
Kohler has also been making toilets for over 140 years, so they've perfected the craft.
For reasonable longevity, proper care is recommended. Follow Kohler's cleaning and maintenance guidelines to keep your toilet in tip-top shape. With quality components and Kohler's expertise, either the Elmbrook or Cimarron should provide years of reliable service.
Winner: It's another tie, with both equally well-constructed from durable china. Kohler's 1-year warranty applies to both.
Frequently Asked Questions (FAQ)
Which Kohler toilets have the strongest flush?
Kohler's most powerful flushing toilets include the Highline Class Five, the Cimarron Class Five, the Wellworth Dual Flush, the Persuade Curv, and the Escale Dual Flush. These all utilize Kohler's latest Class Five technology or innovations like dual flush to achieve maximum flushing performance. MaP testing confirms their outstanding 1000+ gram scores for waste removal.
What is Kohler's best selling toilet family?
The Kohler Wellworth toilet line is Kohler's top seller. Wellworth provides a complete range of high quality toilets in one-piece and two-piece configurations, featuring classic Kohler styling at reasonable price points. Durable vitreous china build and powerful Class Five flushing make them suitable for any bathroom.
What toilet do most plumbers recommend?
Plumbers most often recommend Toto and Kohler toilets. Toto dominates plumbers' recommendations due to patented flushing innovations like the G-Max and Double Cyclone systems, which offer commercial-grade performance. Kohler also ranks highly for its Range of Class Five and Class Six flushing toilets that excel in both power and efficiency.
What is Kohler's best toilet?
Kohler's finest toilet is widely considered to be the Veil Wall Hung Intelligent toilet. This sleek, tankless smart toilet delivers unmatched flushing capacity with the 1.28-gpf Vortex system. The integrated bidet functionality and automation like heated seat, automatic open/close lid, touchless flushing, odor control and hands-free LED nightlight take the bathroom experience to a luxurious new level.
Final Thoughts
Let's recap how the Kohler Elmbrook and Cimarron toilets compare:
Flushing power – Excels in both; equal 1000 MaP scores
Water efficiency – Same 1.28 gpf WaterSense rating
Design – Elmbrook more contemporary; Cimarron traditional with wider color selection
Bowl – Both elongated and chair-height for comfort
Installation – Straightforward 12-inch rough-in for either
Price – Elmbrook costs less on average
Size – Nearly identical; Cimarron tank slightly more compact
Durability – Same china material and 1-year warranty
The Elmbrook and Cimarron are remarkably similar in performance and key features. The Elmbrook excels slightly in modern style and lower price. But the Cimarron offers added colors to blend with different decors. Performance, comfort, and reliability are on par.
Ultimately, it comes down to whether you prefer the Elmbrook's sleeker silhouette or the traditional Cimarron tank styling. Get the one aligning with your bathroom design tastes.
You really can't go wrong with either model. They represent the pinnacle of user-friendly, efficient toilet engineering that Kohler does best.