If you're in the market for a new toilet, you've probably come across TOTO's Drake and Aquia models. As two of TOTO's most popular toilet lines, the Drake and Aquia share some similarities but also have key differences that set them apart.
This guide will compare the Drake vs Aquia across critical categories like flushing performance, bowl design, water efficiency, ease of cleaning, cost, and more to help you decide which TOTO toilet is right for your bathroom.
A Brief Comparison Table
| | | |
| --- | --- | --- |
| Feature | TOTO Drake | TOTO Aquia |
| Bowl Shape | Round or Elongated | Elongated only |
| Flushing System | G-Max, 1.6 gpf | Tornado Flush, Dual Flush 0.9/1.6 gpf |
| Flushing Power | 600g MaP Score | 600g MaP Score |
| WaterSense Certified | Yes | Yes |
| Design | Exposed trapway | Skirted, seamless |
| Bowl Height | Standard or Universal | Standard or Relaxed Height |
| Price | $$ | $$$ |
| Colors | Cotton White, Sedona Beige, Bone | Cotton White, Colonial White, Sedona Beige, Bone, Ebony |
Overview of the TOTO Drake Toilet
The TOTO Drake is a high-efficiency toilet that comes in both round and elongated bowl options. It features TOTO's powerful G-Max flushing system which generates a strong siphon during the flush to clear waste in one go.
Some key details about the Drake: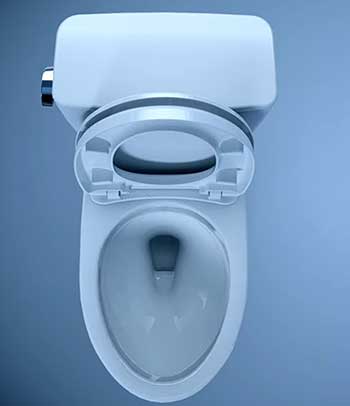 Bowl Shape: Round or elongated
Flush Type: Gravity flush
Flushing System: TOTO G-Max, uses 1.6 gallons per flush (gpf)
Flushing Power: 600 gram bulk waste removal
WaterSense Certified: Yes
Rough-in: 12 inches
Bowl Height: Standard height
The Drake toilet comes in five different models – the Drake, Drake II, Ultramax II, Promenade II, and Promenade II Relaxed Height.
The main differences between these models are mostly aesthetic and ergonomic.
Overall, the Drake line is known for its powerful flush and durable vitreous china construction.
Overview of the TOTO Aquia Toilet
The Aquia is TOTO's skirted, dual flush toilet. It features a sleek, modern look with a concealed trapway and no visible tank bolts. The Aquia utilizes TOTO's 3D Tornado Flush system and comes in both elongated and round front options.
Key Aquia toilet details:
Bowl Shape: Round or elongated
Flush Type: Dual flush 0.9 gpf or 1.6 gpf
Flushing System: TOTO 3D Tornado Flush
Flushing Power: 600 gram bulk waste removal
WaterSense Certified: Yes
Rough-in: 12 inches
Bowl Height: Standard height
The Aquia line includes the Aquia IV and Aquia IV Relaxed Height models. As with the Drake, the main differences come down to aesthetics and ergonomics. The Aquia series is designed to have a sleek, seamless profile and efficient dual flush performance.
Key Differences Between TOTO Drake And Aquia Toilets
Flushing Performance
When comparing the Drake vs Aquia, one of the biggest considerations is the flushing performance. Both toilets use TOTO's advanced flushing systems designed for superior bulk waste removal:
Drake – This toilet uses TOTO's G-Max flushing system. G-Max uses a high-powered 3-inch flush valve, extra-large siphon jet, and large trapway to generate a strong siphon during flushing. This siphon action pulls all waste out of the bowl in one rapid flush.
Aquia – The Aquia toilet utilizes TOTO's 3D Tornado Flush. This system features a 360° cleaning nozzle that creates a cyclonic rinsing action to clean the bowl thoroughly. The dual nozzle also balances water pressure and volume for optimal flushing performance.
While both systems are highly effective, the Drake gets a slight edge when it comes to raw flushing power. The G-Max system provides more flush force compared to the Aquia's 3D Tornado Flush. However, both toilets are WaterSense certified and capable of removing waste in a single flush.
Bowl Design
The bowl design is another point of difference between the Drake and Aquia. Some key contrasts:
Bowl Shape – The Drake offers both elongated and round front bowls. The Aquia comes in elongated bowls only. Elongated bowls are usually preferred for comfort and convenience.
Skirted Design – The Aquia features a skirted trapway so the toilet bowl looks smooth and seamless. The Drake has a standard exposed trapway.
Bowl Height – Both toilets come in a standard height model around 15 inches tall. TOTO also makes taller models of each around 17 inches high for comfort and ADA compliance.
The Aquia's sleek, skirted design looks more contemporary and can make cleaning easier. However, the Drake's exposed trapway allows more flexibility with rough-in distance if replacing an existing toilet.
Water Efficiency
When it comes to water conservation, the Aquia may have a slight upper hand thanks to its dual flush feature.
Drake – This toilet has an effective single flush volume of 1.6 gpf. It meets EPA WaterSense criteria for high-efficiency toilets.
Aquia – The dual flush offers light flush of 0.9 gpf and full flush of 1.6 gpf. The option of a lighter liquid flush conserves more water over time.
Both toilets can achieve bulk waste removal with just 1.6 gpf, making them both highly water efficient models. But the Aquia's dual flush mechanism enables even more water savings in liquid flushes.
Ease of Cleaning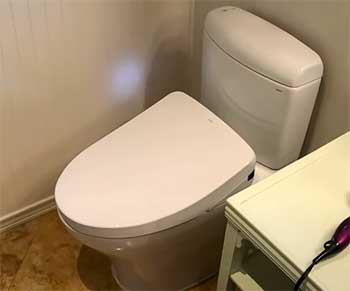 With their vitreous china construction and CeFiONtect ceramic glaze, both the Drake and Aquia are designed to stay cleaner longer and require less manual scrubbing to maintain their shine.
The Aquia's skirted design does provide some advantages for cleaning ease:
The concealed trapway removes nooks and crannies where dirt can hide
There is less grout needed around the base, reducing staining between the bowl and floor
The flusher and supply line are hidden for a smoother look
However, both toilets are still relatively easy to keep clean with regular maintenance and use of TOTO's electrolyzed water or a non-abrasive cleaner. The Drake may require slightly more attention around the base and trapway area.
Cost
In terms of price, the Drake toilet tend to be more affordable than the Aquia series:
Drake Toilets – These models range from $200 – $470 depending on the specific Drake variation selected. The round bowl Drake II toilet is the most affordable at around $200.
Aquia Toilets – The Aquia series costs between $440 – $710 MSRP depending on if you select the Aquia IV or Aquia IV Relaxed Height version. These skirted Aquia models come at a higher price point.
TOTO toilets are an investment built to last for years. The Aquia offers more contemporary style and seamless design for about $150 – $250 more than the Drake equivalent. Cost may guide your decision between these two models based on your budget.
Size/Dimensions
Since the Drake and Aquia come in both elongated and round front bowls, the dimensions vary slightly between models:
Drake Elongated Bowl: 28-3/8 x 16-1/2 x 30-3/4 inches
Drake Round Bowl: 28 x 16-1/2 x 30-3/4 inches
Aquia Elongated Bowl: 27-3/4 x 15-3/4 x 30-1/4 inches
The Aquia has a more compact footprint, while the Drake is a bit larger. They share a standard 12 inch rough-in and standard 15 inch bowl height on the base models. Overall dimensions are quite similar.
Additional Pros and Cons
Some additional Drake vs Aquia pros and cons to consider:
Drake Pros
Available in both elongated and round bowl options
Powerful G-Max flushing performance
ADA compliant models available
Less expensive than Aquia
Drake Cons
Exposed trapway can collect dirt and debris
No dual flush option
Limited color options
Aquia Pros
Sleek, skirted one-piece design
Dual flush adds water savings
Easy to keep clean
Matches modern decor
Aquia Cons
Only available in elongated bowl
More expensive price tag
Limited color choices
Which Is Better For You?
For shoppers deciding between the TOTO Drake vs Aquia, there are a few key factors that may help determine the right model:
Budget – The less expensive Drake is the better value pick if on a tighter budget.
Design Needs – Those wanting a sleek, contemporary toilet will appreciate the skirted Aquia's style.
Water Savings – The Aquia's dual flush gives it the edge for conserving water.
Power Flushing – Drake's G-Max flushing has more raw power for removing bulk waste.
Bowl Shape Preference – Drake offers both elongated and round bowls, while Aquia is elongated only.
Frequently Asked Questions (FAQ)
Which Toto flushing system is the best?
Two of TOTO's most powerful flushing systems are the G-Max, found in the Drake line, and the 3D Tornado Flush used in the Aquia line. Both systems are designed to excel at bulk waste removal and include large flush valves and siphon jets to optimize the flush.
The G-Max in the Drake creates a stronger siphon during the flush for maximum power. The 3D Tornado Flush in the Aquia generates a cyclonic rinse for a thorough clean. While both work well, the G-Max technology tends to provide greater overall flushing capability, especially for heavier loads.
Why are Toto toilets the best?
With innovative features, high-end finishes, and excellent engineering, TOTO toilets are built to last while meeting today's water conservation needs – making them a favorite among consumers, plumbers, and designers alike.
Who makes Drake toilets?
Drake toilets are designed and manufactured by TOTO, the leading plumbing fixtures brand founded in Japan in 1917. The company opened its United States headquarters in California in 1989.
While design aesthetics and features vary slightly between Drake collections, all models consistently offer TOTO's proven flushing power, exceptional vitreous china build, and WaterSense certification for water efficiency. TOTO stands behind all Drake toilets with its trusted brand reputation and warranties.
Final Thoughts
Overall, both the Drake and Aquia represent high performing, water efficient TOTO toilet models. The key differences come down to flushing method, bowl design, water usage, price, and visual aesthetics.
Consider your needs in these areas to decide if the Drake or Aquia better fits your bathroom.
Either way, you can count on getting a durable, reliable TOTO toilet built to last for years without clogging or leaks.