There are tons of bathtubs in the market, but only a few are worth your money. Kohler has some of the best bathtubs in the market.
Bellwether and Archer are two of them. Let's discuss Kohler Bellwether vs. Archer to find out which is the better tub.
After a day of hard work, many of us enjoy taking a moment to rewind in the comforts of a soothing bath, so it is smart to make an informed decision for specific needs.
A Quick Comparison Table
Before we talk about the differences between Kohler Bellwether and Archer in depth, here's a quick look at how they fare against each other:
| | | |
| --- | --- | --- |
| Specifications | Kohler Bellwether | Kohler Archer |
| Material | Cast iron | Acrylic |
| Dimensions | 66 x 32 x 17 inches | 62.63 x 34.38 x 21 inches |
| Required Space | Doesn't require much space | Doesn't require much space |
| Weight | Bulky | Lightweight |
| Design | Rectangular, contemporary, clean | Curved with beveled edges and modeled lumbar support |
| Arm Rest | Absent | Present |
| Water Depth | Great; customizable | Satisfactory |
| Aesthetics | Dated design | Goes well with every décor |
| Installation | Alcove | Drop-in |
| Price | Expensive | Cheaper |
| Special Features | The integral flange that prevents water from seeping back | Textured bottom surface |
In-Depth Differences Between Kohler Bellwether and Archer
Kohler Bellwether is a cast iron tub while the Kohler Archer is an acrylic one. Acrylic tubs are known for being lightweight and comfortably fitting onto any surface without any support.
Cast iron tubs are known for their lifespan, durability, and heat-retaining power. Customers get a lifetime limited warranty on Kohler's cast iron.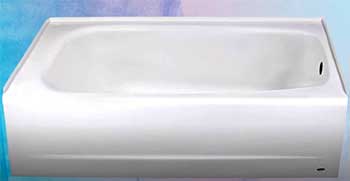 We enjoyed the Bellwether's 15" threshold for easy exit and entrance. This low step-over height is in compliance with ADA standards (also applicable for the Kohler Archer).
Naturally, for its rectangular design, the Bellwether offers a deeper soak.
Bellwether is over 5-feet in length and perfectly accommodates most users. However, it is not as wide as the Archer.
The Kohler Archer tub features a 21-inch step-over height. What's really impressive is that it does so while maintaining the average depth of a standard bath.
You will find no difficulty in using this tub or getting used to it because the dimensions are quite convenient.
This tub is a five-footer which makes it ideal for most people, from adults to children. Kohler follows the universal size standard while designing their tubs so it can suit people of varying heights.
Most users have said that this size tub could comfortably accommodate their entire family.
Despite its seemingly huge size and massive weight, the Kohler Bellwether's three-wall alcove install is good for shower and bath combinations.
The Kohler Archer seems to fit right into any bathroom; you will not have to assign a lot of area to it and miss out on ample bathroom spacing. Coupling that with its standard capacity and bath time is great every time.
Unlike bulkier bathtubs of today, Kohler's Archer can squeeze into the most minor areas.
While the Archer weighs a measly 68.96 pounds, the Bellwether is a true heavyweight at 400 pounds. The weight of the Bellwether does put it in a disadvantageous position in some places, but the extra weight is a given with this kind of design.
When it comes to ease of installation the weight of the tubs does make a noticeable difference. Although the Bellwether installs relatively easily, the Archer effortlessly fits into most spaces.
Keep in mind that the weight has an impact on the overall durability of the two tubs. Kohler Bellwether is said to be more durable by users.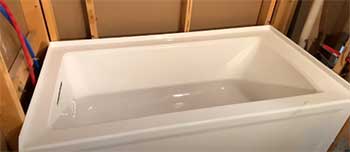 Kohler Bellwether is a generic rectangular tub that we have seen and loved for ages.
The wide ledges offer greater legroom while the integral apron and clean lines create a better bathing scenario.
We would describe the design as elegant, contemporary, and clean, but nothing mind-blowing.
Kohler Archer impresses with curved bases and beveled edges. The curvy and smooth nature of the tub ensures a comfortable bath.
The lower step-over height paired with the right placement of the drain facilitates a more comfortable and deeper soaking.
The curved bases also add to the aesthetics along with the comfort. Moreover, the molded lumbar arch supports the natural curves of your body, giving a comfier bathing experience.
We have found the Kohler Bellwether to have an impeccably smooth surface.
The Kohler Archer tub features comfortable armrests, allowing you to relax during a bath. You may find that many high-end tubs today feature a complicated design that is more for aesthetics and less for convenience.
Fortunately, that is not the case with either of these tubs.
Kohler Archer's curved design adds to the overall comfort which you might miss out on the Kohler Bellwether due to its rectangular design. In addition, Bellwether lacks sleek armrests.
Bellwether, however, offers a no-slip grip which is great for older people and kids.
For Kohler Archer and Kohler Bellwether, the depth of water is raised to the level of any average tub. You do not miss out on any of the classic comforts a decent, standard tub ensures.
Feel free to adjust the depth to customize the perfect bath for yourself.
We loved the overall aesthetics of the Kohler Archer. This lightweight tub features a beautiful and elegant curved design that fits with almost every décor.
It's safe to say that you would not have to consider changing your whole interior to match your bathtub's design.
In comparison, the Kohler Bellwether is bland, but mostly because it was designed primarily for convenience and not aesthetics. We already mentioned how this tub is chunkier, so it takes marks out of aesthetics automatically.
On top of that, the rectangular design is dated.
The Kohler Archer tub is available in many colors and shades so you can choose based on your personal preference. You do not get that liberty with Kohler Bellwether.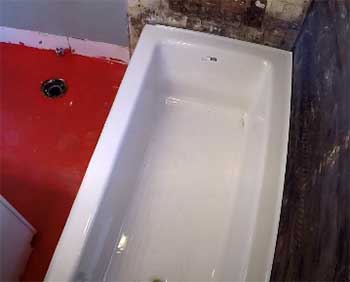 Since it's a relatively lighter tub, the Archer features a drop-in installation method.
Tubs like this are "dropped into" a structure or frame called a surround. The Archer features a rim around its top to attach it to the surround's top.
The surround conceals the exterior of the tub, making only the rim noticeable.
Bellwether, on the other hand, is bulkier and requires alcove installation. However, this does not mean that the tub does not fit in most bathrooms.
Alcove installation implies that the bathtub will be installed in a bathroom's recess.
The Bellwether is quite pricey but not that expensive that you cannot compare it to a standard bathtub. For the size and features you are getting, the Bellwether is a fine choice.
Kohler Archer is almost half in the price of the Bellwether.
Kohler Bellwether features an internal flange that stops the water from splashing out and further simplifies the installation process. As the water does not get stored behind the wall, you do not have to worry about water damage.
This feature is missing in Kohler Archer. The Archer has a nice textured bottom surface.
What Will Be The Suitable Choice For Your Home?
All those who want something non-traditional for their bathroom and require a premium tub should go for the Kohler Archer.
Its classy and lavish design paired with superior comfort will be a great addition to any bathroom. Thus, if comfortable and sleek is what you are looking for, you cannot go wrong with the Archer.
On the other hand, if you want something that has more storage, works for everyone in the family, and offers a deep, relaxing soak, you may be better off with the Bellwether.
That being said, the Bellwether is rather expensive and will set you back more than a thousand dollars.
Frequently Asked Questions (FAQs)
Which is better: acrylic or cast-iron tubs?
Cast iron tubs are very durable and need less upkeep in comparison to the acrylic tub. The latter is still durable but more susceptible to staining over time.
Is a cast iron tub too heavy for the second floor?
Regular cast iron tubs should be fine for any floor. Most cast iron or steel tubs weigh over 100 pounds empty and over 500 pounds when filled with water.
How long does a cast iron tub last?
A good cast iron tub can last for a long time – think 70 years and more!
Why do acrylic tubs tend to be more expensive?
Acrylic tubs are generally pricier due to the manufacturing process.
How long will an acrylic tub last?
On average, acrylic tubs last 10 to 15 years.
Bottom Line
That was all for this one! Between Kohler Bellwether vs. Archer, there is no one perfect tub for everyone. These bathtubs vary in design and features, so it simply depends on personal preference and your individual needs.
If you are making an upgrade to your bathroom or setting up a brand new one, make sure to look at the specifications of each tub before making the call.