Keeping any shampoo bar dry is difficult but you need to keep it dry to extend its life nonetheless. You need to figure out the perfect way to store your beloved shampoo bar between uses, right?
You don't want your soap bars to get soggy. So, how do you keep your Lush shampoo bars dry and never get soggy?
Well, there are several ways to do that. Some of them won't even cost you a penny! Each of the methods will work just fine.
Several Ways To Store Lush Shampoo Bars

Whoever switched to shampoo bars… just loved it! But not everyone knows the right way to keep the bar dry.
Water activates the solid shampoo bar. To keep it dry, you need to keep it away from water when not used. Here are some proven methods that work:
Before you think it's a bad idea, let me explain…
You don't just throw it into the pot wet. You need to put let the bar dry first after showering before you put it in the pot. You can put the wet shampoo bar on the bathroom windowsill to let the air dry first.
After your shower, the bar will be dry enough and you can simply pop the bar back into the pot. It has worked for many and I am pretty sure it will work for you!
Yes, a soap dish can keep your Lush shampoo bar dry too. I personally use a ribbed silicone soap dish and believe it or not it works better than a soap saver!
Such soap dishes are available in different sizes and looks. You can even get wooden shampoo bar dishes if you are not okay with plastic soap dishes. It's eco-friendly!
You can simply put the soap dish on the counter and store your bar. No need to hide them anymore!
FYI: If you get a wooden soap dish, you can need to clean it every two weeks. That will prevent the mold and mildew from accumulating.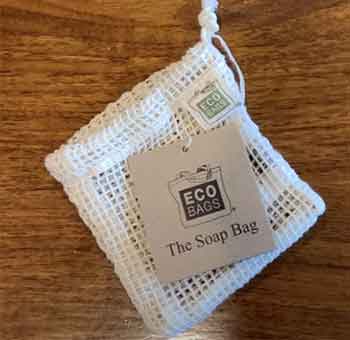 It's a great way to avoid having a soggy shampoo bar.
Just like the mesh bag, you just hang it up in the shower keeping the bar inside and you don't have to worry about melting bars!
You can use the soap saver bag to store your body soap bars, conditioner, or even your pet shampoo bar.
There are plenty of eco-friendly soap saver bags available in the market. And you can get them for as low as $5!
These are washing machine washable just like the mesh bag too.
I find a mesh bag or string bag highly convenient to store such shampoo bars. You can use the mesh bag to lather and exfoliate yourself.
When you are done, just hang the bag keeping the bar inside. Your shampoo bar will dry automatically. You can simply throw the mesh bag into the washing machine to clean it every now and then.
If you don't have a bathroom caddy hanging from the towel bar or showerhead already, get one with good drainage ASAP. It has many uses!
It's the perfect place to store your shampoo bar as long as it has good drainage. However, you will need a soap dish or soap-saving bag as soon as the bar gets smaller over time.
Otherwise, the shrinking bar may slip through the caddy bars anytime!
Use The Bathtub Caddy Tray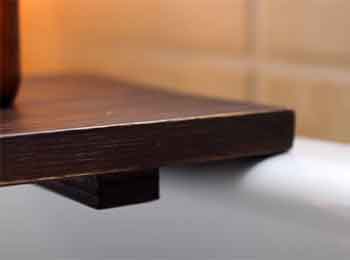 You can use the bathtub caddy tray as perfect storage for your Lush shampoo bar. Almost all those trays have spots with drainage.
Even if your bathtub doesn't have such a spot with drainage, you can add a soap dish to that caddy to store the soap bar.
There are plenty of 3D printed shampoo bar trays available in the market.
It's both a convenient and luxurious way to store your soap bar.
You can find this on Amazon or Target and it's highly recommended if you have to travel or go to the gym with your Lush shampoo bar. It's cheaper than travel tins and highly convenient as well.
With a GoTubb keeping the bar inside, you don't have to worry about creating a mess inside your travel bag.
Making Your Lush Shampoo Bar Last Longer
So, the whole point of storing the bar is to extend the life of your bar, right? Well, you can use any of the storing methods mentioned above.
But apart from that, don't let the bar sit in any water puddle. Make sure it gets enough air in between uses and don't let the heat from the sunlight melt it away too.
Frequently Asked Questions (FAQ)
How do I keep my bar shampoo dry?
The best way to keep any shampoo bar dry is to store them in a string or fabric bag. You can use the bar to keep it in the bag to exfoliate and lather yourself and then simply hang the bag to keep the bar dry!
How do you take care of Lush shampoo bars?
When not used, keeping it dry is the best way to take care of your Lush shampoo bars. You can use soap dishes, soap saver bags, shower caddy, etc. for storage.
How do you keep shampoo bars from melting?
As long as you keep it away from the touch of water between uses, it won't melt. The best way to achieve this is by storing it in a string bag and keeping the bag away from water.
How many washes does shampoo bar last?
With proper storage and care, each shampoo bar should last at least 50 to 75 washes.
Do shampoo bars last longer?
Yes, shampoo bars last longer than liquid shampoo. In fact, a single shampoo bar can outlast 2 to 3 bottles of liquid shampoo.
Closing Remarks
Lush shampoo bars are expensive and you should try to keep it dry so that you can use it for a longer period to get the best return.
As you can see, there are plenty of storage options when it comes to storing your shampoo bar. Try a few of them and see what works for you best.
Don't let your beloved shampoo go waste!