Most of the people who tend to love bathroom luxury might want to know what the difference between Buff City Soap and Lush is. These two companies are very famous for their handmade bath and shower products among the people.
If you're looking for some of the plant-based products to use in your bathroom then these are the promising companies. They have a great less chemical formula for their handmade bath and shower items.
Now it is necessary to know about their differences to know which one is best. Like you, we're also curious about these two brands.
After a lot of research, some interesting facts have come up about Buff City Soap vs. Lush.
So, let's get to know them!
A Quick Comparison Table
| | | |
| --- | --- | --- |
| Comparison | Buff City Soap | Lush |
| Company | Buff City Soap is a Minnesota-based handmade soap company. | Lush is a British multinational retailer and bath manufacturer. |
| Quality | Is known for its high-quality, natural ingredients that are used to make its soaps. | Specializes in handmade, organic soap. |
| Selling Process | Sells its products through affiliate dealers in over 100 cities nationwide. | Retailer and bath manufacturer. |
| Popularity | Buff City Soap has about 550k fans. | Lush has more than 2.5 million fans. |
| Price | Buff City Soap specializes in cutting the cost down | Lush get more expensive products |
What Is The Difference Between Buff City Soap And Lush?
Buff City Soap is a handmade soap company based in Minnesota, while Lush is a British multinational retailer and bath manufacturer that sells primarily hand-made soaps, lotions, and other cosmetics.
Buff City Soap is one of the most popular soap brands in the United States.
It is known for its high-quality, natural ingredients that are used to make its soaps.
Lush, on the other hand, is a British company that specializes in handmade, organic soap. Here is an in-depth review of Lush soaps.
While both brands are popular, there are some key differences between them. Let's get into them-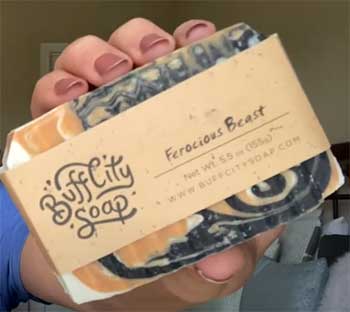 Some of the biggest differences that come out between Buff City Soap and Lush are their popularity.
Both of them have great products, but people want to know who is better.
At this time, Lush has more than 2.5 million fans on Facebook and Buff City Soap has about 550k on its page.
Buff City Soap is mainly a popular handmade soap brand in the United States, while Lush is well known for its beauty products.
Buff City Soap has been creating natural soaps for years now, and it's one of the most trusted companies out there that offer high-quality ingredients to make good quality natural soaps.
It was founded by Thomas Harris who himself played many sports activities before becoming successful as a focus chemist.
Buff City also takes another pride by being known as the first bath and beauty retailer in Minnesota. However, Lush is a famous company found all over the world that has perfected its products to place it on top of other retailers.
Soon after creating its successful retail business, Lush started launching product lines into different countries such as Australia, Japan, and Iceland. Today you can find at least 10 shades of eyeliner at every shop in the country.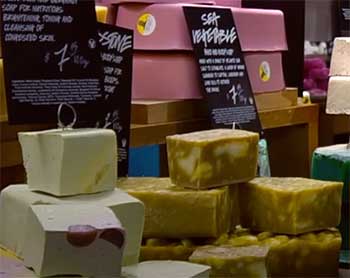 Both of these brands offer exceptional quality soaps which are handmade by professionals with care for detail.
Their difference lies in how much time goes into this item before selling them to customers.
Buff City Soap is known for providing its soaps from scratch and making them in store until it's all perfected.
But Lush took this handmade method to another level by mass producing their product in small batches of up to around 20 bath bombs each day. They do that with a very clear aim to create top-quality products that customers will like and continue enjoying long after the purchase has been made.
Buff City Soap is better than other handmade soaps due to its knowledge in creating soap for the perfect combination of scents.
The company has been making scent profiles specifically designed only for different customer groups, and this attention to detail means a lot concerning customer satisfaction!
Lush has their brand of scent experts, who create fun and unique fragrances which are as individual as you. Lush knows what customers want!
Lush made huge steps forward when they decided that customers get more expensive products with less core quality as price increases. On the other hand, Buff City specializes in cutting the cost down and getting back home more money from the same amount of expensive ingredients.
This tendency has been ongoing for a long time and demonstrates how much Buff City cares about this issue.
In my opinion, Lush is better than other soaps due to its foundations in understanding customer needs totally when it comes down to professional brands such as these two above which are priced higher.
But have been made with extreme care while they're still selling at around the same price. Buff City soap is a much smaller company, which cares about its reputation and believes in excellent customer service.
Buff City takes its customers into consideration. They have done some research and clearly think that the prices of the brand are on par, but no more expensive than other handmade soaps.
This is an amazing achievement in comparison to Lush's approach.
They are not only extremely popular among customers, who adore them for offering such great value, but also for being so inexpensive.
Whereas sets of handmade bath bombs which are the same size or slightly larger in almost every other soap brand cost a lot.
Which Brand Is Better?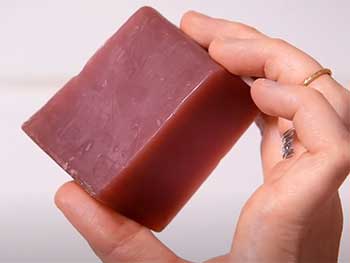 In my opinion, both companies are great and provide amazing products.
But in general survey Lush wins because they have a much greater understanding of their customers and deliver exceptional value for the cost of their products.
Buff City also provides excellent customer service, which is an added bonus. They both have their faults.
For example, with Lush sometimes you can get small pots of soap that are a tiny bit too hard for me because I'm used to the soft texture of other handmade soaps and bath bombs.
Overall though, Bluff City's excellent reputation is well worth it.  It's simply because they're able to provide by making such cheap products, especially as compared with similar companies priced higher but lacking in quality (including one where it was left out in the open air to melt).
That is why Lush can be said better than Buff City Soap.
Frequently Asked Questions (FAQ)
Is Buff City Soap good for your skin?
Since soap is basically solid, absolutely no skincare benefit or downside can be attributed to it.
As you become familiar with the bar of quality handmade soap (pure vegetable-based products) and bath bombs from Bluff City Soap.
This would not surprise me very much because they are made using all-natural ingredients producing top-notch results on your skin including perfect exfoliation!
Are buff City soaps non-toxic?
Buff City Soap responded to this question saying that "All bars contain  -No Phthalates, Sulfate & Parabens (added to other Bath and Body products), No Animal Testing!" The website also says their soap is "Free of animal products".
Which one is better: Buff City Soap or Lush?
Lush puts out top-notch quality goods, but Buff City Soap is cheaper and offers good customer service in a cozy environment. That matchup is pretty much corresponding to Buff City Soap.
Does Buff City Soap use lye?
Lye is a great cleaning agent for make-up removal and you can use it to dissolve the soap. They do not list the ingredients of their bars as lye, but there are all-natural products that get rid of tough skin cleaners.
Is Lush soap good for you?
Lush is a pure manner that fights many different ills of our society. There are plenty of ingredients in Lush soap, so do not worry.
It cleans skin better than regular bar soap because the lathers longer and suits a man who uses dark or neon-colored products on his face.
Conclusion
Lush is a great choice for those who want a high-quality, handmade soap without spending a lot of money.
Buff City Soap is a good choice for those who want a more environmentally friendly option or who are looking for something with more exotic ingredients.
Both of them have great values from their own perspective. Buff City Soap and Lush are both strong brands. So Lush is quite better in comparison between the two.