In this time of trimmer and electric razors, many people still prefer wet shaving. To them, razor blades are an essential tool for clean and smooth shaving. 
As a wet shaver, you deserve only the best blade, and that is why you should know about Feather vs. Personna blades. 
You will know the features and differences between these two blades from this article. It will help you find out the best blade for regular shaving. 
Because let's admit, it can be hard to find out the right one from hundreds of options. 
A Quick Comparison Between Feather And Personna Blades
Feather and Personna blades are compared because of their high quality, sharpness, and performance. Both blades are made from high-quality materials. 
But how do you distinguish between them? 
Well, that is where my comparison table fits in. So, without taking any more time, let's look at the quick comparison table between Feather and Personna blade: 
| | | |
| --- | --- | --- |
| Aspects | Feather Blades | Personna Blades |
| Material | Carbon Steel Blade &  Platinum coated Hi-Stainless steel | Alloy Chrome Steel |
| Blade Option | 2 | 2 |
| Sharpness | Sharpest Between the Two | Less Sharp than Feather |
| Performance | Superior to Personna | Inferior to Feather |
| Longevity | 8 to 12 Shaves | Up to 5 shaves |
| Pack Size | 10 Pieces A Sleeve; 20 Sleeve A Box | 10 Piece and 100 Piece Pack |
| Availability | Widely Available | Widely Available |
Key Differences Between Feather And Personna Blades
Feather is a Japanese-made razor blade available since 1932. They are probably one of the sharpest blades available on the market. 
We all know Japanese blades are famous worldwide; the Feather razor blade is another addition to that extent. 
If you are more interested, you can read my standalone review on Feather Professional Super Blades!
Personna is one of the oldest razor blades with experience of 135 years in blade manufacturing. Many Americans have preferred this German-made blade since it was first introduced. 
Still, it is prevalent for the smooth shaving experience it provides to its users.  
You got some rough idea about the differences Feather and Personna blades hold. But as you can see, it is not detailed enough to decide based on it. 
So, read through this part if you are further interested. Indeed, you will get to know every information needed to pick up one. 
Let's explore these legendary shaving razor blades. 
What do we see when we look at a razor blade? 
We see a shiny little thing that can cut through our skin in a heartbeat. But how many of us ask what material it is made of? If you wish to know better about your shaving blade, you should. 
While both Feather and Personna blades are made from high-quality metal, Feather blades come with two options for material. You will get a carbon steel-made blade option and a platinum-coated Hi-stainless steel blade option. 
On the other hand, Personna blades are made from Alloy Chrome Steel, another high-quality metal that makes the blade sharp and firm. 
Both Feather and Personna make two types of blades: single edge blades and double edge blades. You can choose one based on your razor. 
Also, both blades are compatible with all the standard razors. 
However, as we already know, Feather makes its blade from two different materials, carbon steel and platinum-coated Hi-stainless steel, while Personna makes its blade from a single material. 
If you ask someone the single most important attribute they look into while buying their razor blades, they will tell you it's the sharpness without any hesitation.
The sharpness of a blade determines whether you will have a smooth and comfortable shaving experience. 
Feather blades are world-famous for their sharpness. It is so sharp that it can easily cut the coarsest beards. With this overly aggressive blade, you have to be always careful while shaving. 
Nonetheless, you will have smooth and comfortable shaving with it. 
On the contrary, Personna blades are also sharp but not as much as the Feather ones. The plus point is, they are not overly aggressive, and anyone can use this blade.  
Each Feather blade will give you an assertive and close shave regardless of the material. You might feel a bit rough at first shaving but will get over it with the second and third time. 
This blade shaves closer in fewer passes, and because of that, you will require less often shaving. It will help reduce post-shave skin irritation. 
In contrast, while Personna blades are not as sharp as Feather blades, it still provides a smooth shaving experience. People with sensitive skins are more attracted to this blade. 
Longevity is another crucial attribute that can attract many people. Here longevity refers to the number of shaves you can have with a single blade. With Feather, you will have 8 to 12 shaves per blade. 
On the other hand, Personna blades last up to 5 shaves and more. Feather blade is the winner here. 
Feather blades are available in two pack sizes—a smaller ten blades per sleeve and a large pack of twenty sleeves per outer box. Personna is also available in two sizes, a smaller ten blade per pack size and a bigger 100 blades per pack size. 
Both Feather and Personna blades maintain a robust supply chain and are widely available in OTC drug stores, supermarkets, convenience stores, etc. Apart from that, you can purchase them from online stores too. 
Which Blade Is Best For You?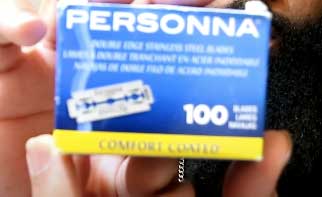 The above discussion has depicted a clear idea about the features and differences of both blades.
So, you must have a clear sense of them by now. 
In that case, now you can easily pick up the best blade based on your requirement. 
But if you ask my suggestion, I will tell you to purchase Feather blades. It is the sharpest blade that comes in two options for material and will provide you with a smooth and comfortable shaving experience. You must use this blade if you have post-shaving skin irritation. 
However, if your skin is sensitive and you are not very used to shaving, you should go for Personna blades. 
Frequently Asked Question (FAQ)
Are Personna razor blades good?
Personna razor blades are sharp but not too sharp. Yet they are capable of providing smooth shaving. It is a better option for people with overly sensitive skin.
How sharp are Personna blades?
Personna blades are sharp but not the sharpest ones available in the market. There are other blades sharper than it. From personal experience, I can rate it 7.5 out of 10 on the sharpness scale.
What is a Personna blade?
Personna blade is a consumer-level wet shaving blade for razors. Apart from double edge shaving blades, they also make different razors, hobby blades, single edge blades, etc. 
Are Feather blades the sharpest?
Feather blades are probably the sharpest shaving blade available on the market. I will rate it 10/10 for sharpness. This blade is so sharp that even the pros feel it rough.
Final Words
A shaving blade is a sensitive commodity that we use on our faces. But we often ignore the importance of choosing the right blade that protects our face. 
I hope my Feather vs. Personna blades review will come in handy for you. 
Now that you have found the best blade, you can thank me whenever you have a nice, smooth, comfortable shave.