Don't you just hate it when your shaving blade does not give what you want? 
It can happen when you use the wrong blade. We've all been there. But with the Derby vs. Astra blades review, you will find the best blade for regular smooth shaving. 
Want to know how it works right now? 
I will show you the features of these two blades and compare them. You will find out the best option for you. Let's get this show on the road. 
A Quick Comparison Table
If you have little time and need to know about these blades, look at the quick comparison table between Debry and Astra blades. 
| | | |
| --- | --- | --- |
| Aspects | Derby | Astra |
| Material | Stainless Steel with Triple Coating | Stainless Steel with Platinum Coating |
| Blade Option: | Double-Edge and Single-Edge | Double-Edge |
| Sharpness | Not Very Sharp | Very Sharp |
| Performance | Average | High |
| Longevity | 3 to 4 Shave per Blade | 5 Shaves Per Blade |
| Availability | Widely Available | Widely Available |
| Pack size | 2 | 2 |
Key Differences Between Debry And Astra Blades
Debry represents superb quality, providing a smooth shaving experience. Because of its mildness, it is trendy among beginners. Most importantly, you can use it with all safety razors.  
Astra being a stainless double edge blade fits with all double edge razors. It brings unparalleled quality, smoothness, and durability to everyday shaving. 
Besides, this Gillette-made blade is sharp and long-lasting. Let's explore some key differences between Debry and Astra blades. 
The materials determine how well a blade can perform. Best blades are always made from high-quality materials.
Being made from Stainless Steel, Derby is a superior blade with a triple coating that lasts for. 
Chromium, platinum, and tungsten coating makes Derby blade sharp and mild for its users. 
On the contrary, Astra blades are made using the highest quality of stainless steel. Coupling with platinum coating, this blade is very sharp yet provides a smooth shaving experience. 
Derby blades are ideal for all double edge and cutthroat razors with double edge and single edge blade options. Because it comes as both double edge and single edge, giving you the freedom to pick between the two. 
On the other hand, Astra blades are made double edge only. You can use it with any double edge safety razor or cut it in half and use it in a cutthroat razor. 
Isn't sharpness your most significant consideration for choosing a blade? 
With a stainless steel body and triple coating, Derby blades are sharp. But unfortunately, they are not as sharp as Astra. 
In contrast, Astra blades are one of the sharpest blades available. They are far sharper than Derby blades. If I were to give a rating, I would give Derby a 7.5 for sharpness and Astra a 9.5 out of 10. 
With a stainless steel body and triple coating, Derby blades are mild and best suited for beginners just setting their foot into the men's world. 
Because of the soft edges, these blades are smooth and durable. Besides, they are compatible with all double edge safety razors. 
Likewise, Astra blades are a great performer, only better. They are perfection. Despite being extra sharp, they offer smooth shaving and will hardly irritate your skin.
Most importantly, this blade is superb for coarse bread and sensitive skin. 
Longevity is undoubtedly an essential consideration for choosing a shaving blade. You want your blade to survive a few rounds, giving you the best shaving experience. 
Debry blades usually last for 3 to 4 shaves. You can replace them whenever you feel them tugging. 
Astra blades last longer than that. You can shave up to 5 times with an Astra blade. While it lasts 5 rounds of shaving, you will feel comfortable and smooth right up to the end.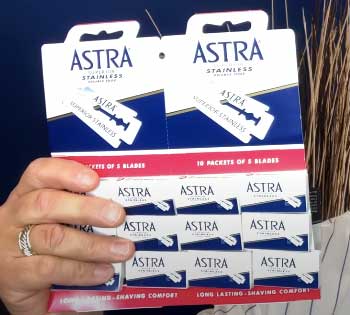 One thing is shared between both Derby and Astra blades. They are widely available in the market.
Derby is made in Turkey, and you can find them in any supermarket or convenience store near your home. 
Gillette makes Astra blades, and you will find them anywhere near your house because of their strong supply chain. 
Pack size is another crucial consideration for people. While some people will want a small pack, others will want larger ones. That's why blades must be available in various pack sizes. 
Both Derby and Astra come in two pack sizes. A 5 piece per pack and a 100 piece per pack. You can choose one based on your shaving frequency. 
Which Blade is Best for You?
Now that you have learned a great deal about both Derby and Astra Blades, I believe now you can easily pick up the right one considering your needs. 
Let me say it anyway. 
If you are just starting and think you cannot deal with a sharp blade, you should go with Derby blades. But if you are looking for the sharpest blade offering more shaving, you must choose Astra. 
Here is a nice comparison between the two for you.
Frequently Asked Questions (FAQ)
Are Derby de blades good?
Derby Extra razor blades are perfect for people looking for mild blades for wet shaving. They have a triple coating and offer smooth shaving. 
Are Astra blades sharp?
Coupling with platinum coating, stainless steel-made Astra blades are one of the sharpest options available. But they also offer smooth shaving. 
Are Derby blades smooth?
Derby blades are famous for their smoothness. With a triple coating on a stainless steel body, they are mild and give a smooth shaving experience. 
Are Astra blades made by Gillette?
Yes, Astra blades are made by Gillette. As a result, they possess superior materials and the highest quality. Most importantly, they are one of the sharpest blades available. 
Conclusion
Choosing the right shaving blade is a pain, especially if you do not know the best blades' features and benefits. In that case, I hope my Derby vs. Astra blades review comes in handy. 
This is the point where you have to put your thoughts and choose one that will suit your skin and other considerations. So, go ahead and have a nice shave with the best blade.