We all pass a busy schedule in our everyday life. Regularly going to barbershops may not be possible. But this doesn't imply you can't t enjoy a perfect shave.
Getting a precise and close shave requires choosing a professional quality blade.
Feather Professional Super Blade is one of the top choices for a convenient shaving experience. Here we will share expert details in this Feather Professional Super Blades review session to aid you to learn all the valuable information about this product.
Let's dive in!
Features of Feather Professional Super Blades
Before choosing a particular type of shaving blade, knowing its primary features is a good rule thumb. Here are some key features of this premium blade that make it stand out.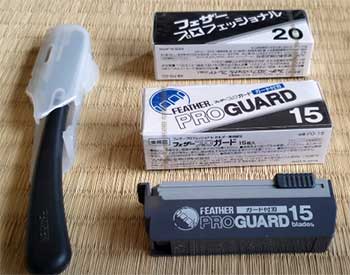 Are you used to using typical cheap razors or shaving blades?
Then use Feather Professional Super Blades and figure out how it differs from competitors.
This Japanese blade is made of a platinum alloy, making it super strong and less likely to break.
Additionally, it has a resin coating to ensure extreme durability.
Plus, you won't have any slippery experience while using this type of blade. Compared to other blades, they are 5 – 10% lighter too.
Industrial-grade Construction
The blade is made through a complicated and expensive process to create a precise design.
It has a wider of 1.45mm and a thicker 0.31mm blade exposure that can cut repeatedly and quickly. Hence, you will spend less time completing your shaving session.   
Apart from that, the blade has a higher gap and inherent blade angle, which will positively impact the nature of your shave.
You can easily get a close and buttery-smooth shave like a professional. It can smoothly handle any tough, heavy, or coarse beard without any problem.
Performing a more aggressive shave is also possible if your beard is highly thick and heavy. But be cautious to avoid unwanted situations.
Since the blades are ultra-sharp, it can lead to minor cutting if you are not careful enough. Lack of finesse or a light touch may result in cutting issues.
However, a little bit old blade will need more pressure to cut heavy beards than new blades. If you are interested, read my in-depth comparison between Feather and Personna blades.
Many razor blades are a little complicated to change. Thankfully, this user-friendly blade comes with a unique injector-style dispenser.
You can easily and safely remove the blade and add a new one. More importantly, it takes minimal time for a replacement.
Artist Club Shavette blades
Not all blades can provide professional quality results. Since it is an Artist Club Shavette blade, you can expect the best shaving experience.
In order to ensure the optimal sharpen, these blades feature triple grinding. Also, they have a double coating of platinum alloy and resin, making them highly versatile.
It is not hard to see why many professional barbers use this top-grade blade for providing customers professional, smooth shave for light to thick hair.
People often ask how many times you can shave with Feather Professional Super Blades. Generally, you can shave your beard 7-8 items.
In many situations, this can be as high as ten times. But it mainly depends on your facial hair density and thickness level.
Apart from that, its durability will be effective based on your shaving cream, razor, beard length, the temperature of your face, etc.
Make sure to change it once it becomes dull. Using dull blades for shaving facial hair may lead to small cuttings and unsmooth shaving.
Convenient Shaving Experience
You don't need to shave your beard daily with this ultra-sharp blade. Removing tough beards from the neck, jaw, cheeks, chin, and mouth will be a smooth task.
It will provide smooth baby skin without a hint of stubble. Avoid adding extra pressure for a new blade. It is super aggressive. You must go slowly.
Avoid taking a single step with the straight razor open. Keeping the floor dry is a solid rule of thumb too. Focus on your shaving to mitigate distractions.
You can use an alum bar to get a better finger grip. This will help you for easy-going pulling skin at various angles.
Getting a better shave with minimal nicks and far less irritation is what you will love about this super blade. All you need to ensure a steady hand and decent technique.
What Could've Been Better With Feather Professional Super Blades?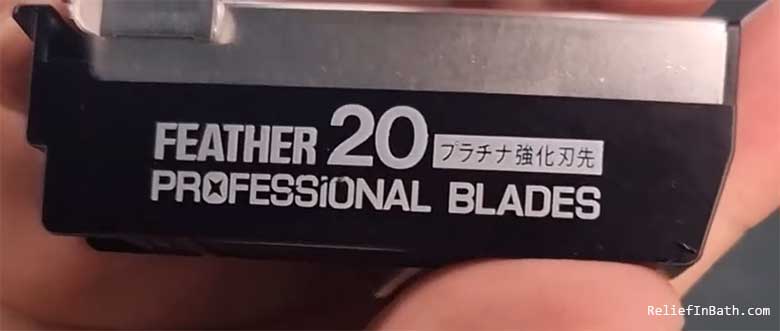 Just because Feather Professional Super Blades have a premium quality doesn't mean it doesn't have any cons. Here are many negative aspects of this blade, which many users complain about.
In Compatible With Double Edge Razors
Feather Professional Super Blades are mainly compatible with the Feather Artist Club range of razors.
This includes SR Razors (The latest addition), SS Razors, and DX Razors. But you can't use them with double edge razors since they have two cutting edges.
So, if you don't have any Feather Artist Club razors, you need first to buy them. Otherwise, you can use them.
If you are a beginner who has been shaving recently, being extra cautious is extremely necessary while using it.
Since its blades' edge is super sharp, you may end up having several cuttings. This is more common among new users.
Additionally, be extra attentive while getting in different directions and angles. Maintain the consistency to shave your beard evenly.
Don't think you will bear the same cost to buy this type of premium-grade shaving blade. They have an above-average price tag than any cheap or average blades.
However, the consistency and sharpness you get from each shaving session are worth the price you pay. Here is a 30 minutes long review of it!
Final Thought
Using high-quality razor blades doesn't make you look younger but also removes dead cells from the facial hair. We have already outlined the pros and cons of this blade in our Feather Professional Super Blades review.
You just need to use the blade correctly to have the shaving experience. More importantly, it will keep your sensitive skin free from dandruff, itchiness, and rashes.
So keep making yourself bold and fresh, shaving regularly.