Whether you prefer bar soap or liquid soap, selecting a high-quality product with a pleasant aroma is usually a smart idea. And that's where the battle between specialized men's bar soaps Duke Cannon vs. Dr. Squatch began!
Although Duke Cannon and Dr. Squatch have some similarities, they have a few variations. If you read this comparison, you will get the idea.
So, let's begin!
Dr. Squatch And Duck Cannon: A Quick Comparison
| | | |
| --- | --- | --- |
| Feature | Duke Cannon | Dr. Squatch |
| Quality | Not Completely Natural | Completely Natural |
| Size | Large (11 oz. average) | Medium (6 oz. average) |
| Aroma | Mild | Strong and Unique |
| Personalized Experience | Medium | Heavy |
| Scents Variety | 16 unique bar soaps | 15 unique bar soaps |
| Website | https://dukecannon.com/ | https://drsquatch.com/ |
Let's talk about their differences in detail.
Key Differences Between Duke Cannon Soap And Dr. Squatch

Duke Cannon does not appear to be willing to make any concessions when it comes to their odors. As aroma is one of the most important aspects of soap so Duke Cannon comes with a pleasant-smelling quality.
The fragrance lingers for a long time. Even if you shower at 6 a.m., the fragrance will last until 12 p.m.
Sometimes it feels like Duke Cannon is obsessed with making effective personal hygiene items, which is sure for good.
Duke Cannon will equip you with everything you need to get through the day; whether you're a professional or a student Duke Cannon has an option for you.
So, if you're looking for something durable and useful, Duke Cannon is the way to go.
Dr. Squatch is much more of a naturalized product. As we told earlier, Duke Cannon is not completely natural.
On the other hand, Dr. Squatch is completely natural.
The harsh chemical ingredients in big-brand soaps are problematic. Men's soap that is common, whether you have psoriasis or not, can leave your skin feeling dry and flaking, especially in the winter.
If you are looking for a completely natural product, you should think about Dr. Squatch.
The aroma of it is strong and unique, not like regular soap. One of the main reasons for this is the complete natural quality of their product.
For natural bar soap, Dr. Squatch is always a popular choice.
Dr. Squatch also offers a fantastic return policy. If you aren't completely happy with your Dr. Squatch items, you can return them within 30 days of receiving your order!
If you measure things in terms of size, then Duke Cannon is the winner. Their soap is large in size.
So you can use them for a long time. And as their price is reasonable, so it's also a point of consideration too.
For better quality and preservation, you can even cut the size of the soap and preserve it in a safe place for longer and better quality.
But the same thing can't be said about Dr. Squatch. They are not so large in size.
I would consider it as medium in size. So the point of cutting it and preserving it for later use is not that much of a point in these cases.
But on the other side, Dr. Suqatch is all-natural. As without chemical things doesn't last that long so it's a thing to remember also if you are thinking in terms of price then Dr. Squatch is quite expensive.

Duke Cannon soap's personalized experience is good, but I won't consider it something superior. Surely they come with different flavors and scents but they are not as good as Dr. Squatch.
 It feels like Duke Cannon customizations for personal use are not that exclusive. They are not that unique and each flavor doesn't offer that much variety in terms of odor.
On the other hand, Dr. Squatch is far more superior in aroma and personalized experience.
Sometimes, it feels like they have researched different people's psychological traits and types and have tried to come with the best experience as much as possible.
You don't even have to trust my words. You use it, and you will see the difference.
In terms of lasting fragrance period, you can count on Duke Cannon. Duke Cannon has a mild scent that lasts for a long time throughout the day.
Duke Cannon will be excellent if you're a huge lover of fragrances.
Another crucial feature I'd like to highlight is the peppermint-scented flavor of Duke Cannon. It has such a powerful odor that it fills my entire shower along with my nose that starts to clean up a little after the shower.
It's one of my favorites, but if you're not a fan of peppermint, this isn't the one for you because it'll overpower you.
But as far as cleaning goes, you'll feel fresh.
But if we compare this with Dr. Squatch then I must have to say that the scent of Dr. Squatch doesn't long that much like Duke Cannon.
Dr. Squatch's aroma is definitely strong, but the lasting period is short too.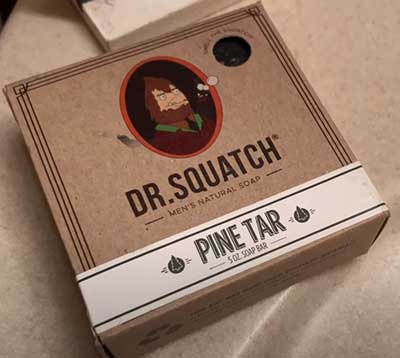 Return policy is one of the important factors for any product.
From one perspective, return policy justifies the confidence of the manufacturer.
Dr. Squatch's refund policy is very impressive. By contacting them on their website, you can return their products within 30 days if you don't like it or feels it doesn't worth it.
Duke Cannon doesn't seem to have 30 days return policy like Dr. Squatch.
If your product is damaged while you receive it only then you can get a refund.
In terms of satisfaction, Dr. Squatch seems to be more sensitive and effective as their main priority is customers' satisfaction, and if it fails, there is an option for return.
Price is always an important factor in buying a product. Especially if you are on a budget, this must have a thought to ponder.
Duke Cannon is a little bit less expensive than Dr. Squatch in terms of price. Like Duke Cannon charge $9 for a soap bar, and if we compare this with Dr. Squatch, then some Dr. Sqatch soap bar charge as much as $11.
Defiantly then the question arises why Dr. Squatch is so expensive?
There is some reason for that. Let's talk about that!
One of the thing for why Dr. Squatch is expensive than other soap is that it's all-natural.
Traditional mass-market brands have been removing natural components from personal care products for years to reduce costs and speed production.
Men have been compelled to use inferior products full of harsh substances, chemical irritants, and off-putting odors.
Most men's soaps contain vital cleaning compounds that are officially classified as detergent.
Your skin is undoubtedly more dry and gritty than it should be because you're not a dish or a piece of clothing.
In this case, Dr. Squatch has become a game-changer!
Dr. Squatch is now based in Los Angeles and earns $6 million per year, shedding the uniqueness and charisma like a winter coat. They are making this huge profit virtually entirely online!
Another essential aspect to think about is the process of making the soap. It's all handcrafted and very organic.
Because caring for Mother Earth is the everyday thing to do, Dr. Squatch bar soap is packaged with recyclable materials.
If you love nature and environmentalist types of mind, then defiantly you will like Dr. Squatch more than Duke Cannon. After all, a nature lover always wants to carry the organic flow of nature on their level best!
Now, how about a video comparison between the two?
Similarities Between Duke Cannon And Dr. Squatch
The main similarity between Duke Cannon and Dr. Squatch is that both are for men.
Whether you're used to using bar soap or liquid soap, choosing a high-quality product with a pleasant aroma is always a smart choice. And both of these soaps do just that!
Both Duke Cannon and Dr. Squatch specialize in men's bar soaps, still, they also offer a variety of additional products that might be a fantastic addition to your personal hygiene kit.
Both of them have a large selection of different bar soaps, whether for your face, whole body, or hands, and things like smells and quality also have variety.
In fact, soaps from brands like Duke Cannon and Dr. Squatch have consistently been commended for being significantly higher-quality and focused on being one of the greatest soaps on the market.
Which One Should You Go For?
Many people appear to prefer Duke Cannon to Dr. Squatch. It's bigger and lasts longer, and it's created from ingredients that have been around for a long time.
This can be a good option, whether you're usually on the road or prefer to work from home.
On the other hand, if you are looking for completely natural soap, go for Dr. Squatch.
Dr. Squatch makes excellent soap.
Your skin will thank you in no time if you use healthy natural oils, shea butter, and essential oils. It smells amazing and lasts a long time, which is almost as uncommon in the soap business as the Squatch.
Men's soaps and shampoos are certainly less expensive, especially organic ones. Dr. Squatch, on the other hand, has a monopoly on organic, masculine-scented bath products because of their quality and brand value.
Frequently Asked Questions (FAQ)
Is Dr. Squatch and Duke Cannon the same?
No, Dr. Squatch soaps are more potent than Duke Cannon. But if you want a well-known natural bar soap, you should have Dr. Squatch soaps.
Is Duke Cannon soap all natural?
Yes, Duke Cannon soaps are natural. Their main ingredients are coconut oil, fragrance, natural tallow, etc all of which are natural.
What does Duke Cannon smell like?
Duke Cannon soaps smell like fresh mint.
Who makes Duke Cannon soap?
Sam Swartz and Anthony Albanes launched Duke Cannon on the eve of 2011 Veteran's Day.
Is Duke Cannon American made?
Yes.
Conclusion
I hope you now have a thorough understanding of the differences and similarities between Duke Cannon vs. Dr. Squatch.
These two are superior to your typical off-the-shelf bar soap in every regard. Sure, they may have higher prices on occasion, but it appears that they always prioritize quality over quantity.