Confused about choosing between CeraVe hydrating cleanser vs. foaming cleanser? A hydrating cleanser is mainly suitable for dry skin, while a foaming cleanser is perfect for oily skin types.
So, you must be thinking you have a particular type of skin and should pick the suitable one. Yes, you're right! But there're some crucial factors to consider.
That's why we've come up with an in-depth comparison to help you choose the best one.
A Quick Comparison Table
Can't wait to know about these two products? Here's is a chart to learn a quick summary of these two cleansers.
| | | |
| --- | --- | --- |
| Specification | CeraVe Hydrating Cleanser | CeraVe Foaming Cleanser |
| Special Feature | MVE® Delivery Technology | Foaming Action |
| Skin type | Perfect for dry skin | Ideal for oily skin type |
| Unique Ingredient | Hyaluronic Acid | Niacinamide |
| Acceptance | National Eczema Association | None |
| Price | Less cost | More cost |
| Rating | 4.7 | 4.8 |
Differences Between CeraVe Hydrating And Foaming Cleanser

It's essential to know all the important features of these two cleansers. Then, it'll be easy to select the ideal one.
CeraVe hydrating cleanser features a special MVE Technology, which the company patents. The primary job of this technology is to deliver 24/7 hydration for your dry skin.
Its effective moisturizing ingredients ensure the correct moisture balance and minimize water loss from your skin.
On the contrary, CeraVe foaming cleanser has an impressive foaming action. Its foaming quality is so good that it can deeply remove debris and dirt from your skin surface.  
Whether you've acne-prone or teenage skin, it can dissolve skin impurities and leave your skin feeling revitalized.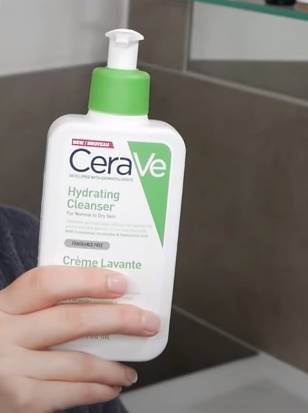 CeraVe hydrating cleanser is the ideal choice if you have dry or flaky skin. Using this cleanser regularly will prevent extreme dryness conditions.
Also, this effective cleanser can lessen the outlook of wrinkles and fine lines on your face. It'll provide a sharp and radiant look every time you use it.
On the other hand, CeraVe foaming cleanser is an ideal pick for oily skin that can remove excess sebum and oil.
This oil-control cleanser ensures adequate removal of excess dirt and reduces the chance of acne, pimples, and zits.
Also, it's practical to remove hard-to-wash-off sunscreen and excessive makeup from your face. The product will give a fresh and soft feeling every time you use it.
CeraVe hydrating cleanser contains Hyaluronic acid, which the main job is to retain the natural moisture of your skin for a longer time.
Additionally, the ingredient aids in alleviating dry skin and decreasing the appearance of fine lines. It delivers a perfect hydration level for the deeper layer of the face.
CeraVe foaming cleanser, on the contrary, includes Niacinamide, which mainly soothes your sunburned or irritated skin. Also, it helps to reduce various skin inflammation conditions.
Keeping your skin moist and smooth is another impressive thing about this cleanser. It also decreases hyperpigmentation. With four weeks of usage, you'll also see skin lightness improvement.
In terms of safety, CeraVe hydrating cleanser is safer than CeraVe foaming cleanser because National Eczema Association approved the hydrating cleanser.
So, if you've any Eczema issues on your skin, you can use CeraVe hydrating cleanser without any doubt.
However, CeraVe foaming cleanser is also safe as most didn't complain about using this product.
Though the price of these products is a minor factor,CeraVe hydrating cleanser is cheaper than CeraVe foaming cleanser.
CeraVe hydrating cleanser costs only $13.11, while CeraVe foaming cleanser has a price of $14.99.
Since both come at an affordable price, slight price variation doesn't make any difference. After all, they're suitable to use for multiple reasons.
People often choose a product based on their rating. CeraVe hydrating cleanser has a 4.7 rating out of 5 on the Amazon website. More than   68,211 buyers have reviewed this product.
On the contrary, CeraVe foaming cleanser has a 4.8 rating out of 5 on the Amazon website. Almost 38,579 customers have reviewed this product.
Similarities Between CeraVe Hydrating And Foaming Cleanser
Though CeraVe hydrating cleanser and foamingcleanser are suitable for different purposes, they've some similarities.
Both products are cleansers. They mainly help remove dirt, dust, and other substances from our skin to provide fresh and dirt-free skin.
Both products are universally helpful to use various skins to get rid of oil, dirt, grime, dead skin cells, and pollutants from our skin.
Since both products are developed by dermatologists and don't contain any harmful ingredients, you can use them daily.
Both cleansers contain Ceramides, which are mainly generated from long-chain fatty acids. This fatty acid is effective to fight against eczema, rosacea, and even acne
You won't experience any permeability since the ingredient creates a barrier to prevent it. Also, it keeps your skin free from extreme dryness and irritation by locking the right level of moisture on your skin.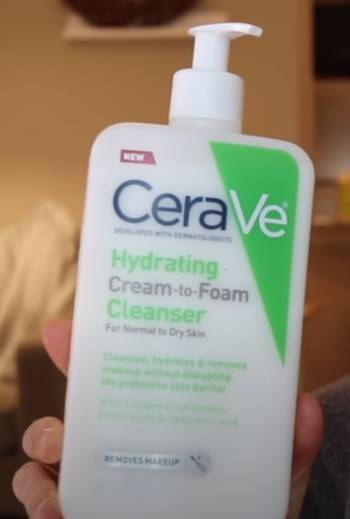 If you've dry skin, this non-comedogenic product supples it. People with acne skin will be benefitted from this non-comedogenic product since its non-comedogenic oils don't clog pores.
Additionally, you won't experience any breakouts issues from using these products. Plus, it makes scope to get enough air for the inner layer of your skin, keeping it all day hydrated too.
Both cleansers are free from artificial and natural fragrances. People with sensitive or redness-prone skin will be significantly benefitted from this as it won't irritate their skin.
It'll keep your skin safe from allergic contact dermatitis (ACD).
Your skin won't be prone to get any volatile or adverse skin reaction. Thus, you won't have any red or inflamed skin after using this cleanser for a prolonged period.
Super-Friendly For Eczema
You might be wondering why to use these when regular face wash and other products are available.
Recently, one study found that some people who continuously use these CeraVe products for several months have succeeded in improving their skin condition from eczema.
But they didn't experience this progress while using the regular product.
The main reason behind their impressive success is that these products are super-friendly for eczema.
And that's why they got better results out of the treatment. Both of them are intended for effective facial cleansing.
Which One To Choose Between The Two Cleanser?
There's no comparison between the two products since the manufacturing company has made these cleansers for two different purposes.
If you have dry skin, CeraVe hydrating cleanser will be the best option to provide enough moisture and stay hydrated all day long.
On the other hand, people with oil or flaky skin will be benefitted from using CeraVe foaming cleanser by removing several types of substances from their skin surface.
Conclusion
So, which one did you decide to choose between CeraVe hydrating cleanser vs. foaming cleanser after going through this comparison?
You shouldn't confuse yourself because knowing your skin type is all you need to do.
If you're about the type of skin you have, make an appointment with a good dermatologist and test your skin.
Hopefully, this article helped you learn some precise details about these two effective cleansers.