Designing bathrooms takes a lot of work because you have to balance aesthetics and practicality. Delta's Lyndall and Trinsic lines are the two most popular options for bathroom interiors.
Lyndall has fewer finishing options, is harder to install, and is more affordable. Trinsic has more finishing options, is easier to install, and is pricier.
Good interiors and fittings are the best way to maximize utilizing bathroom space. Lyndall and Trinsic both are good options, but which one should you go for?
Here's a comparison to help you decide.
A Quick Summary of the Comparison
| | | |
| --- | --- | --- |
| Feature | Lyndall | Trinsic |
| Product range and build | Bigger product range, modern and minimal design | Smaller product range, futuristic and minimal design |
| Finishing options and installation | Fewer options, easier installation | More options, installation takes more work |
| Price and availability | Affordable, Home Depot only | Pricier, website, and home depot |
And that's the gist of the whole thing. Keep reading below for the detailed breakdown.
Key Differences Between Delta Lyndall and Delta Trinsic
Lyndall and Trinsic both are made from top-quality material. Both are overall very sturdy so you'll have to focus on other factors to know what makes them different.
Product range and build, finishing options and installation, price and availability- these are the most major differences between the Lyndall and Trinsic series.
Let's see how these differences work out for both Lyndall and Trinsic.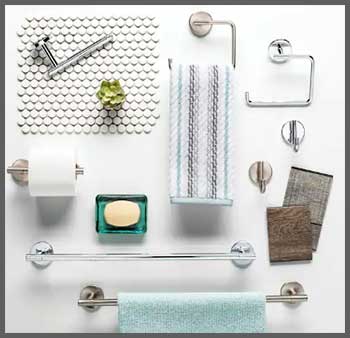 Lyndall series trusts in "more is better" and has a pretty big product range.
The designs are mostly minimalistic and modern-style.
Trinsic does have a good product range but it is smaller than Lyndall.
Trinsic's fittings are more futuristic-looking but they're minimal.
Delta bathroom interior parts aren't very different in design so you may not notice the difference at first.
But Lyndall series fittings are more minimal and modern looking.
They can easily blend into any interior style because of their minimal design. The best thing is, you have a pretty big range of products to choose from.
Lyndall has a massive product range. Other than kitchen and bathroom fittings, it also has bathroom door options. That takes the range a notch up.
If maintaining a theme is important for you, Lyndall is a good option because you can get pretty much everything from the same design series.
Trinsic has a smaller product range, but not for the reason you'd think. It has more options for bathroom and kitchen fittings than Lyndall but it doesn't have any option for bathroom doors.
That's why the product range looks much smaller. But if your concern is the fittings only, you'll find more options (and parts) in Trinsic.
As for the design, Trinsic fittings have a slightly futuristic design. But unlike popular designs, they aren't bulky. The fittings are sleek and minimal so they blend well with almost every interior design type.
Finishing Options and Installation
Lyndall has fewer finishing options for the fittings parts. It is also slightly harder to install compared to Trinsic. Trinsic on the other hand offers more finish options and is much easier to install.
Lyndall fittings usually come in a chrome zinc finish. It is a metallic silver finish and this is pretty much the default for this series.
It also has a muted golden finish and a matte black finish. Golden and matte black finishes are pretty limited and aren't available for most parts.
One good side of Lyndall is that it is pretty easy to install. Most parts like the towel bracket come with quick clip installation so you don't have to deal with screws.
Trinsic is on the other side of the spectrum. Most of their fittings parts have 3-5 finishing options you can choose from. This technically gives you more choices for your fitting parts. But the problem is, Trinsic parts are harder to install.
They usually have a set screw mounting system so you'll need to deal with screws and other small parts.
Lyndall fittings are much more affordable than Trinsic. But the problem is you can only find them at Home Depot. Delta's official website doesn't have Lyndall fitting parts.
Trinsic on the other hand is pricier but is more widely available. You can find the fitting parts on Delta's official website and in Home Depot.
Which Bathroom Fittings Should You Go For?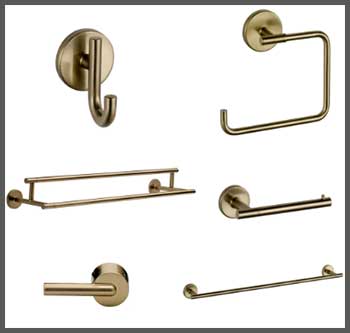 This is a little tough to answer because both series have their highlights.
They're very close in terms of overall quality and they bring their own benefit to the table.
As you can guess, the answer to this won't be simple.
The choice will ultimately boil down to your personal preference.
That's the easiest way of deciding things.
But if you want a more objective approach, you'll have to look at the smaller details and do serious pros and cons calculations.
If you're looking for modern-style fittings and want something convenient, Lyndall is a good option. The designs are modern but minimal so they blend in with pretty much every type of interior design.
They also have a bigger product range including shower doors so you can get everything from one range.
This makes matching them easier. Lyndall fittings are also more affordable and you can easily find them at Home Depot.
The only problem is, Delta has fewer finishing options for this series. Your choices can feel a little limited based on this.
If you're looking for more futuristic parts and don't mind the little extra work for installation, Trinsic is the better choice. Their parts are sleek and minimal so you can easily blend them in.
Trinsic has fewer product options but only in the doors department. They also offer more finishing options so you technically have more choices.
The best part is Trinsic is very easy to install. And you can order them from both Home Depot and their official website.
Overall, Trinsic interior series is the better choice in this case. But if you're looking for more affordable options or a bigger product range, Lyndall is your best bet.
Final Verdict
Delta makes seriously good bathroom fittings. Lyndall and Trinsic are definitely two of their best options so whatever you go with, you'll be good. As for the Delta Lyndall and Trinsic debate, the answer will depend.
Objectively speaking, Trinsic is the better choice overall. But if you're looking for a bigger product range or affordable options, the Lyndall is hard to beat.
You can always mix and match fittings from both series if you want. But if you're going with one option only, Trinsic is the safest bet.