A beautiful countertop will make your bathroom or kitchen look excellent. Della Terra Quartz is one such product. An in-depth review of Della Terra quartz like this will help a lot if you want to buy an attractive countertop at an affordable price.
After knowing the nitty-gritty of this countertop, you can decide whether it's a good product for you. I've studied a great deal about customer reviews and consulted with professionals before writing this review.
So, without further ado, let's dive deeper and see what this brand has to offer.
Features of Della Terra Quartz
Like every other high-quality product, Della Terra Quartz has some unique features that make it stand out from others. Here we will see some of those features so that you get a clear picture.
So, here are some key features of Della Terra Quartz: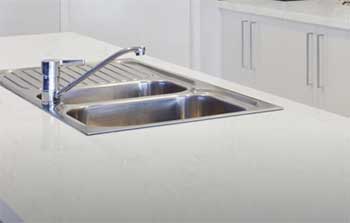 Just like any other top-end brand like Wilsonart quartz, Della Terra Quartz comes with an excellent design that will give your countertop an elegant, stylish, and contemporary look.
A combination of beautiful Quartz and innovative technologies will make your surface eye-catching and durable.
Because of its jaw-dropping appearance and strength, you can use it in heavy-use areas and places like your bathroom and kitchen. You can use it for both residential and commercial projects.
On top of that, you'll get a long list of colors and designs for Della Terra Quartz. You will just have to choose one that goes with your style and fits your house's interior.
Material is primarily responsible for the strength of a product. A good quality product is always made from a robust material. On that note, Della Terra Quartz is also made from solid materials.
As the name suggests, Della Terra is made from Quartz, one of nature's strongest and stiffest minerals. 94% of its formula consists of Quartz, and other bonding materials fill the rest.
Because of this strong material, Della Terra is one of the most robust and durable countertop options available.
A Long List Of Available Designs
The number of designs plays an essential role in product selection. Customers always look for more options to choose from. The good news is that Della Terra Quartz comes with a long list of designs, colors, and finishes.
There are 72 stains and finishes in total. While it's impossible to spell out every one of them, I will give you a few names.
Aerial, Aluminum-N, Apollo, Aviana, Bertoli, Biancone, Bianco Tiza, Bianco Pearl, Calacatta Bellatrix, Calacatta Valiente, Dusk-N, Everest, Fog, Glisten, etc., are some of the designs.
You can choose your countertop option from this long list of designs according to your preference, style, and house interior. Here is a brief demo for you.
We all know that a good quality product always comes bearing a lot of benefits. And these benefits will make you understand why so many people use this for their countertops. Let's explore those benefits:
Della Terra is made of color-controlled Quartz blended with advanced polymers and design. Besides, they are highly resistant to scratches and chipping.
Because of its highly dense composition, you won't get any stains on your Della Terra Quartz.
But these ultra-durable countertop solutions can be used for interior applications only. However, with great designs, durability, and functionality, Della Terra can be your go-to choice for countertops and other residential and commercial purposes.
You can use Della Terra Quartz for various purposes. Because of their excellent designs and great benefits, they will befit for a lot of applications and surfaces.
Firstly, you can use them for residential and commercial projects. They will make your home as well as your commercial properties attractive.
In my experience, people mostly use it on their countertops. But many of my fellow contractors and professionals have said that they can be used on various interior walls, including shower walls, bathroom walls, etc.
So, with other benefits, you will be able to apply these fabulous tiles on various surfaces.
Size is an essential factor for a tile. A big size tile means you will require less time and labor to install. The size of the stocked Della Terra is 130 inches by 64 inches.
You will find two types of thickness. 2 cm slabs have a ¾ inches thickness and 3cm slabs have a 1-1/4 inches thickness.
Besides, you can expect a weight of 18 pounds per square foot for Della Terra Quartz.
You will get a 10 Year Limited Commercial Warranty and 15 Year Limited Residential warranty with all Della Terra Quartz products.
Although people have mixed reactions towards the warranty term of this product, I think it's a pretty good deal.
Depending on the design, Della Terra Quartz costs between $50 and $120 per square foot. For example, the Everest Della Terra Quartz costs about $1664 for 2 slabs.
Although many people say it's an affordable option, I think the price could have been a little lower.
What Could Have Been Better With Della Terra Quartz?
You have seen a lot of great features of Della Terra Quartz. But now it's time to see the other side of the coin. Although this is an excellent product, it's not free of drawbacks.
Here, we will see some of the cons of Della Terra Quartz that should be improved:
Della Terra Quartz comes in only one stock size. As a result, you have no other option but to buy that. A lot of people have said to me that they would appreciate more size options for Della Terra.
So, the manufacturer should focus on it and introduce more sizes so that customers can choose one according to their needs.
In my opinion, the price of Della Terra Quartz slabs should be a little less expensive. Because of various designs, colors, and stains, the price of Della Terra Quartz varies.
But $120 per square foot is a lot of money.
 According to my knowledge, lowering the price won't hurt their business. So, Della Terra Quartz's price should be a little lower than it currently is.
Frequently Asked Questions (FAQ)
Is Della Terra quartz good quality?
Della Terra Quartz is an excellent quality product made of Quartz, one of the hardest minerals found in nature. Because of their composition, they are very robust and durable.
Who makes Della Terra quartz?
Della Terra Quartz is a countertop slab made by an Italian manufacturer called SantaMargherita. It is located in the center of the Venetian region of Italy.
Is Della Terra quartz expensive?
Della Terra Quartz costs between $50 and $120 per square foot, depending on the design. Although they are Italian-made countertop slabs, I think they are a bit expensive.
Which brands of Quartz are best?
Della Terra is an outstanding quartz countertop slab brand. But there are some other names like Caesarstone, Silestone, Cambria Quartz, Corian Quartz, etc.
Final Thought
We are almost at the end of our journey. After reading my Della Terra quartz Reviews, I think it's clear that Della Terra quartz has a good reputation for countertop slabs.
To conclude, I can say it wouldn't be a bad thing to try this Italian-made countertop slab for your kitchen or any other countertops. We all know that Italian products are famous for their quality and great design.