Don't you want to dive into a tub filled with heated water after having a long day?
Artesian spas and Jacuzzis are both phenomenal, yet so different. The main contrasting feature is that the Jacuzzi is acrylic, while the Artesian is fiberglass.
The last one uses a Whisperpure circulation technique to provide clean and regulated water. Inversely, Jacuzzi implements a multi-stage filtration system to ensure the water is sparkling and safe to use.
So, what are the other differences? Join me as I unveil them bit by bit.
A Brief Comparison Table
| | | |
| --- | --- | --- |
| Product Specification | Artesian Spas | Jacuzzi |
| Type of material | Fiberglass | Acrylic |
| System | Whisperpure circulation | Multi-stage filtration |
| Structure | Thick ABS sheet | ABS bottom tray |
| Capacity | Seven maximum | Seven plus |
| Number of speakers | Two | Four |
| Price | Lower | Higher |
| Durability | Shorter | Longer |
| Shell structure warranty | Seven years | Ten years |
Critical Differences Between Artesian Spas And Jacuzzis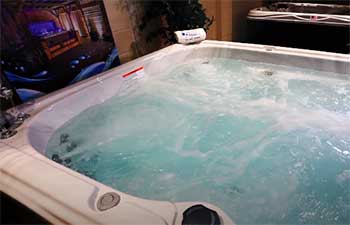 The material used in manufacturing is the most striking and significant difference.
Artesian spas are made of fiberglass, a combination of resin and glass fibers.
In contrast, Jacuzzi is formed from acrylic material, making it eight times firmer and more resistant to deformations than most tubs.
You can choose either based on the material. Jacuzzi is ultimately the best option if you want a material that's more unsusceptible to distortions.
The Artesian spa and Jacuzzi adopt different processes to make your experience smoother and more exciting. Jacuzzi uses a multi-stage filtration system consisting of steps to leave the water clean and safe to use.
Conversely, Artesian spas feature a Whisperpure circulation system which entails constantly moving water through the heater and micro filters to produce clean water.
Artesian Spas are the way to go if you prefer a less time-consuming process.
Another factor in distinguishing the two is the structure. Artesian spas have a thick ABS sheet that increases resistance to breakage and scratches. On the other hand, Jacuzzi has an ABS tray at the bottom that creates a rugged surface and low-temperature resistance.
The Jacuzzi is the perfect pick if you need a spa that can work well in temperatures ranging from 0F to 180F.
Are you looking for a facility that can accommodate multiple people? The good news is that the Artesian spas and Jacuzzi can hold at least seven people. The only difference is that with Jacuzzi, the capacity goes beyond seven.
Therefore, suppose you are looking for one with a larger capacity; Jacuzzi is the winning team.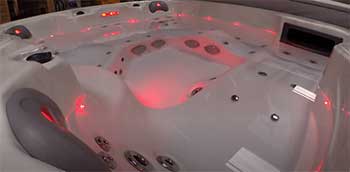 Another differentiating factor is the number of speakers.
The difference is not that prominent, but it's still something to keep in mind.
Artesian spas have two solid-mounted speakers.
On the flip side, Jacuzzi has four speakers. The figures tell you which one has a better sound system.
The Jacuzzi should be more than enough for you if the speakers and the sound system concern you. 
Regarding price, it's either you want a cheaper commodity or a pricey one. In most cases, the higher the cost, the more the innovations. This means that the results will be exceptional. Artesian spas are less pricey, ranging between $4000 and $8000.
In opposition, Jacuzzi can cost up to $16,000, with the cheapest going for $5,000.
If you are under the budget, Artesian should sort your needs out.
There is no regret when an item serves the intended purpose for an extended period, especially if you have spent loads of money on it. You must understand that the Jacuzzi will always get the nod regarding longevity.
Made of acrylic material, which is known for remarkable durability, you can use the spa for years without having to do repairs.
Don't be in a dilemma anymore if you prefer the more durable brand because I assure you that Jacuzzi never disappoints.
You have to agree with me that warranty is not a factor to be taken lightly. That guarantee gives us peace of mind. For the Artesian spa, the shell structure warranty is seven years.
On the contrary, Jacuzzi has a ten-year warranty. If it is of significance to you, and the length of the period is equally essential, Jacuzzi should be your choice.
Which One Is Better: Artesian Spas Or Jacuzzi?
There's only one easy way to decide: analyzing the features to determine which one tickles your nickel. Artesian is the better choice if you want a cheaper spa. Additionally, it's still ahead in line if you want a faster operating system.
Nonetheless, if you have excellent durability, maximum capacity, and a more extended warranty period in time, Jacuzzi is perfection.
Frequently Asked Questions (FAQ)
What is the most reliable brand of hot tub?
Bullfrog Spa is the most reliable brand, closely followed by Jacuzzi. The tub has an impeccable hydro-massage technique and a top-notch JetPak therapy process.
What is the difference between a spa, hot tub, and Jacuzzi?
A spa is a standalone water structure usually used for health treatments and can accommodate many people. On the other hand, a hot tub is an ample space with heated water mainly used for chilling purposes. Conversely, a Jacuzzi is a large jetted tub that can accommodate one or more people and is used individually or commercially.
How long have Artesian Spas been around?
Created in 1993, Artesian Spas have been in the market sector for almost 30 years.
Is Jacuzzi a good hot tub brand?
Absolutely! Jacuzzi is among the top hot tub brands, getting an average of four out of five stars. Uniquely, it is made of acrylic that enhances resistance to fading or cracking.
Final Thoughts
As we close the Artesian Spas vs. Jacuzzi chapter, I'm sure you now have a background idea of the underlying elements to consider when deciding between the two. The structure and the material are personal decisions depending on which one you believe is the best.
However, durability, capacity, and warranty considered, the obvious choice is Jacuzzi. But then, if you don't want to spend much, you might want to consider Artesian Spas.