You might already know the name Saratoga Spa and Jacuzzi if you're looking for hot tubs to buy.
The Saratoga Spa Company has many years of manufacturing excellence and a rich history of invention and innovation. Jacuzzi is also one of the best hot tub brands in the market.
Though they are both quite similar, they have some major differentiations, such as design, price, hydrotherapy system, etc., and in this article, you'll get to know more of those.
A Quick Comparison Table
| | | |
| --- | --- | --- |
| Specifications | Saratoga Spa | Jacuzzi |
| Hydrotherapy system | Yes | No |
| Price | Has affordable options | Expensive |
| Designed options | Less | More |
| Additional Features | Less | More |
| Customer service | Good | Better |
| Warranty | 7 years and 5 years | 10 years |
Key Differentiations Between Saratoga Spa And Jacuzzi Hot Tub
Let's dig deep into the major and significant differences between these two hot tubs-
The C.F.E. TM (Coplanar Fluid Ejector), a hydrotherapy jet that pushes a stream of water parallel to the body, was created and patented by The Saratoga Spa Company.
The original C.F.E. TM jet was upgraded into a full hydrotherapy system and named 'Power Massage.'
Saratoga Spa's Hydrotherapy System is a unique addition to its hot tub.
Saratoga Spa introduced ProJet Stream Hydrotherapy, which is the brand's patented system.
Water streams are moved parallel to the user with the help of this special hydrotherapy jet. This unique method is the only way to receive a deep and direct message.
If your main focus is only hydrotherapy, you should just go for Saratoga Spa. Because, apart from Saratoga, there aren't many brands on the market that I would suggest for pure hydrotherapy.
The design and style are other important things that you should carefully consider while buying a new hot tub. When it comes to design and style, Jacuzzi is always ahead of Saratoga Spa.
In Saratoga Spa, you will find mainly three models of hot tubs: Luxury Spa Line 'The Broadway', Cottage Spa Line 'The Glenwood' and the Special Edition Spa Line 'The Regent'.
'The Broadway' is the largest and most luxurious hot tub at Saratoga Spas. Its dimensions are 92″ x 108″ x 40″, and it features a massive 75 jets for the best hydrotherapy and soaking experience. It can accommodate up to nine people.
'The Glenwood' is their affordable tub series. On this affordable Cottage Spa line, Saratoga Spas keeps up its tradition of high-quality hydrotherapy while maintaining cost-effectiveness.
And 'The Regent' is its family special edition with all the luxurious features.
However, Jacuzzi provides a lot more than Saratoga Spa. With over 25 distinct shells, cabinet combinations, and pro-last options, owners can create a unique hot tub experience from Jacuzzi.
A Jacuzzi bath can be made of marble, wood, cement, fiberglass, acrylic, stainless steel, cement, and P.V.C. (inflatable). But Saratoga Spa is only made of acrylic.
So, if you want some gorgeous material other than acrylic, Jacuzzi is the best option to go for.
Before buying a hot tub, first, think about how much you can afford to spend on your new one. Additionally, it's a good idea to examine the potential operating and maintenance costs of a certain hot tub.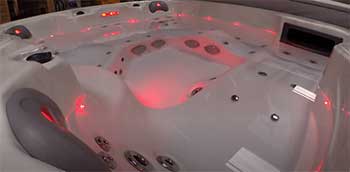 The price of the Saratoga Spa hot tub is not given on its website.
Hot tubs from Saratoga Spas are available at a range of price points.
These hot tubs can cost anywhere from $4,000 and $12,000 or more, depending on the model and other features you select.
 While the Special Edition Spa line provides exceptional value for the price, the Cottage Spas line offers more affordable options. The more pricey and high-end models are available from the Luxury Spa Line.
The jacuzzi hot tub has customized pricing. The price will go up according to your customization. The entry-level price for a Jacuzzi hot tub is around $4,000, and the luxurious one will cost you approximately $13,000 or more.
Purchasing a hot tub for your house will bring countless hours of pleasure and relaxation into your home. A strong warranty will ensure that assistance is available if you encounter any number of problems.
The top-rated models have warranties ranging from one year to 15 years, depending on how expensive the hot tub is. Jacuzzi provides 10 years of warranty on more or less all of their hot tubs. Saratoga Spa provides a 7-year warranty on shells and a 5-year warranty on its other features.
Frequently Asked Questions (FAQ)
What is the most reliable brand of hot tub?
Bulldog Spas and Hot Springs are the most reliable brand of hot tubs. Bullfrog Spas provides five different spa series, ranging from budget-friendly to high-end luxury.
Is there a difference between a hot tub and a Jacuzzi?
Although the terms "hot tub" and "Jacuzzi" are frequently used synonymously, they are completely two separate things. The major difference between a hot tub and a Jacuzzi is that a hot tub is a huge, relaxing tub of water but a Jacuzzi is a hot tub manufacturer company.
Is Jacuzzi a good hot tub brand?
Yes, Jacuzzi is a good hot tub brand. Jacuzzi is a top-notch company that makes a variety of high-quality spas under its name. A Jacuzzi hot tub can last for five to twenty years or longer.
What are the best hot tubs to buy?
Jacuzzi and Aquarest DayDream are the best hot tubs to buy. These hot tubs have some amazing features that will give you the perfect relaxation. Jacuzzi also has a remote control system so that you can control your hot tub from anywhere.
Final Words
It's really common to get confused about which hot tub to buy, as there are so many fantastic options available in the market. I hope this Saratoga Spa vs. Jacuzzi will help you to make up your mind about which one to buy.
No matter which one you choose, with features like jets and low-pressure, you'll have an amazing relaxing experience. But for other facilities, you have to make a wise choice which this article has shown in detail.