When choosing a bathtub, you want to consider its shape, material, size, weight, installation, style, durability, and price. As for reliability, the Kohler brand needs to introduction.
Known as a consistent innovator, they manufacture a wide range of bathtubs.
Kohler Entity and Elmbrook bathtubs are two widely used items among house owners. Since both have many similarities, you may feel confused about choosing a specific one.
To reduce your hassle, here we come up with a comparison session on Kohler Entity and Elmbrook tub.
A Quick Comparison Table
Wondering how Kohler Entity is different from Elmbrook? Here is a small table to give a brief idea of both bathtubs.
| | | |
| --- | --- | --- |
| Specification | Kohler Entity Bathtub | Kohler Elmbrook Bathtub |
| Material | Acrylic | Acrylic |
| Size | Slightly larger | Slightly smaller |
| Water Capacity | 42 gal (159 L) | 42 gal (159 L) |
| Integral flange | Yes | No |
| Weight | 75 pounds | 66.3 pounds |
| Drain location | Right | Left |
| Recommended products/accessories | Cable bath drain, drain treatment, and tub & shower cleaner | Cable bath drain |
| Installation Compatibility |  Alcove | alcove |
| Durability | Long-lasting durability  | Long-lasting durability  |
| Price | Higher | Lower |
A Detailed Comparison between Kohler Entity And Elmbrook Tubs
You might be wrong to pick a decent bathtub if you don't know all the essential information about the product. Here is the head-to-head comparison between both tubs.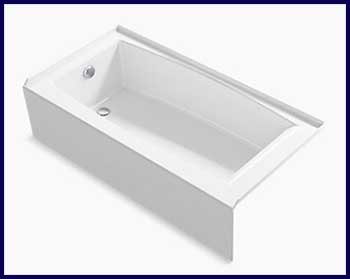 Both bathtubs are made from acrylic material. It makes the surface smooth, nonporous, and comfortable.
This type of tub is simple to clean and repair with standard repair kits.
Besides, they can hold off a lot of heat to give you a comfortable, warm bath.
Also, their unique construction ensures minimal hold of cold, unlike marble and tile materials.
You will not see chipping, cracking, or fading issues at least for the first few years. Compared to other materials, they have a lightweight construction.
Kohler Entity is slightly larger than Kohler Elmbrook. The first one has 1145 mm x 524 mm dimensions from the bottom and 1346 mm x 625 mm from the top.
On the other hand, Elmbrook comes with 1145 mm x 524 mm from the bottom and 1348 mm x 625 mm from the top.
Kohler Entity features an integral flange. Apart from making the alcove installation easier, it stops water from seeping behind the wall.
It also makes the physical structure of the tub less prone to deformed. In contrast, Kohler Elmbrook does not come with any integral flange.
Due to a slightly larger dimension, Kohler Entity is heavier than Kohler Elmbrook. The first one has 75 pounds, whereas the latter is 66.3 pounds.
Though the difference is only a few pounds, the lighter one will be easier to install than the heavier one.
Kohler Entity is a right-handed tub. And that's why its drain location is on the right side. Contrastly, the drain location of Kohler Elmbrook is on the left side. So, it is a left-hand tub.
Choosing a particular option requires you consider the drain location of your older tub. But if you are installing for the first time, you can go right or left based on your preferred tub option.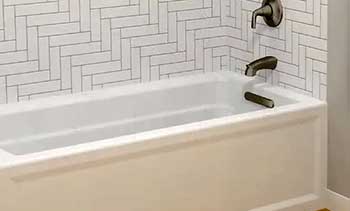 Apart from the bathtub itself, you will need some extra accessories to make your bathing session convenient.
For example, you can use a cable bath drain with the Elmbrook tub.
This product comes in handy to drain water from the tub down to the drain pipes, making the bathtub empty.
As for Kohler Entity, you can use cable bath drain, drain treatment, and tub & shower cleaner. A tub cleaner will effectively clear the clogged or sluggish drains quickly.
Installation Compatibility
Both Kohler Entity and Elmbrook have an alcove-type design. It is often called recessed bathtubs because the unit is enclosed on three sides by walls.
This type of bathtub saves time and is ideal for small bathrooms. It is also comfortable to use and has an efficient design. The unit requires less maintenance. You can also clean it deeply.
It is one of the most common style bathrooms. If a similar style has installed your old tub, you don't need to change the entire structure. This simplifies the installation hassles.
Both units are made from similar materials and come from the same brand. Each bath will last for a decent period if you follow regular maintenance.
They can easily last 10 to 15 years or more depending upon maintenance procedure and use. But if it is used regularly and heavily, proper cleaning is mandatory.
Kohler Entity is slightly pricier than Elmbrook. The first one has a slightly larger dimension than the latter. So, the manufacturer uses more materials to make it. This increases its cost.
However, the price is not highly different. If you think the high-priced option is the best choice for your home, you should not bother about the price. After all, it is a long-term investment.
Which Bathtub Will Be The Best For Your Shower?
Choosing a particular bathtub requires you first consider your shower requirement. If the drain location of your bathtub is on the right side and you prefer a slightly larger tub, Kohler Entity appears the best choice.
But you have to spend some extra bucks due to its higher price.
On the contrary, Kohler Elmbrook is a decent choice if you want to install a more affordable and lightweight bathtub. However, it is necessary to install it on the left side because it is a left-handed tub.
Due to its lightweight construction, the installation process will be more easygoing.
Frequently Asked Questions (FAQs)
What company makes the best bathtubs?
Badeloft, Kohler, American Standard, Sterling, Mansfield, Kingston, Colston, etc., are the best bathtub brands.
Is Kohler a good tub brand?
Kohler manufactures good-looking, comfortable, and functional bathtubs to provide the best value. They have additional safety features too.
What type of bathtub lasts the longest?
Bathtubs made from Porcelain enameled cast iron (Cast Iron) are highly durable and built to last ages.
Which is better alcove or drop-in tub?
Drop-in tubs are better flexible because they are available in various sizes, shapes, and designs. But you need to compromise flexibility with alcove tubs.
Final Thought
That's the end of your discussion on Kohler Entity vs. Elmbrook tub. You can go for either option if it meets your shower requirement. Make sure you don't overlook the drain location.
Also, follow regular maintenance to keep it in good condition. Otherwise, you will not get a decent value. Choose the best one and enjoy bathing!