For luxury purposes or simply a reasonable bathing option, there is nothing quite like a hot soak after a tiring day. Now, do you need help choosing a tub?
I must have read your mind! Let's jump into the differences between two mind-blowing tubs. Kohler Mendota is vast and best suited for large bathrooms, while Bellwether is narrow and convenient for small bathrooms.
The maximum water capacity for Bellwether is between 32 and 49 gallons, but Mendota can hold 45 gallons of water. Without waiting any longer, let's get this show on the road!
A Precise Comparison Table
| | | |
| --- | --- | --- |
| Product Specifications | Kohler Mendota | Bellwether |
| Size | Wide | Narrow |
| Maximum Water Capacity | 45 gallons | 32-49 gallons |
| Height | 16.25 inch | 14.5 inch |
| Soaking Depth | 10.875 inch | 11.31-11.69 inch |
| Weight | 351 lb | 315 lb |
| Design and Build | Modern | Contemporary |
| Cost | Lower | Higher |
| Installation Type | Integral apron, Kohler enameled cast iron | Three wall alcove |
In-depth Differences Between Kohler Mendota And Bellwether Tubs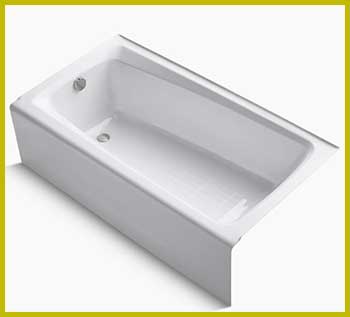 The significant difference between the two tubs is the size.
Kohler Mendota is more expansive and thus more favorable for a large bathroom.
Also, this tub can accommodate different sizes of people with no limitations.
In contrast, Bellwether is narrow and most convenient for small bathrooms.
That said, this tub is the way to go if you have a small-sized bathing area.
Nevertheless, you should pick Kohler Mendota if your bathroom is spacious.
I only think about comfort and relaxation when I picture a water-filled tub. Is it just me?
The only downside is you'll never want to get out. Kohler Mendota can hold up to 45 gallons of water.
On the flip side, Bellwether has a maximum water capacity of 32 to 49 gallons of water. If you are looking for a tub holding more water, there is no need to worry; Mendota will sort you out.
Do you have an NBA player's height and wonder whether there is a tub for you?
Well, I'm happy to tell you that you no longer need to stand in the shower! With a height of 16.25 inches, you'll fit like a glove in Kohler Mendota.
On the contrary, Bellwether's height is 14.5 inches, which is ideal for shorter people because they are less likely to fall or slip. Now, you can consider the varying heights of the tubs and quickly get one for your house.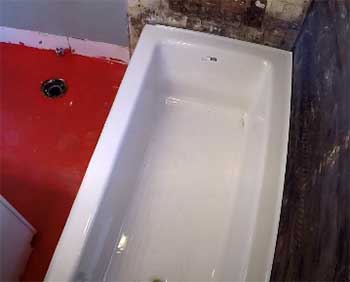 How deep should a tub be?
That's a question roaming in lots of people's minds.
But not to worry, I have an answer for you.
If you are a person that looks forward to long hours of deep pampering soaks, the deeper it gets, the better.
Bellwether has a soaking depth of 11.31 to 11.69 inches, which is deep enough to grant you that comfortable soak you are looking for.
In opposition, Kohler Mendota has a lesser depth of 10.875 inches which is not a bad range.
Another contrasting factor is weight. Kohler Mendota weighs 351 lb, and the easiest and most convenient way to set it up is by getting a professional to move and install it in your bathroom.
On the other hand, Bellwether is slightly lighter, weighing 315 lb. This tub is so much easier to install and maintain.
Bellwether is the most suitable option if you prefer a more lightweight model with a less cumbersome installation process.
A bathroom, one of the most-used rooms, should be prioritized. I mean, you want to take that bath comfortably with a smile. Now, to do that, you must go for the style most appealing to you.
Kohler Mendota features a modern look with its chrome finish and clean lines. This tub brings out a sophisticated, upscale look for your bathroom.
Conversely, if you are aiming for a contemporary, clean design, Bellwether is the guy for you.
If you can afford an expensive, exquisite product worth every penny, why not go for it? I won't lie; Bellwether is not a cheap tub; it can cost up to $1700.
Inversely, Kohler Mendota goes for $1348, which is slightly less pricey if you compare both tubs.
Mendota uses an unremovable integral apron, and Kohler enameled cast iron as the installation technique that ensures a worthwhile bathing experience.
Oppositely, Bellwether has the three-wall alcove installation mode that utilizes the available space by fitting in the unfinished points between an outer wall and a built-in setting.  
Which Bathtub Takes The Win?
Only one way to crack this dilemma! Carefully evaluate the tubs' features and weighing options, and then go back to the drawing board to determine what you need. At the end of the day, you want your bathroom to look better than ever.
Kohler Mendota is perfect for large bathrooms since it is more expansive. Moreover, it comes more affordably with a modern design.
Bellwether has a higher price, but it's understandable due to its sleek design, large water capacity, and higher soaking depth.
Frequently Asked Questions (FAQ)
What material are Kohler tubs made of?
Kohler tubs are made of enameled cast iron partially formed from recycled iron. The material is thick enough and has high durability.
What is a good depth for a bathtub?
Soaking tubs should have a depth of 14 inches or more depth to allow the water to cover the body entirely. However, most standard tubs have a depth of 12 inches.
Where are Kohler bathtubs made?
Kohler Co is a substantial manufacturing company located in Arizona that makes and distributes bathtubs.
Is Kohler the same as Delta?
No, they are not. Kohler and Delta are different brands competing hard with their wide range of home appliances like bathtubs, kitchen faucets, and plumbing products.
Final Thoughts
As we close the Kohler Mendota and Bellwether bathtubs discussion, have you already figured out the tub you'll try out? You can't afford to miss out on this! 
Mendota is an excellent choice if you are going for a modern style at a lesser cost. Bellwether has a better soaking ability, more water-holding capacity, and a fancy look.
The dull bathing days are over. It's time for you to turn your bathroom into a personal spa!