When it comes to transforming an ordinary bathroom into a lavish spa-like experience, there's no overlooking the Victoria & Albert bathtubs. From elegant designs to comfort-driven features, Victoria & Albert bathtubs are worth exploring.
An Overview of Victoria & Albert Bathtubs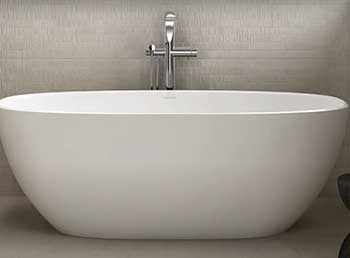 The British brand, Victoria & Albert, has been making a splash in the luxury bathroom industry since its inception.
With a reputation built on quality craftsmanship, they've truly established themselves as leaders in the freestanding bathtub market.
Each Victoria & Albert bathtub is crafted from a unique material called QUARRYCAST® – a blend of volcanic limestone and high-performance resins.
This combination promises durability, resistance to scratches and stains, and easier maintenance, not to mention the stunning glossy finish.
Key Features of Victoria & Albert Bathtubs
Victoria & Albert bathtubs offer a range of innovative features. Here's what stands out:
Ergonomic Design: The design of Victoria & Albert tubs, whether it's the traditional roll-top or the modern, minimalistic look, is sure to enhance your bathroom aesthetics. But aesthetics are just part of the story. Victoria & Albert bathtubs are designed with ergonomics in mind. They are comfortable, allowing you to sink in for an immersive, relaxing soak.
Material Quality: The QUARRYCAST® material is not only sturdy and resilient but also warm to the touch. It offers excellent heat retention, ensuring that your bath stays warm for longer.
Choice of Styles and Sizes: Whether you're working with a smaller bathroom or a grand en-suite, there's a Victoria & Albert bathtub to suit. From compact models to extravagant sizes, they offer a vast range of options.
Pros & Cons of Victoria & Albert Bathtubs
Before deciding on a Victoria & Albert bathtub, let's weigh in on the pros and cons.
Pros:
Exquisite Design: The stylish designs undoubtedly add a touch of class to any bathroom.
Material Quality: QUARRYCAST® ensures durability and longevity, meaning your investment will stand the test of time.
Great Insulation: Bathtubs from Victoria & Albert retain heat exceptionally well, extending your relaxation time.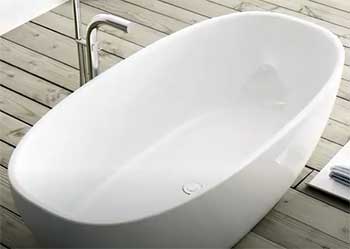 Cons:
High Price Point: As luxury items, Victoria & Albert bathtubs come with a higher price tag.
Requires Professional Installation: These freestanding tubs are quite heavy, often requiring professional installation, which is an additional cost.
Limited Color Options: While their classic white is undeniably chic, some customers might prefer a broader color range.
From an analytical perspective, Victoria & Albert bathtubs hold their ground. Despite the cons, the high price point indicates the luxury and quality associated with the brand. The material quality and insulation properties make these tubs a worthy long-term investment.
Close Competitors of Victoria & Albert Bathtubs
In the world of luxury bathtubs, Victoria & Albert is not alone. They face stiff competition from other high-end brands. Here's a look at some of them and how they compare.
Kohler is a well-established American brand known for its wide array of bathroom fixtures. Their bathtubs, made from their proprietary material, KOHLER® enameled cast iron, are reputed for their durability and excellent heat retention.
While Kohler offers a variety of designs, their options might not be as diverse or contemporary as Victoria & Albert. Also, Victoria & Albert's bathtubs tend to have a more comfortable design for deeper, longer soaks.
Canada's BainUltra is another strong competitor in the luxury bathtub market. Their bathtubs offer therapeutic features like chromatherapy and thermotherapy, which are not offered by Victoria & Albert.
However, BainUltra mainly focuses on drop-in or alcove models, making Victoria & Albert a clear winner if you're looking for a freestanding bathtub.
German-based Duravit is celebrated for its modern, minimalist designs and innovative features. Their bathtubs are designed with advanced technology, like optional jet systems for a relaxing massage.
While Duravit matches Victoria & Albert in design and style, the exclusive QUARRYCAST® material of Victoria & Albert might give it an edge in terms of durability and heat retention.
A leader in luxury bathtubs, MTI Baths offers a variety of soaking, heated soaker, air bath, and whirlpool tubs. Their selection of materials, including engineered solid stone and acrylic, rivals Victoria & Albert's QUARRYCAST®.
While MTI Baths does offer a wide range of bathtub designs, they may not offer the same level of elegant and timeless appeal that Victoria & Albert is known for.
Comparison with Victoria & Albert Bathtubs
Victoria & Albert bathtubs hold their own against these competitors. The use of their unique QUARRYCAST® material, combined with their wide range of styles and their commitment to comfort, sets them apart.
However, brands like Kohler and Duravit might offer better options if you're looking for more technological features or a different kind of aesthetic.
Overall, Victoria & Albert bathtubs deliver an unparalleled blend of luxury, comfort, and style. While competitors may offer similar levels of quality, each brand has its unique strengths. The choice between them largely depends on personal preferences and specific bathroom needs.
Frequently Asked Questions (FAQ)
Are Victoria and Albert tubs comfortable?
Yes, Victoria & Albert bathtubs are known for their comfort. They are ergonomically designed to cradle the body, providing an enjoyable bathing experience.
Who makes Victoria and Albert tubs?
Victoria & Albert bathtubs are crafted by the British brand, Victoria & Albert. They are well-regarded for their expertise in the luxury bathroom industry.
Where are Victoria Albert tubs made?
Victoria & Albert tubs are made in South Africa. They are then distributed globally, providing luxury bathtubs to customers all over the world.
What is the most comfortable soaking bathtub?
Comfort can be subjective, varying from person to person. However, among Victoria & Albert's range, the 'Barcelona' model receives high praise for its deep, spacious design perfect for soaking.
Final Thoughts
To conclude, Victoria & Albert bathtubs present a significant investment in comfort and luxury. While they may be pricier than other options, their exceptional quality and design make them a standout choice for those seeking a premium bathing experience.
Remember, a bathroom is not just a place to get clean – it's a space to relax, rejuvenate and escape the worries of the day. And with Victoria & Albert, it seems that escape is within reach.