When selecting a new quartz countertop to upgrade your kitchen or bath, two of the top contending brands are Viatera and Silestone. Both offer high-end engineered stone praised for beauty and resilience.
This in-depth guide will analyze the critical differences between Viatera and Silestone to help you determine the best option.
We'll compare performance, appearance, cost, warranties, and other factors across 2500 words. Read on for the complete Viatera vs. Silestone comparison you need to make an informed decision for your next home improvement project.
A Brief Comparison Table
| | | |
| --- | --- | --- |
| Feature | Viatera | Silestone |
| Quartz Content | 93% | 94% |
| Appearance | Very realistic natural stone looks | Distinctive modern styles |
| Durability | Extremely hard and scratch resistant | Hard but HybriQ+ less durable than pure quartz |
| Maintenance | Antibacterial; resists stains | Prone to fingerprints; resists stains |
| Cost | $70-$100 per sq. ft. installed | $50-$100 per sq. ft. installed |
| Warranty | 15-year limited | 25-year limited |
| Pros | Realistic designs, antimicrobial, durable | Innovative patterns, seamless, cost |
| Cons | Expensive, limited styles | Not as durable as pure quartz |
Overview of Viatera Quartz Countertops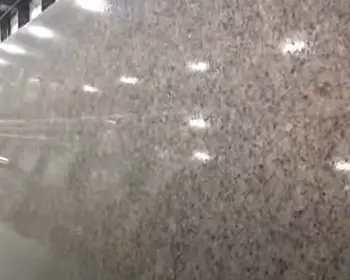 Viatera quartz surfaces are manufactured exclusively by LG Hausys, the building materials division of the global LG Corporation conglomerate.
Headquartered in Seoul, South Korea, LG Hausys operates factories in the United States, Canada, and across Asia.
As a premium quartz brand, Viatera is positioned at the high end of the engineered stone countertop market.
It matches competitors like Caesarstone and Cambria in quality and pricing.
Despite having some problems with Viatera quartz, there are standout benefits of it too:
Durability – With 93% crushed quartz content by weight, Viatera has exceptional hardness and scratch resistance meeting or exceeding granite, marble, and other natural stones. The tight quartz particles are bonded by advanced polymer resins that stand up to heavy daily use without showing wear.
Stain Resistance – The non-porous composition prevents absorption of spills, oils, and common household stains that can permeate softer surfaces like wood or laminate. Viatera easily wipes clean after contact with food, liquid, grease, and more.
Heat Tolerance – While any stone surface should be protected from direct high heat, Viatera is less prone to scorching or cracking than many competitors when exposed to hot pots or pans. The high mineral content gives thermal stability.
Antibacterial Protection – Viatera incorporates silver ion technology during manufacturing to help suppress bacterial growth. This creates a hygienic, easy to clean surface.
Aesthetics – Available in a diverse color palette, Viatera is highly regarded for natural stone visuals ranging from marbles to concretes. The rich detailing and natural veining make for convincing replicas.
Warranty – Viatera is backed by a 15-year limited transferable warranty covering manufacturing defects. This matches Caesarstone's warranty for extra peace of mind.
With its realistic appearances and durable low-maintenance composition, Viatera presents an excellent option as a go-to surface for kitchens, baths, and beyond.
Overview of Silestone Quartz Countertops
Silestone is a popular quartz surfacing material produced by the Spanish company Cosentino. Introduced in 1990, it was one of the first engineered stone brands to hit the market.
Some notable qualities of Silestone include: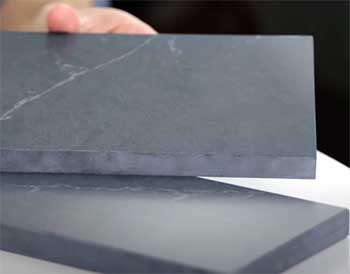 Hardness – Silestone integrates 94% crushed quartz content into its slabs, maximizing hardness and scratch resistance. This allows it to maintain its polished surface through years of slicing, dicing, and sliding dishes.
Style – While Silestone offers classic stone looks, its signature style incorporates vibrant colors and unique patterns including integrated metals and pearls. These "cosmic" and "ecosmart" collections give Silestone a distinct modern aesthetic.
Stain Protection – Microban antibacterial treatment helps Silestone resist absorption of liquids and staining from spills, grease, food, and more. It simplifies cleaning.
Seamless Look – Silestone manufacturing techniques allow for large-format slabs. This enables installation of expansive countertops without visible seams for a sleek, continuous appearance.
Sinks – Many Silestone designs can be pre-fabricated with integrated sinks carved from the same material. This delivers a streamlined, harmonious look.
Warranty – Silestone provides a 25-year limited transferable warranty, the longest coverage for quartz counters.
With its innovative style and reputable brand, Silestone gives homeowners a proven performer to consider.
Comparing Physical Properties: Viatera And Silestone
Now that you understand the basics of each brand, let's dig into a technical feature comparison between Viatera and Silestone.
Quartz Content
The percentage of quartz crystals used in production significantly impacts durability. Both Viatera and Silestone have high contents over 90%:
Viatera: 93%
Silestone: 94%
This makes them two of the hardest and most damage-resistant options available. The extra silica fortifies the material to prevent scratching, etching, and more.
Flexural Strength
Flexural or bend strength indicates the force needed to break a surface by bending. Higher numbers mean more resistance to impact damage.
Viatera: 6800 psi
Silestone: 7000 psi
Silestone has a minor advantage, but both demonstrate excellent flexural performance significantly above most other quartz products.
Water Absorption
Minimal water absorption prevents staining, bacterial growth, and damage from spills.
Viatera: 0.02%
Silestone: 0.04%
The negligible absorption of both qualifies them as NSF certified non-porous food safe surfaces. Viatera has a slight edge but the difference is not significant in practical use.
Stain Resistance
Viatera and Silestone exhibit similar stain resistance, both rated excellent. Independent tests confirm they resist coffee, juice, wine, oil, vinegar, lemon, tomato sauce, makeup, and other problematic substances that easily stain softer materials.
Heat Tolerance
Repeated exposure to temperatures above 150°F can damage engineered stone. Both brands advise using trivets for hot pans. Of the two, Viatera generally tolerates somewhat higher heat thanks to its mineral contents. But any stone surface should be protected from extreme heat.
Freeze/Thaw Resistance
Viatera and Silestone have outstanding freeze/thaw performance and can withstand harsh outdoor winter temperatures in any climate.
UV Stability
Prolonged sun exposure can damage some quartz products, but Viatera and Silestone formulations provide UV stability with natural stone-like resistance to fading or discoloration.
Both deliver exceptional physical performance ideal for kitchen and bath applications. In terms of durability, Viatera and Silestone are comparable overall.
Appearance: Viatera And Silestone Aesthetics
Beyond performance, visual appeal is critical in choosing quartz counters. Viatera and Silestone diverge when it comes to aesthetics and styles.
Color Variety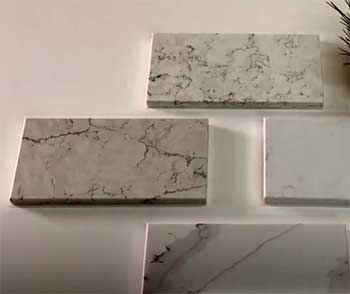 Viatera offers over 100 colors encompassing neutral whites, elegant blacks, warm tans, vibrant jewel tones, and striking patterns. Popular options include:
Frosty Carrina for a white marble look
Warm Noce for brown stone aesthetics
Bold Labradorite displaying a blue-green iridescent glow
Silestone provides 70+ color options from neutrals to bold hues. Some eye-catching examples are:
Minimalist Blanco Zeus white
Deep Cosmic Blue with pearl accents
Emerald Jade for green marbling
Both give plenty of selection for personal style. Viatera emphasizes natural stone appearances while Silestone trends more modern.
Patterns
Viatera stone patterns concentrate on realistic natural looks. These include subtle veining and movement to mimic materials like marble and granite. Concrete visuals are also convincing.
Silestone incorporates vivid colors and greater variation through aggregated quartz blending and creative inclusions. This produces bolder patterns and unique aesthetics like translucent glass and integrated metals not found in nature.
Finish Options
Viatera comes in polished or suede finishes.
Silestone is available in polished, suede, or volcanic textures.
Silestone provides more finish variety, but both offer popular matte suede alongside classic polished sheen.
Large Format Slabs
Silestone's manufacturing process enables enormous slab sizes up to 125" x 63". This allows for expansive installations with few visible seams. Viatera's slab size maxes out at around 107" x 53", still sufficient for seamless appearance in most kitchens.
Edge Profiles
Both brands can be fabricated with straight 90-degree edges or more ornate ogee, bullnose, or eased profiles. Silestone sometimes incorporates unique edges like integrated LED lighting.
Backsplashes
Optional backsplashes can provide continuation of material and color up the wall. Viatera and Silestone backsplashes can be created seamlessly from the same slab.
Specialty Options
Silestone offers branded integrated sinks, faucets, lighting, and other accessories for a coordinated appearance. Viatera provides fewer accessory options.
Cost Comparison: Viatera and Silestone Pricing
As high-end quartz lines, both Viatera and Silestone sit at the upper end of the countertop pricing spectrum. However, Viatera is positioned as more exclusive with luxury pricing to match.
Price Per Square Foot
| | | |
| --- | --- | --- |
| Aspects | Viatera | Silestone |
| Material | $50-$70 | $40-$60 |
| Installation | $20-$30 | $10-$30 |
| Total | $70-$100 | $50-$90 |
Viatera material runs $10-$20 more per square foot compared to Silestone slabs. Total installed costs average $70-$100 for Viatera and $50-$90 for Silestone depending on factors like edge treatments.
Colors and patterns with special inclusions tend to sit at the higher end of pricing. More basic solid tones can cost less.
Overall, Viatera is approximately 15-20% more expensive than Silestone for most applications due to its positioning as a top luxury brand. Cost-conscious buyers may favor Silestone for high-end style at a more accessible price point.
Warranties
Warranty coverage provides important protection on expensive countertop investments. Both Viatera and Silestone come with strong assurances.
Viatera
15-year limited transferable warranty
Covers manufacturing defects when installed correctly
Will replace or repair defective material only
Transferable to new owners
Silestone
25-year limited transferable warranty
Covers defects in materials and fabrication
Will replace or repair material and labor
Fully transferable
Silestone provides the longest quartz countertop warranty at 25 years – a key advantage over the 15 years of coverage from Viatera. For the first 10 years, Silestone also covers fabrication and installation costs which Viatera does not.
Pros and Cons of Viatera Quartz Countertops
Pros
Strikingly realistic natural stone visuals
Highest durability to resist scratches and damage
Stain, mold, mildew, and bacteria resistant
NSF certified for food safety
15-year transferable limited warranty
Cons
Significantly more expensive than average quartz
Smaller slab size than Silestone
Limited bold patterns and color options
Shorter warranty than Silestone
Pros and Cons of Silestone Quartz Countertops
Pros
Distinctive modern aesthetics and daring colors
Extremely scratch and stain resistant
Mold, mildew, and bacteria resistant
Seamless large-format installations
More affordable pricing among premium quartz
25-year transferable limited warranty
Cons
Less realistic than natural stone appearances
Not as heat tolerant as pure quartz options
Prone to showing fingerprints/watermarks
Integrated sinks can be prone to staining
Frequently Asked Questions (FAQ)
Below are answers to some of the most common questions homeowners have when deciding between Viatera and Silestone.
Is Viatera quartz good quality?
Yes, Viatera is widely regarded as one of the highest quality quartz countertop lines available. With 93% crushed quartz content, it achieves top-tier durability and stain resistance. Viatera performs on par with other elite brands like Caesarstone.
What are the highest quality quartz countertops?
According to testing and reputation, the brands consistently ranked as highest quality are Caesarstone, Cambria, and LG Viatera. Silestone, PentalQuartz, and DuPont Zodiaq also rate as excellent premium quartz options.
What is better quartz or Silestone?
Quartz refers to the engineered stone material while Silestone is a brand. High-end quartz like Viatera is comparable to Silestone in quality and performance. However, Viatera is seen as more natural looking while Silestone offers greater style options. Most experts consider them nearly equal overall.
Who makes Viatera quartz countertops?
Viatera quartz surfaces are manufactured exclusively by LG Hausys, the building materials division of the global LG Corporation based in South Korea. LG has specialized in engineered stone fabrication since entering the quartz market in 2005.
Final Thoughts
When choosing between these two industry leaders, consider your budget, kitchen style, and personal priorities.
Those wanting the most authentic natural stone visuals in a durable low-maintenance surface may gravitate to Viatera. Home cooks who frequently prep and serve meals on their counters will also appreciate Viatera's heat tolerance and antibacterial properties.
For more contemporary designs with bold colors, seamless installation, and slightly lower cost, Silestone will suit many homeowners well. The exceptional 25-year warranty provides better long-term protection too.
Both deliver outstanding performance, beauty, and value. Weigh your needs carefully, examine stone samples in person, and consult experienced quartz fabricators to select the best fit for your home improvement goals. With either Viatera or Silestone, you can't go wrong investing in these top-tier countertops crafted to last a lifetime.