Not all households will need the same toilet. Getting a reliable toilet requires you consider several important aspects. Tuscany is a top brand to consider if you are after a mid-range toilet. 
The brand offers good-quality faucets at an affordable pricing option.
Here, I come up with Tuscany Michigan toilet reviews. A good number of people are using this lavatory. If you are thinking of buying this option, learning its valuable features is crucial. 
Let's dive into an in-depth review session of this toilet. 
Features of Tuscany Michigan Toilet
What is so special about Tuscany Michigan Toilet that many people like it? Here are some essential features of this unit that make it a perfect choice for many house owners.
Powerful Dual Flush System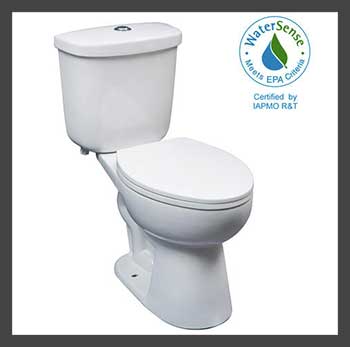 The unit comes with a 1.6/1.06 GPF dual flush, which is more water-efficient than traditional 3.5 GPF toilets.
This type of flush ensures lower water usage in the household. 
Hence you will save a lot of money on monthly water bills.
Its excellent cleaning capabilities will keep the toilet bowl fresh and hygienic for a long time.
Since you can decide between two flushing options, a lower volume flush will save water when removing only liquid waste.  
Unlike traditional levers, Tuscany Michigan toilets come with a half or complete flush mechanism. Since you can decide between two different water levels, it is more effective to have a water meter in your house.
Plus, this type of button is less to get damaged and easy to fix if you install it correctly. Additionally, you can keep the controller in a more hygienic condition by spraying disinfectant. 
Also, it has a more modern and stylish appearance to uplift the overall toilet look. 
The Tuscany toilet comes with a slow-close seal. It is not prone to slam. Like traditional toilet seats, it doesn't create a loud clatter. This ensures optimal privacy. It is a good plus point if you have kids at home who struggle to close the seat gently. 
This soft-close seat features a quick-release function. It makes the cleaning and maintenance more simple because you can detach the toilet seal fully. 
Additionally, replacing this type of toilet is simple since you don't need to follow any complicated process.  
You will have better access to clean the unit more thoroughly. Easily removing dirt and grime will be simple too. Since it doesn't slam, the toilet bowl won't be damaged.
Elongated Comfort Height Bowl 
This high-quality toilet has an Elongated comfort height bowl. It can give you chair-like comfort. Plus, it has a large surface area, so adults and kids who cause a lot of mess can use the toilet more conveniently.
People with disability issues will highly be benefitted from this type of toilet bowl. It provides greater motilities. If your bathroom size is huge, this type of toilet is more effective in utilizing all its space. 
The Tuscany Michigan toilet is ADA compliant, so tall and older adults can easily use it. Its comfortable height allows you seat on it like a chair. 
Plus, this type of seat has less price compared to other similar brands. 
Accommodating a full-size adult wheelchair will be easy-going. On top of that, these toilets have tool-free removable arms. This means you will have more flexibility.
Since it is a two-piece toilet, you can separate and transform it individually. You will have more maneuverability to carry it because each individual has a lighter weight than one-piece toilets. 
House owners can install it more conveniently due to the weight and size advantages. Additionally, this two-piece toilet has a lower price than many one-piece toilets.
After all, house owners prefer more two-piece toilets as they are used to it for a long time. If you have basic plumbing skills, you can easily install this type of toilet. 
This Tuscany toilet is a highly efficient and reliable option since it has a WaterSense label. Generally, you will save 20% on water using them. 
In addition, the unit meets the EPA criteria. As a result, it is less prone to clogging issues. Apart from removing waste, you won't experience any sewer backup issues.
Not only these, but the Tuscany toilet also has IAPMO R&T certifications. Hence you can consider it more eco-friendly. It is appropriately tested the meet the standard and ensure maximum safety.
What Could've Been Better With Tuscany Michigan Toilet?
Just because the Tuscany Michigan toilet has many good points, does this means it is free from cons? Absolutely not! Here are some common issues you will notice 
Since a gap exists between the toilet bowl and the tank, cleaning this type of toilet is a little tricky. You may need to spend some additional minutes cleaning it properly. 
Dirt and grimes are more prone to be accumulated in various corners and hard-to-reach areas. Removing them will take additional effort and time. 
If you have a small bathroom, you may want to think twice before installing such type of toilet. This two-piece toilet will cover a significant space compared to one-piece toilets.
Installing this lavatory in a compact bathroom adds a crowdy feeling. You won't feel relaxed while doing your bathroom task. 
Since the Tuscany toilet comes in two individual pieces, you have first to attach them correctly. Though it has a traditional type design, new people will struggle to install them.
In some cases, you have to hire professional plumbers if you don't have the right plumbing skills. This will increase the installation cost. 
According to many expert plumbers, this type of toilet is prone to have cracks and leaks after a specific time of usage. Regular maintenance will reduce the possibility of dysfunctioning, they will still show weary signs of more regular heavy use. 
Conclusion 
What do you think after going through the Tuscany Michigan toilet reviews? Should you purchase it or look for another toilet? 
We have already discussed the good and bad sides of this toilet. If you are more interested in getting a high-performance-based and reliable toilet, this Tuscany is an excellent option to consider. 
However, it requires a little more maintenance and better plumbing skills for perfect installation. If you can sacrifice these minor flaws, we don't think buying them will be the wrong choice. 
But it is up to you whether it is worth the money you want to invest. We have just helped you learn what valuable features this unit can offer.