When it comes to toilets, Gerber and KOHLER are two of the biggest names in the business. Both companies have been manufacturing high-quality bathroom fixtures for decades.
But which one makes the better toilet?
In this comprehensive guide, we'll compare Gerber and KOHLER toilets across a range of factors including flushing performance, bowl shape, water efficiency, comfort height, ease of installation, warranties, prices, and more.
Read on to see how these two toilet titans stack up against each other!
A Brief Comparison Table
| | | |
| --- | --- | --- |
| Feature | Gerber | KOHLER |
| Flushing Power | Good gravity flush performance | Excellent siphon-jet performance with Class Five & Six systems |
| Bowl Shape | Standard & elongated options | More contemporary elongated bowls |
| Water Efficiency | Meets EPA standards, some dual flush models | Meets and exceeds standards, wider range of ultra-low flow models |
| Comfort Height | Limited availability | Many comfort height models available |
| Ease of Installation | Quick-mount tanks, integrated gaskets | ReadyLock tank mounting, watertight seals |
| Warranty | Limited lifetime on porcelain, 1-10 years on parts | Lifetime limited on porcelain, 3-5 years on parts |
| Price | $100 – $500 range, strong value | $160 – $1500 range, premium pricing |
Key Differences Between Gerber And KOHLER Toilets
So both Gerber and KOHLER have been producing toilets for a long time. KOHLER tends to focus more on high-design while Gerber is known for value. But how do their actual toilets compare? Let's dive into the details.
Arguably the most important feature of any toilet is how well it flushes. You want a toilet that can quickly and completely clear waste with just one flush. Here's how Gerber and KOHLER models stack up when it comes to flushing power and effectiveness.
Gerber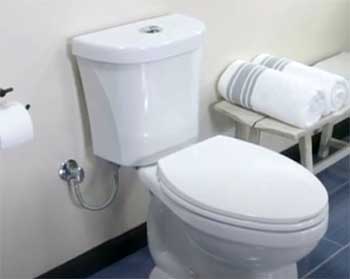 Gerber toilets employ a few different flushing mechanisms.
Their dual-flush models utilize a gravity-flush system with a 3″ flush valve that provides substantial siphon action to clear the bowl.
For their single-flush toilets, Gerber uses a combination of gravity flush and a pressurized tank to generate strong flush power.
Most Gerber toilets perform well with only one flush.
KOHLER
KOHLER offers several highly effective toilet flushing systems. Many KOHLER two-piece toilets feature the Class Five flushing technology which makes use of a large 3.25" flush valve, extra-wide trapway, and direct water feed to deliver a fast, clog-free flush. The Class Six system offers even better performance with sequential flushing action and precision-engineered tanks. KOHLER's one-piece and dual-flush toilets also provide excellent flushing capability.
Bottom Line
Overall, both Gerber and KOHLER make efficiently flushing toilets. KOHLER's Class Five and Class Six systems may provide slightly stronger siphon performance, but most models from both brands can clear waste in a single flush. For optimal flushing power, look for KOHLER's Class Five or Class Six technologies.
The shape and dimensions of the toilet bowl can impact the flushing effectiveness and comfort of use. Here's how the bowl designs compare between Gerber and KOHLER.
Gerber
Most Gerber toilets utilize a standard round-front bowl design. They make some elongated bowl models as well. Gerber bowls typically range from 12-14" in height. The fully-glazed trapway is usually 2-1/8" which helps facilitate thorough waste removal. Overall the bowls are ergonomically-designed for comfort and convenience.
KOHLER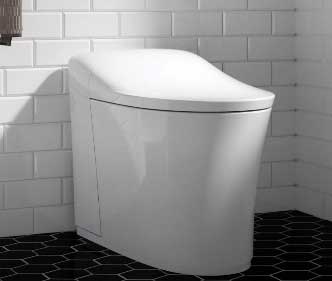 KOHLER offers round-front, elongated, and sleek one-piece bowl options.
Many of the elongated bowls are more angular in shape with squared-off edges rather than oval.
KOHLER bowls are available from standard height to taller, chair height models.
Their AquaPiston canister flush systems make use of a wider 3" trapway for increased flow.
KOHLER bowls come in a range of styles from classic to more contemporary.
Bottom Line
Gerber and KOHLER both utilize thoughtfully designed bowl shapes to maximize flushing power and sitting comfort. KOHLER stands out with its unique rectangular elongated bowls and wide range of height options. But overall either brand offers bowls tailored for optimal performance.
With environmental impact and utility costs in mind, water efficiency is an important toilet selection factor. Here is how Gerber and KOHLER toilets compare when it comes to water usage.
Gerber
The majority of Gerber toilet models are WaterSense certified to use 1.28 gpf (gallons per flush) or less. Their dual flush toilets operate at 1.1 gpf for the light flush and 1.6 gpf for a full flush. Gerber offers some older 3.5 gpf models but most are 1.6 gpf or better. Overall Gerber toilets are reasonably efficient with most meeting EPA WaterSense standards.
KOHLER
Nearly all KOHLER toilets are EPA WaterSense certified high-efficiency models using 1.28 gpf or less. Their dual flush designs allow for a light 0.8-1.1 gpf flush and a full 1.6 gpf flush. KOHLER also produces some ultra low-flow toilets rated at just 1.0 gpf. When it comes to water conservation, KOHLER sets the bar high with their wide selection of low-flow models.
Bottom Line
Both Gerber and KOHLER offer numerous water-efficient 1.28 gpf toilet options. KOHLER edges out with more ultra-low 1.0 gpf models but most toilets from both brands utilize 1.28 gpf or less. Either brand is a good choice for water conservation.
Comfort height (also known as chair height) toilets have risen in popularity in recent years. The higher seat height between 17-19" makes sitting down and standing up easier for most adult users. Here are some details on comfort height models from Gerber and KOHLER.
Gerber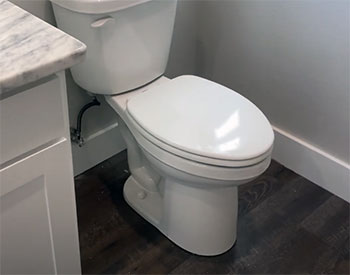 Gerber produces a few different toilets with comfort height bowls.
Their Maxwell line includes elongated bowl models between 17-19" in height.
Some of Gerber's AquaSense one-piece toilets also feature chair height designs.
Overall Gerber has a decent comfort height selection but more limited compared to other brands.
KOHLER
KOHLER has embraced the comfort height trend and offers many models in 17-19" heights. Their Cimarron, Tresham, and Wellworth collections include several comfort height options in round and elongated bowls. KOHLER also produces chair height one-piece toilets like the Archer and the Reach II. KOHLER's range of comfort height models accommodates users of all ages and abilities.
Bottom Line
For the widest selection of elongated bowl comfort height toilets, KOHLER is the winner. But Gerber does produce some very functional chair height models like the Maxwell. Just note Gerber's comfort height offerings are more limited.
Installing a new toilet involves some work. Here's a look at some of the features and factors that can make Gerber and KOHLER toilets easier (or more difficult) to install.
Gerber
Gerber toilets come with simple, straightforward installation instructions. The bolt caps for floor mounting the bowl are integrated into the base for no lost parts. Gerber toilet tanks are designed for quick and secure mounting on the bowl. Installation is further simplified with a pre-installed tank-to-bowl gasket. Overall Gerber toilets go in with minimal fuss.
KOHLER
KOHLER also strives for quick installation and no-hassle maintenance in their toilet designs.
Their ReadyLock system allows the tank to easily slide into place and lock onto the bowl using just 4 pre-installed bolts.
KOHLER also employs shank gaskets and seals that don't require wax rings or caulking.
Like Gerber, KOHLER includes clear instructions and all parts needed for DIY installation.
Bottom Line
Gerber and KOHLER both design their toilets for straightforward installation. Quick-mount tank systems and integrated gaskets help make the installation process smooth and simple for either brand. For most basic toilet installations, there is minimal difference in the process between the two brands.
Toilet warranties provide peace of mind in case any defects occur. Here is how the warranties compare between Gerber and KOHLER.
Gerber
Gerber offers a solid limited lifetime warranty on their vitreous china toilets. This covers defects in materials and workmanship for as long as you own the toilet. Wear-and-tear coverage is limited to 5 years. Gerber toilet tank parts have 3-10 year warranties while toilet seats are 1 year. Overall good coverage from Gerber.
KOHLER
KOHLER stands out with exceptional toilet warranties. Their one and two-piece toilets have a lifetime limited warranty covering the porcelain components against defects, peeling, and fading. The AquaPiston canister mechanisms have a 5 year warranty. All other KOHLER toilet parts are covered for 3 years after install. These comprehensive warranties provide great long-term protection.
Bottom Line
While both brands offer solid toilet warranties, KOHLER is ahead here. Their lifetime warranties on the vitreous components beat out Gerber's lifetime functionality coverage. KOHLER also provides longer 3 year parts warranties compared to Gerber's 1-10 years depending on the part.
Let's compare the typical pricing you can expect to pay for Gerber and KOHLER toilet models.
Gerber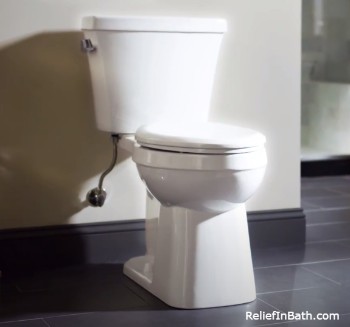 Across their toilet range, Gerber's list prices start around $100 for basic budget models and top out around $570 for higher-end two-piece toilets with comfort height bowls and dual flush.
The average list price for most popular Gerber models falls in the $150 to $350 range.
Being a value brand, Gerber offers very attractive pricing.
KOHLER
KOHLER toilets have list prices starting around $160 for entry-level small bath models up to $1,500+ for designer one-piece toilets with unique styling. However, many popular KOHLER models fall in the moderate $300 to $600 range. While not the cheapest, KOHLER's pricing reflects their quality construction and reputation.
Bottom Line
Gerber consistently prices their toilets lower than KOHLER across comparable models. However, KOHLER frequently offers rebates and sales that help offset the pricing gap. Ultimately Gerber offers great value while KOHLER provides quality backed by strong warranties.
Gerber And KOHLER Toilets: Key Facts
To summarize the key differences:
Flushing: KOHLER Class Five and Six systems may have slightly stronger performance but both brands flush efficiently
Bowl Design: KOHLER offers more contemporary elongated bowl aesthetics but both have ergonomic shapes
Water Efficiency: Both meet EPA standards but KOHLER has more ultra-low 1.0 gpf models
Comfort Height: KOHLER has far more comfort height options, especially in elongated bowls
Installation: Equally easy between the brands
Warranties: KOHLER offers longer coverage periods and lifetime porcelain warranties
Price: Gerber consistently undercuts KOHLER's list prices but both offer good value
So while there are some performance and feature differences, Gerber and KOHLER both make excellent, reliable toilets. The right choice comes down to your budget, preferred style, and bathroom needs.
KOHLER stands out on innovation and premium quality but costs more. Gerber provides comparable function and flushing at lower price points. Either brand can serve you well for decades with proper care and maintenance.
Frequently Asked Questions (FAQ)
Is Gerber a good toilet?
Yes, Gerber makes very good, reliable toilets. As a longtime plumbing brand, Gerber has built a reputation for decent quality toilets at affordable price points. While not as advanced as premium brands, Gerber toilets provide excellent function and value.
Which brand of toilet is the best?
There is no definitive "best" toilet brand. KOHLER and TOTO tend to top most lists based on innovation, performance, and features. Brands like American Standard, Gerber, and Sterling are also highly rated for their balance of quality and value. You can find great toilets from all major manufacturers.
Who made Gerber toilets?
Gerber toilets are made by Gerber Plumbing Fixtures LLC, which is based in Illinois, USA. Gerber has been manufacturing commercial and residential plumbing fixtures and fittings for over 80 years. They are a reputable USA-based toilet brand.
What is the best flushing toilet?
Toilets with strong flush power and minimal double flushing needs are considered the "best flushing." Look for key features like wide 3″ flush valves, well-designed siphon trapways, large water surface areas, and effective tank lever designs that deliver robust, thorough flushing action.
Which Is Better For You?
After comparing their key features and user feedback, should you choose Gerber or KOHLER for your next toilet?
Gerber Is Ideal For…
Shoppers on a tighter budget
Those seeking value-priced reliability
Basic bathrooms and small powder rooms
Basic style and standard height needs
KOHLER Is Best For…
Those willing to pay more for quality and performance
Elongated bowl and comfort height preferences
Designer or contemporary styled bathrooms
Advanced engineering and technology features
Both Gerber and KOHLER make excellent toilets backed by long warranties. Unless you value premium innovations from KOHLER, comparable Gerber models typically provide solid function and flushing at a more affordable price point.
Carefully evaluate your bathroom needs, preferred features, and budget to decide which brand is right for your home.