Are you planning to buy a value for money toilet? 
I have an excellent toilet suggestion for you that's cheaper but will get your thing done. Read my Tuscany Huron toilet reviews, and you will find out why I love this one. 
Having a good toilet has so many benefits. Ask someone who regrets buying a toilet; they will tell you how important a toilet selection is. Tuscany Huron toilet offers excellent value for money. It's cheaper but not crappy. 
Here I will show you the features and benefits of a Tuscany Huron toilet. You will know why it's a bang for your buck. So, without wasting further time, let's take this show on the road. 
Features of Tuscany Huron Toilet
Tuscany Huron toilet offers some unique features for its price. All these features tell that this toilet is worth going for. I'm sure after knowing these features, you will understand why so many people use this toilet. 
Let's have a good look at some key features of the Tuscany Huron Toilet: 
A Comfortable Seat & Bowl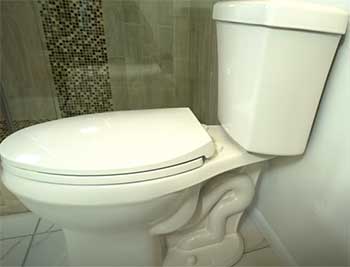 A toilet seat and bowl are two essential elements of a toilet. They play a vital role in a toilet's performance.
But most importantly, they show how comfortably you can sit on them and do your stuff. 
Tuscany Huron comes with a 16-½ inches bowl height without its seat.
Plus, its elongated comfort height bowl works and gives comfort like a chair. A seat will come with the toilet. 
So, you can understand how comfortably you can sit on the seat because of the tall bowl height. 
Flushing performance is one of the top features you should consider before buying a toilet. A toilet's performance heavily depends on its flush. Let's see what this toilet offers for its flush. 
Tuscany Huron features a siphonic gravity flush. It's a single flush toilet. You can send away 1,000 grams of waste with just one flush. The flush releases 1.6 gallons of water per flush, one of the industry's leading flushing performances.  
Although this toilet does not have any WasterSenese certification, you can eventually save a lot of water with 1.6 GFP. 
On top of that, Tuscany Huron comes with a high volume 3 inches flush valve. So, your toilet tank will be refilled very fast after each flush, and the flushing speed will be very high. 
Quick and Efficient Cleaning 
Releasing 1.6 litter water tells you that this toilet's cleaning performance is very effective and fast. With more water, it cleans off itself pretty well. So, you won't have to clean your toilet very frequently.  
A gravity pulled siphon jet and 2 inches of trapway diameter make sure any waste goes away quickly and smoothly. Its standard glazing will help further to push away the trash. Plus, it never allows debris to clog. 
You will get some pretty good benefits from this value for money toilet. For example, the toilet has a lever-type flushing handle. So, it's pretty easy to use. 
On top of that, the handle is located on the front. As a result, you can easily access the handle while sitting on your toilet. 
Besides, it's ADA approved and maintains cUPC agency standards. So, you know this toilet can perform well. 
Installing Tuscany Huron Toilet is pretty straightforward. You will have all the instructions written in the instruction book. Besides, the toilet comes with all the necessary kits required for installation. 
In addition, the 12 inches standard rough-in size makes this floor mounting toilet very easy and fast. 
Many people weigh on warranty, knowing that more warranty means the company backs the toilet for more time. Tuscany Huron Elongated toilet comes with a 5 Year Manufacturer Warranty. 
Moreover, the manufacturer offers a standard return policy. 
A great thing about this toilet is its price. The fact that it offers such a good performance at such a lower price will make you amazed. 
However, a 2-piece Tuscany Huron toilet costs only $120. Now you understand why I'm calling it a bang for your money time and again.  
What Could Have Been Better With Tuscany Huron Toilet? 
There is very little scope to expect something more than what is already in it at this price point. However, a few things can be improved to make this toilet even better. 
So let's see what scopes we have for improvement: 
A Better Flushing Performance 
I'm not sure whether it's practical to expect even better flushing performance from this toilet with this price tag. But having a 1.2 GFP flush will provide a ceiling-high for Tuscany Huron Toilet. 
It'll surely attract a lot more people towards it. 
Trapway glazing is crucial for a toilet. It helps the waste go smoothly down to the sewerage pipe; a toilet will clean more effectively. 
While I do not expect glaze like SanaGlaze at this price point, the manufacturer can add better glazing than what's currently have. 
Frequently Asked Question (FAQ)
Is Tuscany a good toilet?
Tuscany Huron is a pretty nice toilet at a lower price point. This two-piece toilet will give a good flushing performance, comfortable seat, and effective cleaning. 
Who makes Tuscany toilet?
Tuscany Toilet is made by Menards, a bathroom and kitchen accessories manufacturer. It is a mid-range product line of Menards that includes toilets, sinks, faucets, bath hardware, etc. Menards products are manufactured in Asia. 
What is a good rated toilet?
A toilet with good flushing performance, comfortable to sit, easy cleaning, etc., is considered a good-rated toilet. Kohler Corbelle is one such toilet.  
How good are Glacier Bay toilets?
Glacier Bay toilets are made from high-quality and durable materials. Thus, they are famous for their quality. Plus, it offers excellent cleaning performance. 
Final Thoughts 
After reading my Tuscany Huron toilet reviews, I'm sure it's clear that Tuscany Huron is a good toilet for its price and worth every penny. 
Although there is some room for improvement, it's all you will get at this price point. 
I've done my part; now it's your turn to do the right thing. So, go ahead and bring this toilet home.