When it comes time to replace your toilet, you want to choose a model that offers both style and performance. Two of Kohler's most popular toilet families are the Gleam and Cimarron lines.
But with so many options available, how do you decide which is best for your bathroom?
In this guide, we'll compare the key features, pros and cons of Kohler's Gleam and Cimarron toilets. We'll look at flush performance, bowl shape, dimensions, colors, and more. Read on to learn which Kohler toilet is the best fit for your needs and budget.
A Brief Comparison Table
| | | |
| --- | --- | --- |
| Feature | Kohler Gleam | Kohler Cimarron |
| Bowl Shape | Elongated or round front | Elongated only |
| Bowl Dimensions | 29-1/4″ x 16-1/2″ | 28-1/4″ x 18-1/2″ |
| Depth from Wall | 31″ | 30-3/8″ |
| Rim Height | 16-1/8″ | 16-1/2″ |
| Flush Type | Dual-flush 0.8 / 1.28 gpf | AquaPiston 1.28 gpf |
| Flushing Performance | Very good | Excellent |
| Seat Height | Standard or chair height | Comfort height |
| Tank Style | Streamlined and contemporary | Traditional silhouette |
| Color Options | White, dune, ice gray, black black | Almond, biscuit, white, sandbar, ice gray + designer colors |
| Warranty | 1 year limited | 1 year limited |
| Price Range | $529 – $700 | $472 – $762 |
Overview of Kohler's Gleam and Cimarron Toilets
The Gleam and Cimarron represent two of Kohler's mid-range toilet offerings. Both provide a balance of stylish design and solid performance at moderate price points compared to Kohler's more premium toilet collections.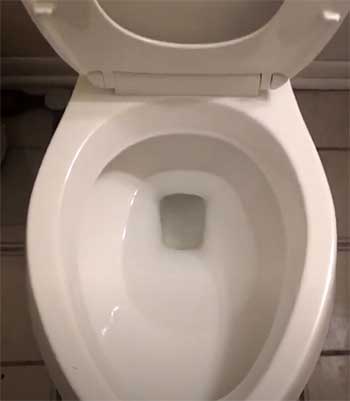 Kohler Gleam – The Gleam series toilets feature sleek, contemporary styling with clean lines and geometric shapes.
These toilets come in a range of neutral colors to complement modern decor.
Key features include a dual-flush option, elongated bowl, and chair-height seating position.
Kohler Cimarron – Cimarron toilets have a more traditional look with rounded bowl shapes and classic design details.
These toilets are available in a wider variety of colors and finishes to match any style.
Notable features include a powerful class five flush, comfort height seating, and AquaPiston canister flush valve.
Key Differences Between Kohler Gleam And Cimarron Toilets
While the Gleam is more modern and the Cimarron more classic, both offer robust flushing performance and comfortable ergonomics. The main differences come down to aesthetic appeal, bowl shape, and dimensions.
Let's talk about them in detail:
Flushing Performance
One of the most important factors when selecting a toilet is flushing power. You want a toilet that can efficiently clear waste with each flush. Here is how the Gleam and Cimarron compare in flushing performance:
Gleam – The Gleam utilizes Kohler's dual-flush system. The light flush option uses 0.8 gpf (gallons per flush) for liquid waste removal. The full flush option uses 1.28 gpf for solid waste. Dual-flush allows you to conserve water when appropriate. Independent lab tests confirm the Gleam has excellent bulk waste removal and solid carry in the full flush mode.
Cimarron – Cimarron toilets employ Kohler's AquaPiston canister flush valve and a siphon-jet system. This produces a high-efficiency 1.28 gpf flush that is remarkably effective. The Cimarron flushes at over 1000 grams of solid waste removal exceeding the industry standard. The flush is powered by gravity and the canister to create substantial siphon action. Kohler stands behind the flush with a Never Clog guarantee.
Overall, while the Gleam offers a water-saving dual flush, the Cimarron provides superior solid waste removal with its robust single flush siphon-jet system. The Cimarron is the winner in terms of pure flushing efficacy.
Bowl Shape and Dimensions
The shape and size of the toilet bowl contribute to the comfort and functionality of the toilet. Here is how the two Kohler models differ in these areas:
Gleam – The Gleam line includes both elongated and round front bowl options. The elongated bowl provides added room and comfort. Dimensions for the elongated bowl are: 29-1/4″ x 16-1/2″ with a rim height of 16-1/8″. Depth from wall to front of bowl is 31″. Overall the Gleam has a sleek, contemporary look.
Cimarron – Cimarron bowls come in elongated front only, providing expanded seating space. Dimensions are: 28-1/4″ x 18-1/2″ with a 16-1/2″ rim height. Depth from wall is 30-3/8″. The Cimarron has a more classic, curvaceous bowl profile compared to the rectangular Gleam.
The additional length of the Cimarron's elongated bowl allows for greater sitting room and comfort. However the Gleam offers attractive styling in both elongated and round front options.
Ergonomics and Seat Features
The height and shape of the seat impact the comfort and accessibility of using the toilet. Here are some key ergonomic factors of the Gleam and Cimarron: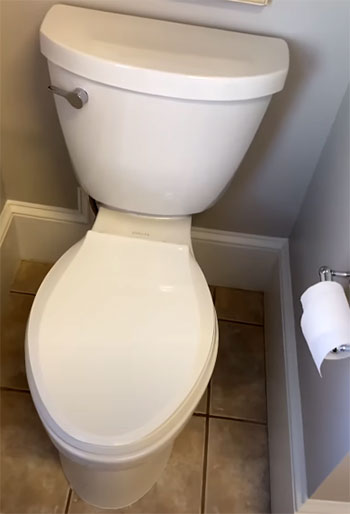 Gleam – Gleam toilets come in both standard height and chair height configurations. The chair height models feature a seat height of 16-1/2″ from floor to seat top, making it easier to sit down or stand up for those with mobility challenges. The elongated seat and bowl provide an ergonomic shape.
Cimarron – All Cimarron toilets are available in comfort height/right height models. The seat is positioned at 16-1/2″ high. This is the ideal height for meeting ADA guidelines for accessibility. The elongated bowl maximizes sitting space and comfort.
Both the Gleam and Cimarron offer chair or comfort height seating options for optimal ergonomics.
The Cimarron may have a slight edge with an elongated bowl available on all models.
Toilet Tank Styling
The tank or cistern contains the flushing mechanism and adds to the visual look of the toilet. Here are tank differences between the Gleam and Cimarron:
Gleam – The Gleam features a streamlined tank with subtle geometry and clean lines. It has smoother sides and less prominent detailing compared to the Cimarron tank. Available tank colors include white, dune, ice grey and black black.
Cimarron – Cimarron toilet tanks have a traditional silhouette with more curvature in the base. Model details like the chrome trip lever and possible metal accent bands give it a classic styling. Tank colors include almond, biscuit, white, ice grey, sandbar, and several designer colors.
The Cimarron tank styling aligns with its traditional design, while the Gleam tank has a more contemporary low-profile appearance. There is greater color variety among the Cimarron models.
Color and Finish Options
The color and finish you select for the toilet affects the overall look and how it coordinates with your bathroom decor. Here are the options for the Gleam and Cimarron:
Gleam – Available colors for the Gleam are white, dune, ice grey, and black black. The white and light neutral tones work well with contemporary schemes. The toilets have a glossy finish.
Cimarron – Cimarron offers almond, biscuit, white, sandbar, ice grey, and designer colors like black black, cashmere, and thunder grey. The wider range of light, neutral, and bold hues allow coordination with any style. These toilets have a traditional KOHLER glaze.
For contemporary decor, the Gleam's glossy greys and black work well. For classic or traditional bathrooms, the Cimarron provides pleasing colors like almond and biscuit.
Special Features
Some additional features that differ between the Gleam and Cimarron include:
Gleam

Left-hand trip lever is integrated into tank for seamless look
Half flush saves water for liquid waste removal
Can pair with multi-function Kohler Konnect app and Alexa voice activation
Deep valve seals prevent leaks into tank
Equipped with Quiet-Close lid and seat to prevent slamming

Cimarron

AquaPiston canister flush valve allows powerful siphon during flush
Comfort Height models meet ADA compliance for accessibility
Left-hand Polished Chrome trip lever is durable and matches components
Standard 12-inch rough-in fits in most existing bathroom footprints
Toilets carry a 1-year limited warranty
These extra characteristics help differentiate the two toilet collections in terms of functionality and included technologies.
Prices and Warranties
Budget and predicted maintenance costs may factor into your buying decision. Here are the retail costs and warranties:
Gleam – MSRP ranges from $529 – $700 depending on model. Chair height models cost more. The warranty covers defects for one year after install.
Cimarron – MSRP for the Cimarron line ranges from $472 – $762. The variation depends on bowl, height, color, and flush style. Warranty provides one year of coverage against defects.
The Cimarron extends to lower price points overall but the two series have overlapping ranges. Both carry industry standard 1-year limited warranties.
Frequently Asked Questions (FAQ)
What is Kohler's best selling toilet family?
Kohler's Cimarron line remains one of their most popular toilet series. The Cimarron balances attractive traditional styling with excellent flushing performance. As one of Kohler's mid-range priced toilets, it offers great value and reliability.
Which Kohler toilet has the most powerful flush?
Among residential toilets, the Kohler Highline and Cimarron Class Five toilets are rated as having the most effective and powerful flushes. They both utilize a pressurized siphon-jet system and large 2-1/8″ trapway to thoroughly evacuate waste with each flush.
What is Kohler best toilet?
While beauty is in the eye of the beholder, many top choices for best Kohler toilets include the Cimarron, Highline, Wellworth, and Tresham lines. They combine attractive aesthetics, robust flushing systems, comfortable ergonomics, and long-lasting quality at reasonable price points.
Is Kohler Cimarron a Class 5 toilet?
Yes, Kohler markets its Cimarron line as Class Five flushing toilets. This means they can flush bulk waste volumes of 1000 grams or more, exceeding the industry standard. The Class Five classification was designated by Kohler based on independent lab testing and real world performance.
Final Thoughts
When choosing between the Gleam and Cimarron, it largely comes down to your personal style preference and bathroom decor. For contemporary bathrooms, the clean lines of the Gleam fit right in with seamless styling and neutral color options.
The Cimarron offers classic appeal, expansive color selection, and slightly more powerful flushing capabilities. You can't go wrong with either of these attractive, well-performing Kohler toilet collections.
Consider the features most vital to your family in making the right selection.