Steam showers have become an increasingly popular way to bring the relaxing, rejuvenating benefits of steam rooms into the convenience of your own home. Two of the biggest names in luxury steam shower systems are SteamSpa and Mr. Steam.
But with two great options to choose from, how do you decide which is right for your home?
In this comprehensive guide, we'll compare the key features, pros and cons of SteamSpa and Mr. Steam steam showers to help you make the right choice for your needs.
A Brief Comparison Table
| | | |
| --- | --- | --- |
| Feature | SteamSpa | Mr. Steam |
| Price Range | $1,000 – $3,500 | $2,500 – $7,000+ |
| Generator Sizes | 4KW – 18KW | 3.5KW – 60KW |
| Generator Warranty | 5 years | 10 years |
| Shower Warranty | 1 year | 5 years |
| Warranty Labor | Not included | Included 2 years |
| Purchase Options | Direct website sales | Dealer network |
| Installation | DIY-friendly | Professional recommended |
| Control Interface | AromaSteam | iTempo/iSteam |
| Steam Room Options | Showers only | Rooms & showers |
| Chromotherapy | Available | Optional add-on |
| Bluetooth Audio | Available | Optional add-on |
Overview of SteamSpa and Mr. Steam
SteamSpa and Mr. Steam are both leading manufacturers of home steam shower systems.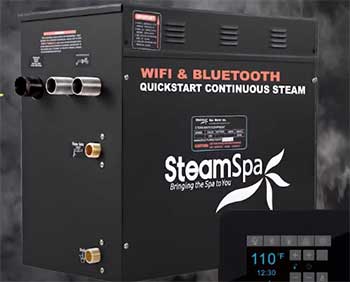 SteamSpa was founded in 2000 in Walnut, California and has specialized in steam showers ever since.
Their products are designed to bring an authentic spa experience into any bath or shower with features like aromatherapy, chromotherapy, and digital controls.
Mr. Steam was founded in New York in 1917 and has been an industry leader in the steam bath category for over 100 years.
They are known for their high quality traditional looking steam rooms as well as more contemporary shower systems.
Both companies offer a range of products from basic steam shower generators to fully customized luxury shower and tub enclosures. They also provide accessories like seats, benches, towel racks and other enhancements to complete your perfect at-home steam room oasis.
When it comes to price, Mr. Steam systems tend to be more expensive, usually ranging from $2,500 up to $7,000+ for their more premium models. SteamSpa systems are generally more budget friendly in the $1,000 to $3,500 range.
However you can find high-end options from SteamSpa and entry level units from Mr. Steam that vary in price.
Steam Generator & Shower Features
The steam generating unit is the heart of any steam shower. This is where cold water is heated to produce the steam that gets released into your shower enclosure.
SteamSpa Steam Generators
SteamSpa offers 7 different steam generator models ranging in size from 4 KW to 18 KW. Their generators are designed for both residential and commercial use and they utilize high quality components like brass fittings, all copper piping, stainless steel tanks and industrial strength metal exteriors.
Popular models include the SteamSpa Royal 10.5 KW, which can power up to a 6 person steam shower and the SteamSpa Somerset, their top home-use generator made for luxury custom showers.
All SteamSpa generators feature smart technology like automatic flushers to prevent mineral buildup as well as diagnostics for monitoring use and maintenance.
Mr. Steam Steam Generators
Mr. Steam provides 10 different steam generator options from compact residential units to powerful commercial boilers. Their generators range from 3.5 KW for small steam showers up to massive 60 KW units for luxury custom steam rooms and giant shower spaces.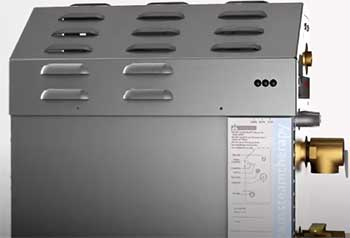 Some of their most popular and acclaimed models include the Mr. Steam MS Super 3 for light commercial use and the Mr. Steam MS90 designed specifically for home steam showers.
Notable features across Mr. Steam generators include unique "AutoFlush" technology to extend the life of the system by preventing scale buildup and reducing maintenance.
Units also have self-diagnostic capabilities to detect issues and ensure safe operation.
When it comes to the steam generators, both companies offer excellent commercial-grade quality units to power your steam shower. Mr. Steam has a slight edge in size range on the top end while SteamSpa meets the needs of most residential settings.
Of course a steam shower is much more than just the generator – the shower enclosure, seating options, finishes and controls are equally important.
SteamSpa offers a wide range of shower enclosures from basic hydromassage showers to luxurious models featuring chromotherapy lighting, Bluetooth audio, body spray jets and more. Many of their enclosures allow you to customize the size, doors, finishes and accessories.
Mr. Steam provides both traditional steam room modules as well as frameless glass steam shower stalls in various sizes. While their offerings may not be quite as extensive as SteamSpa's, they offer high end touches like internal seating, glass finishes and customization options.
When it comes to controls, Mr. Steam uses their iSteam and iTempo interfaces to control steam functions and optional features like lights, audio and temperature. SteamSpa offers the AromaSteam system for controlling steam, hydro massage, lights, Bluetooth and aromatherapy.
Both brands allow you to preset your perfect shower environment and have straightforward touchscreen interfaces. Mr. Steam's controls may have a slight edge when it comes to ease of use and WiFi connectivity.
Installing a steam shower requires making plumbing and electrical connections for the steam generator as well as properly sealing the steam shower enclosure to contain the steam.
SteamSpa prides themselves on providing steam shower units that are easy to install. Their generators, enclosures and controls are designed to work together seamlessly whether you purchase them individually or as a package.
They provide detailed installation manuals for all their products and have helpful installation videos on their website. Many SteamSpa customers report being able to install their units successfully themselves.
Mr. Steam strongly recommends having a professional technician install their steam shower systems. Their products often require specialized installers familiar with Mr. Steam to ensure proper setup, connections and insulation for optimal safety and performance.
While savvy DIY-ers may be able to handle a Mr. Steam install, their systems are better geared towards a professional installation.
If ease of install is a major factor for your project, SteamSpa may have an advantage, especially for homeowners who want to tackle it themselves. However Mr. Steam's dealer network can handle even the most complex setups for a truly custom steam shower.
SteamSpa sells all their steam shower products directly through their website SteamSpa.com. They have an extensive gallery of real steam shower photos, detailed product specifications, installation guides and videos to help you shop online.
Their website also has a live chat feature and toll free number to speak with a product expert before purchasing.
Mr. Steam does not sell products directly to consumers. Instead they work with an exclusive network of dealers and plumbers who can provide quotes for you. You can browse steam shower systems on their website and then search for a local dealer to reach out to for pricing and project details.
While less convenient than direct e-commerce sales, this dealer network ensures proper installation and service of Mr. Steam products.
For DIY-ers who know exactly what they want, SteamSpa's direct sales may be more convenient. But clients looking for a full service experience and professional guidance may appreciate working with a local Mr. Steam dealer.
Warranty & Customer Support
The warranty coverage provides peace of mind that you'll be covered in case any defects arise with your steam shower system or its components.
SteamSpa provides a 5 year limited warranty on their steam generator units and a 1 year limited warranty for showers and accessories. Labor costs for repairs are not included under the SteamSpa warranty.
Mr. Steam offers a 10 year warranty on steam generators for residential use as well as a 5 year parts warranty on shower doors, enclosures, controls and most accessories. Labor is included for the first 2 years of the generator warranty providing an added benefit for repairs.
Both companies have received positive feedback for their customer service and support teams. SteamSpa provides live chat, email and phone options for troubleshooting or questions about installations. Mr. Steam's network of dealers are available for service needs after installation.
Overall Mr. Steam offers the more comprehensive and generous warranty especially with the 10 years of coverage on the generator and inclusion of labor costs in the early years. But both brands provide industry-leading support.
SteamSpa Pros & Cons
SteamSpa Pros
Wide range of affordably priced steam shower models
Direct to consumer ecommerce sales & pricing
Excellent customer service team
Simple do-it-yourself installation
Convenient website with product guides and videos
SteamSpa Cons
More limited size range on generators
Shorter 1 year warranty period on showers & accessories
No labor included for warranty repairs
Watch how cool TeamSpa can be for you!
Mr. Steam Pros & Cons
Mr. Steam Pros
Top of the line commercial grade steam generators
Broader range of generator sizes up to 60 KW
Generous 10 year parts + labor warranty on generators
Strong reputation with 100+ years in business
Network of dealers provides expert installation & service
Mr. Steam Cons
Equipment and installation costs are higher
Products must be purchased through dealers
Installation often requires hiring a professional
Controls not as intuitive as SteamSpa
Frequently Asked Questions (FAQ)
Who are the competitors of Mr. Steam?
Some of Mr. Steam's major competitors in the steam shower market include Steamist, ThermaSol, Amerec, and SteamSpa. Other companies like Kohler and Grohe also make steam shower products that compete with Mr. Steam.
What is the difference between steam showers?
Steam showers can vary in terms of size, steam generating power, special features, quality of materials, and more. Key differences include:
Generator size – Measured in kilowatts (KW)
Enclosure materials – Acrylic, glass, tile, wood paneling
Special features – Chromotherapy, Bluetooth, body sprays
Seating – Built-in seats, benches or none
Door style – Glass or acrylic fold, hinged, swing doors
Controls – Manual dial, digital touchscreen, app connectivity
What is Mr. Steam Express steam?
Mr. Steam Express Steam is a steam generator designed for easy and affordable installation in an existing shower. It has a compact 3.5 KW generator that can connect to any shower stall and has a simple manual control. It provides a cost-effective way to add a basic steam shower without rebuilding your entire shower.
Are steam showers as good as steam rooms?
Steam showers provide an excellent at-home spa experience and relaxation benefits that rival many dedicated steam rooms. However, for the absolute largest steam rooms, steam showers are limited on size and therefore cannot achieve quite as high levels of humidity.
Conclusion
In summary, SteamSpa and Mr. Steam both provide excellent steam shower systems with commercial grade generators, luxurious enclosures and therapeutic relaxation benefits. For those on a budget, SteamSpa systems offer more affordable options while still delivering a high quality spa experience.
Mr. Steam caters to the high end of the market with premium materials and expert installation for the ultimate residential steam room. Carefully considering your budget, preferred features and installation factors can help you choose if SteamSpa or Mr. Steam is a better fit for your steam shower dreams.
With either brand, you can look forward to many years of rejuvenating steam therapy right at home.