Steam showers have become an increasingly popular way to add a spa-like experience to your daily routine. The leading manufacturers of luxury, in-home steam shower systems are EliteSteam and Steamist. But with two great options to choose from, how do you decide which one is right for your needs?
In this comprehensive guide, we'll compare the key features, pros and cons of EliteSteam and Steamist steam showers. Read on to discover how they stack up on price, quality, technology, customization options and more.
A Brief Comparison Table
| | | |
| --- | --- | --- |
| Feature | EliteSteam | Steamist |
| Price Range | $2,500 – $4,000+ | $4,000 – $8,000+ |
| Manufacturing Location | USA | Italy |
| Years in Business | Since 2001 | Since 1960 |
| Steam Generation | Stainless steel reservoir, up to 125°F | Stainless steel reservoir, up to 125°F |
| Customization Options | 4 sizes, corner or enclosure, fewer options | Fully customized, wide range of options |
| Ease of Installation | DIY-friendly | Professional installation recommended |
| Warranty | Limited lifetime on structure, 1-2 years on parts | Limited lifetime on structure, 1-2 years on parts |
| Luxury Features | Standard aromatherapy, 60 min timer | Chromotherapy, audio systems, foot massagers |
| Style | More basic, standard finishes | Contemporary, luxury finishes |
Overview of EliteSteam and Steamist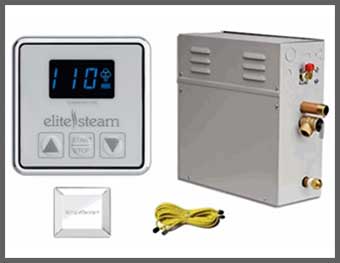 EliteSteam and Steamist are both American companies that manufacture high-end steam shower systems for residential use.
EliteSteam is based in Jupiter, Florida and was founded in 2001.
Their steam showers are made from 100% stainless steel and manufactured in the USA.
Steamist is headquartered in Madison Heights, Michigan and has been in business since 1960. Their products are also made from stainless steel but manufactured in Italy.
Both companies offer a range of steam shower models to suit different budgets and requirements. Steamist steam showers tend to be more expensive on average than EliteSteam.
Key Differences Between EliteSteam And Steamist
Steam Shower Construction
When it comes to construction, EliteSteam and Steamist products are fairly comparable.
The main steam generator unit is made of stainless steel in both brands. This contains the heating element, water reservoir and computerized controls.
The steam heads which release the steam into the shower area are generally made of brass by both manufacturers.
Tempered glass is used for the shower walls and door panels. Both brands use 6mm to 10mm thick glass for durability and safety.
Seating options are either stainless steel, acrylic, resin or teak. Teak benches are an upgrade option with Steamist in particular.
The small differences come down to design aesthetic in terms of finishes, shapes and detailing. Steamist products usually have a more contemporary style.
Steam shower installation can be complicated, especially if you're integrating it into an existing shower space. Therefore, ease of installation is an important consideration when choosing a steam shower.
EliteSteam prides itself on being DIY-friendly. Their steam generators can be wall mounted or installed up to 50 feet away in a vanity or closet. The plumbing and wiring hookups are designed to be simple.
Steamist's installation process is more involved, usually requiring professional assistance. The steam generators must be installed close to the shower, with more complicated connections. Custom construction is often required.
If undertaking a bathroom remodel, Steamist provides full support services to handle the installation. EliteSteam is better for do-it-yourselfers comfortable with basic plumbing and electrical work.
One of the main differences between EliteSteam and Steamist is the range of size configurations and design options available.
EliteSteam offers steam showers in 4 standard sizes: 32′′ x 32′′, 36′′ x 36′′, 40′′ x 40′′ and 48′′ x 48′′. You can choose a corner unit or steam shower enclosure format.
Steamist provides fully customized options.
They have over 50 models that can be configured as walk-in showers or shower enclosures from 36′′ to 96′′ wide.
Unique shapes like pentagons, hexagons and octagons are available.
Steamist also has more choices when it comes to materials and finishes – glass colors, wood types, tile patterns, lighting schemes etc.
Special add-ons like aromatherapy, chromotherapy, audio systems and foot massagers can be incorporated.
If you want a steam shower that's tailored to your exact space and specifications, Steamist is the better choice. EliteSteam offers high quality but less customization.
Steam Features and Settings
When it comes to producing quality steam, both EliteSteam and Steamist perform equally well.
The steam is generated by heating water in a reservoir to boiling point. Sensors monitor the temperature and humidity level. Both brands use similar stainless steel heating elements.
You're able to adjust settings like the steam duration, temperature and timing. Standard features include:
Quick start – starts producing steam in seconds
60 minute steam session timer
Temperatures up to 125°F
Steam head control – adjusts flow from each head
Aromatherapy – add scented oils
EliteSteam and Steamist models offer comparable features overall. However, Steamist does have more options for adding extras like lighting, music, glass finishes and foot massagers.
As you would expect with luxury, brand name steam showers, neither EliteSteam or Steamist come cheap! However, Steamist products are notably more expensive.
Here's an overview of costs:
EliteSteam – Starts around $2,500 and goes up to $4,000+
Steamist – Starts around $4,000 and goes up to $8,000+
Warranties are similar – limited lifetime on the structural components and 1 to 2 years on parts like controls and electrical.
Steamist steam showers ultimately provide a more luxury experience but at a premium price point. EliteSteam offers great performance and quality for a more budget-friendly investment.
Key Pros and Cons of EliteSteam And Steamist
To recap the main differences between the two brands:
EliteSteam Pros
More budget-friendly prices, starting at $2,500
Easier DIY installation
Smaller footprint options – 32′′ x 32′′ available
Made in the USA
EliteSteam Cons
Less customization choices
Fewer luxury features available
Steamist Pros
Fully customized sizing and design
More luxury options like lighting, music, glass finishes
Contemporary style
Reputable brand since 1960
Steamist Cons
More expensive – starting around $4,000
Professional installation often required
Limited smaller sizes available
Frequently Asked Questions (FAQ)
Here are answers to some frequently asked questions about EliteSteam and Steamist steam showers:
Is Elite Steam the same as Steamist?
No, EliteSteam and Steamist are two different brands. Steamist has been around longer since 1960 while EliteSteam was founded in 2001.
Who makes elite steam?
EliteSteam is an American company based in Jupiter, Florida. Their steam showers are designed and manufactured in the USA.
Who are Steamist competitors?
Steamist's main competitors in luxury steam showers are EliteSteam, ThermaSol, and Amerec. Each offers high end, customized steam shower systems.
What is a Steamist shower?
A Steamist steam shower is a luxury experience where steam is infused into a customized shower enclosure. You can control settings like steam temperature, lighting, music and aromatherapy.
Final Thoughts
Ultimately, choosing between EliteSteam and Steamist comes down to your budget and desired features.
For a high quality steam shower at a more affordable price point, EliteSteam is an excellent choice. Opt for Steamist if you want a fully customized, luxury spa experience and have the budget to accommodate it.
Whichever brand you select, a home steam shower allows you to enjoy purified, therapeutic steam daily. Just be sure to make your decision based on the size, style, features and budget that align with your needs.