Show curtains are the pieces of clothes that separate your shower from the rest of the bathroom. It offers a sense of privacy while taking a bath. That's why choosing the right shower curtain is crucial for you.
Society6 can be a unique destination for purchasing shower curtains if you are an art enthusiast with a taste for vibrant color. But you might ask why you should purchase Society6's shower curtains.
I'll tell you why. In this article, I'll tell you about these curtains' features and good sides. So, let's begin.
Features of Society6 Shower Curtains
Society6 is a unique place to purchase shower curtains. Besides, the products stand out from others with their versatile design and quality. Here are some key features of these shower curtains: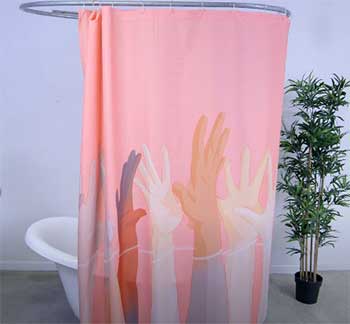 The most important reason I'm suggesting this brand is because of its outstanding designs.
You will find amazingly designed shower curtains in Society6.
Their designs have no bound from arts and paintings to floral designs, portraits, and landscapes.
Anything you want on your shower curtain is available on Society6. Want your fav cartoon character on your curtain?
It will be available. If you want any landscapes or nature pictures, all of them are available there.
So, you can say that anything you want is available on Society6.
Another extraordinary fact about Society6 shower curtains is that endless designs are available. I don't think you can finish seeing all the curtain designs in one sitting.
Various types of shower curtain designs are available on Society6.
You can filter the designs by categories, including Graphic Design, Digital, Paintings, Patterns, Abstracts, Illustration, Nature, Vintage, Photography, Drawings, etc.
Under all these categories, you will find endless options. So, you will never run out of curtain designs with Society6.
We have talked about the designs, now let's talk about the quality of these shower curtains. They are made of 100% polyester. Because of the quality of the fabric, these curtains will last longer. The prints on the curtains are very detailed and precise.
The print quality is pretty good as well. So water splash won't damage the print or the fabrics. Besides, the color pigmentation is excellent. So, these curtains will look new even after multiple washes.
All in all, Society6 doesn't compromise the quality of its products.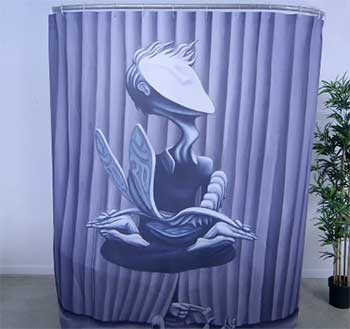 We already know that all Society6 shower curtains are made of polyester. They have all the features a good shower curtain should have.
They come with 12 buttonholes on the top, which is standard for good shower curtains.
Because of this amount of buttonholes, you can hang them easily with any curtain rod.
Apart from that, all these curtains come in a standard length. Each of them measures 74 inches in length.
So, it will fit most showers. Besides, they are not very heavy and pretty easy to clean. You can wash them in washing machines as well.
Society6 is a platform where artists post their designs, and you can choose from those designs. Then Society6 will produce that product and ship that to you.
The process is pretty simple. You have to visit their website, choose the design, select quantity, and place an order by clearing the payment.
Generally, your order will ship within 3 to 4 days from placing the order. The payment method is pretty easy as well.
You will also get several installment options for payment. You can also return your product within 60 days if it fails to satisfy you. So, you will get a lot of benefits from Society6.
Do you know you will be patronizing artists by ordering shower curtains from Sociecty6?
You are not just selling curtains; you are also buying their designs. So, if you are an art enthusiast and care for artists, it can motivate you to purchase these curtains.
Society6 is a platform for artists. They sell their design there. Every time you purchase something from there, artists get a portion of it.
Apart from the quality and design, it can also be a reason for you to purchase from there.
What Could Have Been Better With Society6 Shower Curtain?
A few things could make these shower curtains even more appealing to people. Let's check them out.
Society6 only offers Polyester shower curtains. While this is a pretty good fabric for showers, some people might prefer to have other options.
So, having multiple fabric options would be a wise idea for Society6. They should look into this issue and introduce more fabrics.
All the shower curtains of Society6 come in the same size, which is 74 inches long. But not all showers have the same size.
A shower might be smaller or bigger than 74 inches. That's why Society6 should come up with more size options.
Frequently Asked Question (FAQ)
What shower curtain material is best?
Cotton, Polyester, and Microfiber fabrics are the best materials for shower curtains. They are very lightweight and durable. Besides, you can easily wash them in washing machines, which will last longer than other materials.
Should a shower curtain be inside or outside the tub?
A shower curtain should always be inside a tub, no matter what materials they are made of. If you leave your curtain outside, it will leak out and puddle your floor.
Are plastic or fabric shower curtains better?
Fabric shower curtains are better than plastic ones. Fabric curtains look better than plastic ones and are quieter. Although plastic ones are easier to wash, fabric curtains do not strain chemicals.
Is it better to close the shower curtain open or closed?
It depends on the situation. If you want to dry the curtains, you will have to keep them closed so that it dries properly. But if you want airflow in the shower stall, you must keep it open.
Final Thoughts
Every product has some good sides and some limitations. We compare them and choose one which good side wins over its limitations.
After reading the review on Society6 shower curtains, you should give it a try.
Because the good side of these curtains wins over the limitations by a mile, most importantly, you will be able to patronize an artist's work in your way.