Electric shavers have come a long way from the noisy, tugging contraptions of yesteryear. These days, brands like Philips offer thoughtfully designed and impressively close shaves.
Two of their most popular rotary shaver models are the Norelco Shaver 6500 and 6600.
On the surface, both of these premium Philips shavers boast similar features and claims. But how do they really compare for day-to-day shaving? Which model offers the best features and value for money?
In this detailed comparison, we'll examine the key differences between the Philips Norelco Shaver 6500 and 6600. By the end, you'll have a clear sense of which model best suits your shaving needs and budget.
A Brief Comparison Table
| | | |
| --- | --- | --- |
| Feature | Norelco 6500 | Norelco 6600 |
| Blades | NanoTech Precision Blades | V-Track Precision Blades |
| Shaving Heads | 3 rotary heads with Super Lift & Cut | 8-directional ContourDetectHeads |
| Display | LED display | SmartDisplay screen |
| Wet/Dry | Dry only | Wet & dry waterproof |
| Trimmer | Basic pop-up trimmer | Dual-sided SmartClick trimmer |
| Customization | None | Adjustable shave settings + beard styler |
| Cleaning | Manual brush cleaning | SmartClean+ station |
| Warranty | 2 years | 2 years |
Key Differences Between Norelco 6500 And 6600 Rotary Shavers

One of the biggest factors that impacts an electric shaver's performance is its cutting system. Both the Norelco 6500 and 6600 utilize Philips' signature rotary shaving system with 3 independent rotating heads. This flexible head design closely follows the contours of your face for an efficient, skin-friendly shave.
However, there are some differences in the blade sets used:
Norelco 6500: The 6500 features NanoTech Precision Blades with slots to capture hairs of varying lengths. It also has "Super Lift & Cut" tech to lift flat hairs and cut comfortably below skin level.
Norelco 6600: The 6600 ups the blade count with 8-directional ContourDetectHeads. This allows each head to move in 8 directions to follow facial contours even more closely. The blades themselves have a V-Track precision shaving system, designed to cut 30% closer in fewer passes.
The 6600's more advanced shaving heads give it the edge here, especially for tackling trickier facial areas like the neck. The extra blades and directions of movement ensure it can capture and cut all hairs thoroughly.
Another point of difference is the display. The Norelco 6500 uses an older LED display with icons and battery life indicator. It does the job but looks dated compared to the 6600's sleek user interface.
The 6600 steps things up with a modern SmartDisplay. This full color screen shows shave settings, battery level, cleaning alerts, head replacement reminders, and more. It makes the shaver intuitive and simple to operate.
For user-friendliness and a high-end look and feel, the Norelco 6600's SmartDisplay is preferable. But the 6500's simpler LED display gets the basics done if you don't mind the old-school vibes.
Waterproofing and Wet/Dry Usage
The ability to use an electric shaver wet with shaving cream and water, or dry for convenience, is extremely useful. Both the 6500 and 6600 offer full washability for easy cleaning. However, only the 6600 gives you the option of a wet shave.
The Norelco 6600 has an AquaTec Wet & Dry seal which allows you to use it for a comfortable wet shave. Many men find applying shaving cream or gel before electric shaving reduces irritation and improves closeness.
In contrast, the 6500 can only be used dry. So if you prefer the convenience of shaving dry, the 6500 does the job. But the 6600's wet & dry versatility makes it more flexible.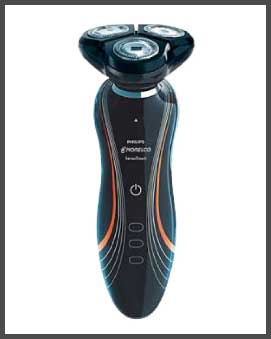 Both shavers include a built-in trimmer for maintaining your sideburns and mustache. However, the 6600's trimmer design is more advanced.
The Norelco 6500 has a basic pop-up trimmer. It gets the job done for simple edging and detailing.
The 6600 steps up the game with a wider, dual-sided SmartClick trimmer.
One side is designed to trim longer hairs, the other for precision styling of beards and mustaches. It offers more versatility in one attachment.
For basic trimming, the 6500's trimmer is fine. But the 6600's multi-functional SmartClick system is better for detail work and styling facial hair.
A major advantage of the Norelco 6600 is that it allows you to customize your shave using the SmartClick beard styler attachment and built-in shave settings.
The click-on beard styler has 5 length settings so you can maintain stubble exactly how you like it. The shaver's on-board settings let you adjust shaving speed and power for extra comfort or efficiency.
In contrast, the 6500 offers no customization options. What you get out of the box is what you get. For those who like a simple shave, the 6500 keeps things straightforward. But the 6600 offers welcome flexibility if you want to tailor your shave.
Both shavers come with a protection cap and power cord.
But only the 6600 includes a hard travel case and cleaning station.
The 6600's premium SmartClean+ system washes, dries, lubricates, and charges the shaver at the push of a button.
This optimizes performance and hygiene.
The automation makes maintenance simple.
You don't have to do anything but replace the cartridge every 1-2 months.
It's perfect for busy professionals who want to save time.
The 6500 only comes with a basic brush for manual cleaning. You'll need to occasionally lubricate it yourself with oil, too. This DIY maintenance isn't difficult, but the 6600's self-cleaning is far more convenient.
In terms of runtime, the Norelco 6500 and 6600 are evenly matched. Both shavers offer 50 minutes of cordless shaving from a 1 hour charge. This battery performance is impressive compared to cheaper rotary shavers.
For travel, a 3 minute quick charge gives you enough power for one shave. Both models hold enough charge for approx. 20 shaves too. Overall, battery life is excellent on both shavers for home use and on the go.
Philips covers both rotary shavers with a robust 2 year warranty. This gives you peace of mind you're covered for defects or issues like faulty batteries.
Within the warranty period, Philips will repair or replace the shaver free of charge. They also provide options to extend the warranty to 3 years for even more coverage.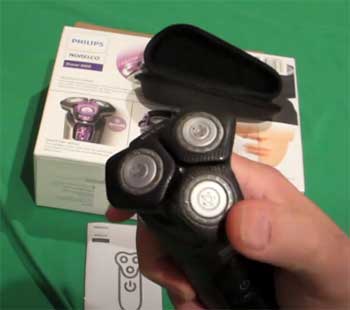 As you'd expect, the Norelco 6600 comes at a higher retail price than the 6500 due to its more advanced features and accessories.
At the time of writing, the 6500 sells around the $150 mark.
This positions it as an upper mid-range rotary shaver.
The 6600 retails closer to $220 as it's Philips' current premium model beneath their high-end 9000 series.
However, both models are often discounted on Amazon and major retailers.
Overall, the 6600 costs approximately $70 more than the 6500. The price difference is significant, but justifiable for many buyers based on the 6600's superior performance and convenience.
Frequently Asked Questions (FAQ)
Which Norelco is the best?
The Norelco 6600 is considered the best Norelco shaver overall thanks to its ContourDetect heads, SmartDisplay screen, wet/dry shaving capability, and convenient cleaning station. However, the 6500 is also an excellent mid-range choice.
Is Norelco 6500 lift and cut?
Yes, the Norelco 6500 features Philips' "Super Lift and Cut" technology. The shaving heads lift hairs to cut comfortably below skin level.
Which Philips shaver series is best?
Philips' top shaver series is the 9000 models such as the Norelco 9700 and 9300. These feature the most advanced tech like contour mapping and AI. The 6000 Series (6500 and 6600) are the best Philips shavers under $200.
Is Philips shaver 6600 waterproof?
Yes, the Norelco 6600 has an AquaTec seal making it fully waterproof. This allows you to use it wet with shaving cream for extra skin comfort, unlike the dry-use only 6500.
Closing Remarks
To recap, the Philips Norelco 6500 and 6600 are both well-made rotary shavers ideal for sensitive skin. They share great battery life, washability, and Philips' proven contour-following shave system.
However, the 6600 edges ahead as the more advanced shaver in several areas:
Its ContourDetectHead and V-Track blades cut closer with more comfort
Sleek color SmartDisplay interface
Wet & dry waterproofing allows for a smoother wet shave
SmarterClick trimmer and beard styler offer more customization
Handy travel case and self-cleaning station increase convenience
The 6600 essentially takes the 6500's solid capabilities and improves upon them. For the extra $70 investment, you get more customization, premium accessories, and next-level performance.
That said, the 6500 is still a capable shaver on its own merits. It offers smoother, closer shaves than budget rotary shavers. If you want to spend under $150, the 6500 gives you great bang for your buck.
Ultimately, it comes down to your budget and desired features. If you like experimenting with beard styles and want maximum convenience, the feature-packed 6600 is worth the money. For a simpler, more affordable rotary shave, the 6500 gets the job done.
Whichever Norelco model you choose, you can be confident Philips' proven rotary shaving technology will get you smooth results.