Are you thinking of getting a moss bath mat for your shower? I mean, having that feeling of moss under your feet after every shower would feel nice, wouldn't it? 
These moss bath mats are becoming quite popular in households because of that unique feel to your feet. 
So, if you are interested in getting one, you should know a bit more about them. Sure, they feel very comfortable under your feet, but some things aren't so good about these mats.
 That's why I will take you through most bath mat pros and cons to help you decide whether you should get them or not. 
Let's not waste any more time and jump right into it. 
Brief Advantages And Disadvantages Of Moss Bath Mats
Running short on time? Don't worry, I have got you covered. Here is a table showing the pros and cons of the moss bath mats in your shower. 
| | |
| --- | --- |
| Pros | Cons |
| It feels very comfortable on your feet  | It can sometimes attract bugs in your house  |
| These don't require too much maintenance  | This can make the floor underneath dirty |
| This mat gives a fantastic appearance to your shower  | Cleaning the mat from hair and debris can be difficult |
| They are great for drying your feet after showers  | This doesn't work well without proper sunlight and usage  |
| It's very straightforward to set up  | |
If this isn't doing you any good then, let's dive deep into the benefits and drawbacks you get from using the moss bath mats. 
Advantages of Having Moss Bath Mats

There are quite a lot of advantages that you get from using a moss bath mat. Let's get through them one by one and see whether they are worth it or not. 
Comfortable And Convenience 
Many people opt for moss bath mats because of the comfort you get from them when you come out of the shower. Usually, moss bath mats have that fluffy feeling that you would love to get right after taking a bath. 
Along with that, you don't have to worry about wetting your shower floor either. Because the whole purpose of using the moss bath mat is to soak all or most of the water dripping off of your body after a bath. 
So, you get both comfort and convenience coming from a moss shower mat that other options can't provide you. 
Enhances The Beauty Of Your Shower 
Well, if you have greenery inside your home that's already beautiful in itself. Adding a moss bath mat in your shower adds a different look to it that you will surely love to have. 
A moss bath mat suits perfectly in an all-white shower. Because the green moss just pops out when it's in a white room.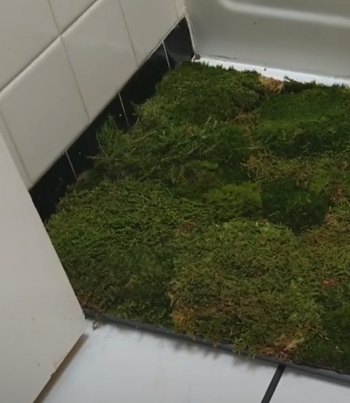 Don't want to spend money on ready-made moss bath mats? No need to worry, because you can make a moss bath mat yourself. With the proper materials, it's super easy to do. 
And the great thing is that there are plenty of instructional guides on how you can make a moss bath mat yourself. 
Typically, you will need some foam and moss to make your moss bath mats. You can follow along with any guidelines for making it, and it's relatively simple. 
As for the setup, there is nothing to worry about that either. You simply place the mat wherever you want to keep it. 
Doesn't require regular cleaning 
Since the moss bath mat is all about soaking up the water from your feet, you will hardly need to clean it.
If the bathroom mat is getting proper water from your showering, then you won't have to take too much care of it. 
Also, with the right kind of placement, you have to make sure it gets good sunlight. 
Other than these things, you won't have to go through much cleaning. Maybe, sometimes you may need to clean up the flooring under the mat, but that's not much work either. 
So, altogether, it doesn't require a lot of cleaning to keep the mat clean. 
As you can see, there are quite a lot of advantages to having a moss bath mat in your shower. But let me tell you, it's not all good when it comes to moss bath mats. 
So, let's check out the negatives of moss bath mats for making an informed decision about getting one. 
Disadvantages Of Moss Bath Mat

There are several disadvantages, or you can say drawbacks, that you can face with having a moss bath mat in your shower. Let's check them out and see whether they overwhelm the advantages or not. 
Possibility Of Attracting Bugs 
Moss is a great habitat for various bugs like springtails, fungus, and even spiders. Even though it doesn't happen for all the moss bath mats, there is a high possibility of attracting bugs. 
Especially if you opt for moss that you want to get from natural sources. 
When you bring moss from the forest or around your housing, there is a chance of inviting bugs along with that as well. So, you have to consider this as a factor that can happen in your case. 
Hard To Clear Fibers And Hairs 
Yes, the moss itself doesn't require much cleaning, but getting rid of hairs or fiber debris is kind of difficult in a moss bath mat. 
They can easily get stuck inside the moss, and you will need to nitpick them out of the moss to clean them up. It can get a bit troublesome at times. 
You Have To Use It Properly 
Let me clear this out a little bit. The moss bath mat requires proper and equal water on all parts to sustain. Otherwise, you will end up with dry or brittle moss around the places where you might not have adequately stepped. 
It may also result in dead moss at times!
When that happens, you will need to wet the dry or brittle parts of the moss bath mat to make it fluffy once again. 
As you can see, there are these issues that you will have to think of before you can get a moss bath mat for your shower. If you still want to get on with the idea, I would like you to consider some things. 
Things To Consider With The Moss Bath Mat
There are two crucial things that you have to consider before you can get a moss bath mat in your shower. 
The first one is whether you have enough lighting for the moss to live on. Without proper sunlight, the moss will be dead within no time. So, there won't be any point in getting the moss bath mat in the first place. 
Another factor is whether the moss bath mat will get enough water or not. This means that if multiple people are living in your home who will constantly use the moss bath mat or not. 
If you live all by yourself, then I don't think the moss will receive enough water to stay fluffy and lively. You have to consider this factor. 
Conclusion
All in all, there are a lot of pros and cons of moss bath mat that you have to go through before you can decide on getting one. If you want to get one, then make sure to consider the two factors I discussed here. 
Because they are almost like requirements for having a moss bath mat in your shower. You can't even think of getting a moss bath mat without fulfilling these.