After a shower, you wish to leave the tub without ruining your washroom floors. While Sutera and Dorai bath stones effectively dry out the water, Dorai provides extra protection against microbes.
A good bathing stone will help you avoid sloppy floors, damp patches, and a soggy smell inside the washroom. Moreover, bathing stones can hold onto water longer than traditional mats. 
Here is a quick comparison chart highlighting the specifications of Sutera and Dorai bath stones. 
Quick Comparison Table
| | | |
| --- | --- | --- |
| Specifications | Sutera Bath Stone | Dorai Bath Stone |
| Materials | Diatomaceous Earth Materials | Ceramic and Diatomaceous Earth Materials  |
| Anti-Microbial Properties | No Anti-Microbial Properties | Strong Anti-Microbial Protection |
| Eco-Friendly Product | Washes Out Bacteria and Parasites | Features Natural Sea Mineral |
| Price | $118 to $150  | $100 to $120  |
| Dimension | 23.5 L x 15 W Inches  | 23.6 L x 15.4 W Inches |
| Weight | 5.39 Pounds  | 8.28 Pounds |
Key Differences Between Sutera And Dorai Bath Stones
By now, you got a brief idea about the specifications of Sutera and Dorai bath stones. Now, let's move forward to discuss the key features of both products.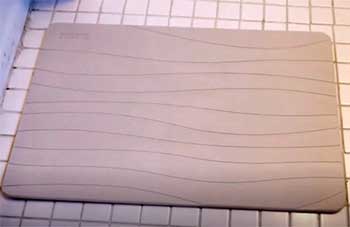 Diatomaceous Earth (DE) is the main component of Sutera and Dorai bath stones.
The material ensures quick drying of water and versatility. 
In the case of Sutera, diatomaceous earth can absorb moisture and kill bacteria and parasites to protect the surface.
Moreover, DE is an odorless substance that prevents the smell of wet fabrics. 
Dorai bath stones offer similar advantages due to their construction materials. Besides soaking up water quickly, Dorai bath stones stick firmly on the ground. 
The anti-microbial properties of Dorai make the product unique. The bath stones eradicate harmful bacteria and protect your feet from allergies. 
Since ceramic plays a massive role in the composition of Dorai bath stone, you will get proper balance and robust grip from it. 
You can hardly differentiate between Sutera and Dorai bath stones based on their eco-friendly materials. Both products are PVC-free which is a harmful element to the environment. 
Since Sutera bath stones are PVC-free, the product will protect you from foot cancer and allergies. Moreover, the products are free from dangerous additives like PBDE and chemicals. 
In addition, the DE component of Sutera bath stones doesn't emit toxic chemicals that can disrupt your surroundings. Therefore, you will get a non-toxic and fresh bathing stone from Sutera. 
Dorai bath stones feature similar eco-friendly components to Sutera. However, the anti-microbial element of Dorai separates them from other brands. 
Anti-microbial properties soak out harmful bacteria and parasites to protect your foot. As a result, the bath stone lasts longer and ensures a soothing scent across the washroom. 
If you prefer extra eco-friendly benefits and comfort, then Dorai is perfect. 
Absorbency and Durability
One of the main functions of a bath stone is its absorbing capabilities. Regarding absorbency, Dorai features better soaking capability than Sutera bath stones. 
Users have showered huge praise for the absorption power of Dorai bath stone. The products provide maximum water evaporation rate and incredible drying. 
Moreover, Dorai bath stones are more efficient at keeping water from the floor. Even without absorbing chemicals, Dorai produces the best-absorbing bath stones. 
Sutera, on the other hand, features basic absorbing materials that can catch stains after a while. 
Therefore, Dorai is the better bath stone with high-absorbing capability that will suit your caliber. 
You can also use bath stones or mats for other purposes. Sutera bath stone fills up this feature with great dignity.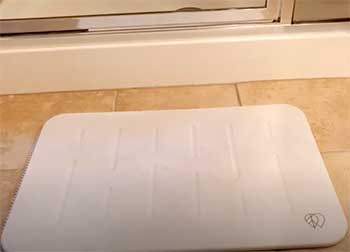 You can use Sutera bath stones in the kitchen, entryways, and as pet bowls.
Therefore, you can cover up some other facilities in one product. 
Moreover, Sutera bathing stones can be a great companion for plants.
You can install small plant pots with the help of Sutera bath stones. 
Meanwhile, Dorai bathing stones don't feature any multi-purpose attributes. The hard ceramic surface is only suitable for drying up bathroom floors. 
As a result, if you want a multi-purpose bath stone, Sutera is a suitable option. 
Pricing and cost are the final destinations of this segment. When it comes to pricing, Sutera bath stones are relatively more expensive than Dorai. 
Sutera's price range from $118 to $150. You can purchase the product from different e-commerce platforms. 
In contrast, Dorai bathing stone offers quality products in an affordable price range. The price range of Dorai starts from $100 to $120. 
Remember that you need to bear some extra shipping charges and installation costs. 
Which Bath Stone Is A Better Option?
Dorai bath stones lead the race against Sutera due to its exceptional features and top-notch service. Quick absorption and eco-friendly components are the significant aspects of Dorai. 
Moreover, the anti-slipping bottom provides a firm attachment to the floor and prevents stains. The product doesn't contain any toxic elements that can cause health hazards. 
However, Dorai bath stones compromise some drawbacks. You might feel uncomfortable on the ceramic surface, which may break down if you apply high force. 
Besides the flaws, Dorai is the best bath stone to keep your washroom dry and odor-free. 
Frequently Asked Questions (FAQ)
What is Sutera Bath Stone made of?
Sutera bath stone is made of Diatomaceous Earth material that is environment-friendly and provides eternal comfort. 
Is the Sutera bath mat safe?
Yes, the Sutera bath mat is completely safe and eco-friendly. Sutera bath mats consist of pure and top-notch Diatomaceous Earth components for complete protection. 
How long can a diatomite mat last?
A diatomite mat can last for six months to one year. Since the mats are made of inorganic materials, it lasts longer than other traditional mats. 
What is Dorai made of? 
Dorai bath stones are made of Diatomaceous Earth materials that offer superior absorbing qualities. Moreover, the DE component controls the odor and spreads freshness across your bathroom. 
Conclusion
Clearly, Dorai bath stones triumph in this comparison of Sutera and Dorai bath stones. The combination of eco-friendly materials and excellent absorption capacity make Dorai unique.
Within an affordable price range, you can enjoy a wide range of features and keep your washroom fresh after every shower.
Considering the pros and cons, Dorai bath stones are the best option to satisfy your demand.