Moen makes top-class bathroom and kitchen faucets along with other products. They are sold at various stores like Home Depot, Wayfair, Walmart, eBay, and even Amazon.
However, you may sometimes be confused when deciding between two products, just as the Moen Genta Single Hole and Genta LX Single hole bathroom faucets.
The former faucet is a cheaper product and is being sold at fewer dollars than Genta LX. Besides, the Genta Single hole simple faucet is available in more finishes than Genta LX.
In addition, both are great quality faucets to install in your bathroom and kitchen, but each has its own significance. The LX has a larger handle than the Genta Single Hole bathroom faucet.
It looks more modern, and the Genta Single Hole looks a little classier.
A Brief Comparison Table
| | | |
| --- | --- | --- |
| Characteristics | Moen Genta Faucet | Moen Genta Faucet |
| Size of faucet or height | 5.156 inches | Smaller with 13/8 and 45/8 |
| Pricing | Cheaper Faucet | Expensive Faucet |
| Flow Rate(gallons per minute) | 1.2 | 1.2 |
| Finishes | Available in up to 4 finishes | Available in up to 3 finishes |
| Faucet Material | Metal | Brass |
| Form Factor | Classic | Modern |
| Is a Drain Kit Included? | Yes | Yes |
| From Where to get | Homedepot | Wayfair |
| Reviews and Rating | More purchased but has a rating of 4.6 stars | Less Purchased but has a rating of 4.8 stars |
Differences and Similarities Between Moen Genta And Genta LX Bathroom Faucets
Size of the Faucet or Height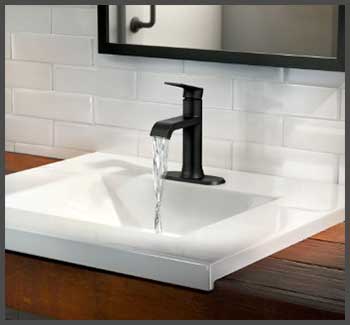 You can measure the exact size of a faucet by measuring its total height.
In that case, you will get to know which one is bigger than both of them.
Since we have very similar faucets from only one brand, the difference between the sizes of these bathroom faucets is not very significant.
However, when compared side by side, the Genta LX Single Hole looks smaller than Genta Single Hole.
Besides, the Genta Single Hole does have a bigger spout than the Genta LX faucet. So, you can measure that both are different in size or height from each other.
Another reasonable difference you can find between these two bathroom or kitchen faucets is their price.
Yes, the LX is a little expensive faucet because of its updated revolutionary design and larger handle.
On top of that, it comes with some unique, elegant finishes that a consumer can consider based on specific desires.
In contrast, the Genta Single Hole is a cheaper faucet to install in your bathroom because it is presumed to be more classic and comes with a shorter handle.
Thus, the price difference will help you consider which one you need to install in your bathroom or kitchen.
Flow Rate(gallons per minute)
It determines how much water a faucet can provide in a single minute. To know that, you must believe that both faucets have the same level of water draining.
Both faucets provide you with 1.2 gallons per minute of water draining.
It means there is no difference in the speed with which these faucets can provide you with water.
It is based on someone's judgments. But in my view, the Genta Single Hole faucet looks classier than the Genta LX.
Because LX looks like it is made according to the new standards; however, both are great to install in the bathroom, as you are getting them from Moen.
You won't have to struggle for a separate drain kit with either faucet. Both have their own. In this way, one can purchase either faucet and get a free included drain kit.
It helps you perform functions with your faucet.
Another major difference between the Genta Single Hole and Genta LX is the number of finishes these faucets provide.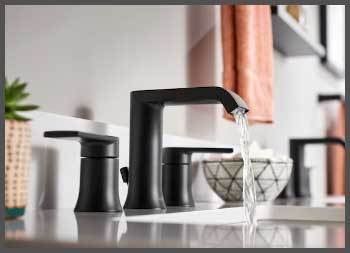 The best place would be Moen's official website.
Yes, you must configure which type of faucet will best suit the tiles, roof, and flooring of your bathroom and kitchen.
It will enable you to pick the right color and match it with the existing bathroom or kitchen environment.
Therefore, the Genta Single Hole Faucet provides you with up to 4 unique finishes that you can choose from.
On the other hand, the Single LX comes with only 3 finishes. However, the colors of Genta LX are more pleasing than Single Hole Genta Faucet.
There are several places where these faucets can be bought. But for the easiest access, you can have the Genta Single Hole from Homedepot and Genta LX from Wayfair.
Or you might consider any other store which is more feasible, near and reasonable to you!
You can also judge from the reviews which faucet is more famous. In that regard, the Genta Single Hole has a rating of 4.6, but more buyers purchase it.
On the contrary, the Genta LX is purchased by a lesser number of people but has a higher rating of 4.8.
So, these faucets are undoubtedly very known and can easily be bought from your nearest store.
Which Moen Faucet Should I Get?
Speaking from the facts, there is not much difference between these two products. Since these belong to the same brand, you won't find many troubles.
Hence, you can consider any faucet and install it in your bathroom or kitchen. But remember, the LX will cost you more than a simple Genta Faucet.
Therefore, you should be concerned about your budget too!
Last Words
Fairly speaking, you can go with either faucet no matter how Moen Genta and Genta LX are compared. It will be a healthy purchase, and you won't regret either option.
But just remember how much you have to spend on either faucet.
It's just two products. But you can go to the Moen website and explore their catalog. You can find amazing options at very reasonable prices. And then, you will defiantly choose what you like the best!