MagnetixTM handheld showers from Moen that can be comprehensive as Moen Engage vs. Attract variation.
They are the first Moen items to have magnetic docking, which enables for easy release and secure snapping back into place – even when you close your eyes.
It may be difficult for you to select between the Magnetix Engage and Attract because they share many of the same features. But there are differences. Want to know?
Let's begin!
A Quick Comparison Table!
| | | |
| --- | --- | --- |
| Feature | Attract | Engage |
| Patterns | Adjustable | Adjustable |
| Water Flow | One- Three Quarters per minute | Two and a half quarters per minute |
| Flow Rate | 2.5 Gpm ( Average) | 1.75 Gpm (Average) |
A nice shower might help you get your day off to a good start. If you are feeling sleepy in the morning, need to unwind after a workout, a hot shower is usually the answer.
A terrible shower, on the other hand, might make you feel even angrier than when you started, especially if the water pressure is low or the spray pattern is inadequate.
To make your showering a good experience choosing Moen's bath product can be an excellent choice!
One of their most famous products of them is Moen Magnetix Attract and Engage. They have a lot of similarities but a few differences.
And that's what we are going to talk about in this article!
Differences Between Moen Magnetix Attract and Engage

Moen Magnetix Attract
The Magnetix Attract makes the most of its water-saving 2.5 GPM flow rate by providing adequate coverage and enough variety in the customizable patterns to provide the essentials (without getting into anything like pulsating jets).
Rotary Selector And Magnetic Dock
The rotary selector is more reliable than the other showerheads in its category, even when wet. Aside from being an excellent shower head, the magnetic dock added to the convenience of using this handheld.
The magnet keeps everything in place with exactly the proper amount of force; engagement is enjoyable and beneficial, although not to the point where you are concerned that something will break.
We looked at a few other magnetic-docking showerheads and found that the Moen is the most cost-effective and easiest to use.
It has an adjustable pattern that you can change according to your mood.
The manufacturer provided rubber gaskets that made all of the connectors leak-free when tightened by hand, allowing installation easy.
As previously stated, we prefer to install using a wrench, however, the Moen approach worked great.
The Moen – Magnetix Attract handheld showerhead features a nice spray pattern, is simple to operate, and is reasonably priced.
Watch the official video of Attract from Moen!
Moen Magnetix Engage
The flow rate is 1.75 GPM. With the spray set to broad, Moen Magnetix Engage gives great coverage: unlike the other rainfall types of style heads.
It feels as though it was designed to maximize the area it serves whilst creating a smooth, steady flow. The water concentrates into a narrow stream that efficiently rinses when the lever is cranked down.
Moen Magnetix Engage has a full coverage option that feels fantastic. It strikes a balance between strength and coverage while remaining soothing.
Rotary Selector and Magnetic Dock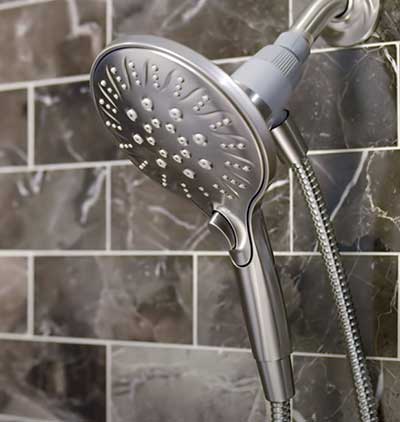 The rotary selector is good but it's not as powerful as Magnetix Attract. Now let's talk about the Magnetic Dock.
The magnetic dock added to this is as much as powerful just like the Attract.
The magnet is very powerful to the point that it will make you feel like this is the type of showerhead about which you don't need to ask questions or second-guess: everything ran flawlessly and correctly.
Just like the previous on it has an adjustable pattern too but the difference is that adjusting the speed is steadier for Engage.
When you wanted to truly feel the pressure and water flow, the vigorous massage is a great way to spice it up.
If you desire more intensity, you can keep the hand shower on the massage setting and leave the main rain setting on full coverage.
The lever, not the stream, distinguished this head. It's difficult to express how much better Moen's adjustment lever system is than the other brands we tested.
The Moen Magnetix Engage can be installed in almost any shower, but the style and gentle-rainfall spray pattern are much better when it's put overhead.
The price is budget-friendly something that can be afforded by many. In terms of price, we think Moen's has really done justice with this wonderful product.
Common Similarities of Moen Magnetix Attract And Moen Magnetix Engage

When it comes to showerheads, one of the most crucial factors to consider is the ease of use. As a result, Moen Magnetix Attract and Engage both have a magnetic docking system on their Magnetix showerheads, making them extremely convenient and simple to operate.
The magnetic docking technology is the most important feature of Moen's Magnetix showerheads. It's a cradle in most other showerheads.
Moen Magnetix showerheads are available in a variety of styles, including single and double heads.
For example, the Moen Engage Magnetix includes a single shower head that is connected to the dock through a hose and the docking mechanism.
The single showerhead design of the Moen Attract Magnetix is similarly a single showerhead design.
Both of these showerheads come in a set that includes a handheld and a fixed shower head.
The dockable shower head is 3.75 inches in diameter and features six distinct shower settings in both.
A dial control or a push-button on the stem of the handheld showerhead can be used to alternate between spray settings.
As we've used some other handheld showerheads we can attest that Moen seems the best. They have a nice appearance and are reasonably priced.
The showerheads do not rotate in any direction. The rain shower head does not change direction, even in combo designs.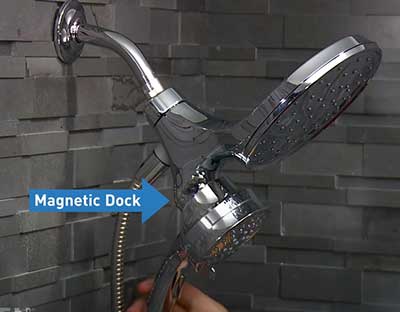 The handheld one gives you the most flexibility, as it can be twisted and moved in a variety of directions to place the water exactly where you want it.
A shower head with a handle has an edge over fixed ones in our testing and Moen offers the best of both worlds.
Even when switching between the different spray settings, the 2 GPM (gallons per minute) flow rate is powerful enough to offer a vigorous shower.
The showerheads are composed of high-quality plastic that will not corrode over time.
In most use cases, they'll endure a long time, and only if you drop them repeatedly will you notice leaks, dents, or even breakages.
Both of these shower heads are inexpensive and feature a distinctive rain effect that will sound like you're in a high-end bath.
You can enjoy quality and features in any transitional décor at a reasonable price. Also, if you start comparing prices, it will be less expensive than other brands.
Moen shower heads are a good alternative for those who desire a conventional yet simple shower head with good quality.
Moen shower heads are ideal in terms of quality and performance for a wide range of applications.
The filtering power of these showerheads is one of their best features. Moen shower heads have a powerful filtration system that kills viruses like a pro.
Aside from that, you can use both single and dual shower heads separately. When it comes to durability, Moen shower heads can handle both high and low pressurized water flows.
Conclusion
We hope now you have a thorough understanding of Moen's product and the differences between Moen Magnetix Attract Vs. Moen Magnetix Engage.
Both of these are excellent at completing tasks without falling short. Hopefully, you'll be able to find these showerheads useful.