A nice steam bath can make you as relaxed as a cucumber. For that, you need a proper steam shower and steam shower room. And Mesa steam shower is one of such products.
Mesa is one of the most famous names for Steam showers with many high-quality products.
Finding a suitable steam shower isn't very easy as it involves a lot of meticulous screening. But I'm pretty sure you'll fall in love with this steam shower brand. Before that, let's look at the pros and cons of this product.
Features of Mesa Steam Shower
You will find many unique features of Mesa steam showers that are missing in others. These features make Mesa products stand out from other brands. Here we'll see some of those features to determine whether it's worth it.
So, here are some key features of the Mesa steam shower:
An Excellent Steam Shower Choice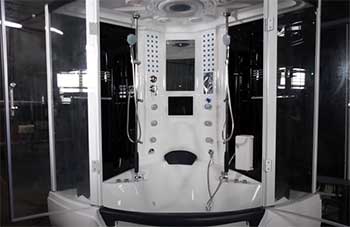 Mesa is an excellent choice for steam showers and steam shower rooms. There are some industry-leading steam showers in their portfolio.
With innovative design and the latest technologies, every one of Mesa steam showers will offer a lot of exquisite benefits.
You will find many full-featured and compact designs under their hood.
A powerful steam generator engine, multiple Whirlpool jets, many acupuncture body jets, etc., make their steam showers unbeatable.
Because of the high-quality body frame, these steam showers are sturdy and durable. On top of that, various added features make them fun.
With multiple styles and features, you can choose one that fits perfectly with your preferences. All these styles offer various similar and different usability.
There are 4 styles of steam showers available from Mesa. They are:
Shower & Jetted Tub Combo, Free Standing Steam Shower, Fit-To-Corner Steam Shower, and Blue Glass Steam Shower. You must find one that fits your requirement.
Make sure you read every detail about each of these styles to pick up the right one.
Mesa Steam showers come in various dimensions. The dimension of a steam shower room is measured by the width, depth, and height. You will get 14 different sizes of steam showers in Mesa's inventory. They are:
32 by 32 inches, 32 by 45 inches, 33 by 60 inches, 35 by 45 inches, 35 by 47 inches, 35 by 54 inches, 35 by 67 inches, 36 by 36 inches, 38 by 38 inches, 42 by 42 inches, 48 by 48 inches, 61 by 61 inches, 63 by 63 inches, and 66 by 66 inches.
All Mesa steam showers are between 85 inches and 89 inches high. There are one or multiple steam showers available for each of these sizes.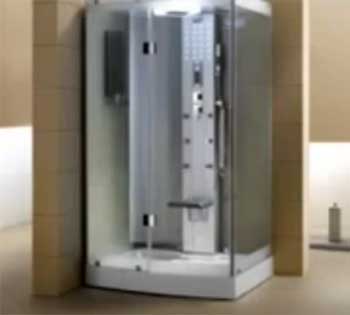 A superior product offers many significant benefits. So does a Mesa steam shower.
Because of these benefits, you will fall in love with your Mesa Steam Shower. Let's see some of these benefits.
All Mesa steam showers have upgraded computer control panels with LCD monitors.
They also have built-in FM radio for entertainment. A rainfall showerhead will provide you with a great shower experience.
Features like Acupuncture massage, adjustable temperature control, time control, handheld showerhead, etc., are common with high-quality steam showers. The good news is that Mesa has them all.
In addition, you will get an mp3 connection, LED lights, ventilation fans, seating, storage shelves, towel rack, sliding glass door, etc., with any Mesa Steam shower.
Since Mesa is one of the best brands for steam showers, it must offer a good warranty for its products. You will get a 7-year of Structural Warranty against any manufacturer effect. Besides, Mesa offers one year guarantee against any part defects.
On top of that, Mesa steam showers come with a 100% satisfaction guarantee. But you will have to claim it within 30 days.
Price of Mesa steam showers varies with the model. The smaller steam shower rooms are less expensive, and the bigger ones are more expensive.
You will have to spend around $2100 for the smallest one. On the other hand, the largest one will cost about $4290.
What Could Have Been Better With Mesa Steam Shower?
A few aspects could have made Mesa steam showers even better. Let's see those cons:
Many buyers have complained about the overhead rain shower. As these are high-quality steam showers, people expect all the parts to be of the highest quality.
So, Mesa should address this issue and replace those showers with better ones.
Use Stainless Steel Door Screws
The screws on the sliding doors are not stainless steel. That's why they become rusty soon.
Mesa should focus on it because nobody would want to have a steam shower with this much money that has a rusty door. Solving these issues will attract many other customers.
Frequently Asked Question (FAQ)
Are steam showers any good?
Steam showers are a pretty good option for showers and have a lot of health benefits. They help reduce chronic stress, restore sleep cycles, make you restful and enhance your performance. It also alleviates congestion from allergies and cold weather.
Is a steam shower a good investment?
Steam showers are generally a good investment as it offers many health benefits. With all the features and benefits, you will get a great return on investment.
Do steam showers cause mold?
As a steam shower room has a high humid environment, it is a perfect place for growing molds. So, you must be extra vigilant against it.
What are the pros and cons of a steam shower?
Steam showers have many health benefits, it adds a lot of value to your house and offers a spa-like experience. Conversely, they are prone to growing molds and mildew, expensive, etc.
Final Thoughts
A steam shower is an expensive product that gives your house a luxurious look. But only the best one will give you an expected result. My Mesa steam shower reviews have given you all the aspects of this product.
It has both pros and cons. But the pros exceed the cons. That's why you must consider installing this product if you want to have a great steam bath experience.