A shower is a serene place within our house, but not all showers can make your time enjoyable. Only the best ones do. A Classic 400 shower from Delta is one such shower full of features and benefits.
Installing a shower requires a lot of work. So, choosing the best one in the first place is mandatory. In that case, you can choose Delta Classic 400 shower. This article will show you the pros and cons of this shower surround.
Go through this review, and you'll know why you should choose it.
Features of Delta Classic 400 Shower

A shower surround is a large product and has a lot of parts in it. You will find many unique features of this shower.
I'll discuss them in this part. So, here are some key features of the Delta Classic 400 shower:
Delta Classic 400 is a premium quality non-porous and highly glossy acrylic shower surround. It is strong and durable yet does not compromise design. Because of its high-gloss feature, you can easily clean the surface.
Plus, your shower will be protected from mildews.
Delta has designed Classic 400 for a direct-to-stud installation. Thus it becomes a long-lasting shower unit for every bathroom. You will highly enjoy your shower time with this high-quality shower surround unit.
On top of that, you won't have to invest a lot of time and effort to clean it.
Classic 400 is a 3 piece shower wall set. This premium shower set will completely change your bathroom's look with an innovative design and beautiful look.
Its textured bottom prevents slipping and makes it look even more beautiful.
Because of the 3 piece design, you can easily transport this shower wall set to your home. Most importantly, its excellent design will make you feel good every time you go for a shower.
Its surround design philosophy will give you a sense of privacy within your own bathroom.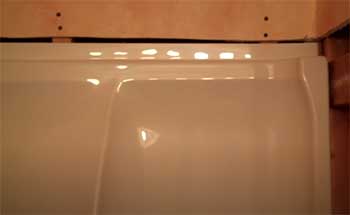 You will get many necessary items with the Delta Classic 400 bathroom shower wall.
You can choose from a Left and Right drain shower base. So, choose according to your need and preferences.
Besides, the shower wall comes with 7 built-in shelves. You can conveniently keep all your necessary bathing items in that storage space.
On top of that, you will get a mildew-resistant and glossy surface with a texture that makes this shower wall an unparalleled one.
With so many great features, Delta Classic 400 brings many benefits. We already know it's pretty easy to install this shower wall.
Its three-piece design brings convenience and comfort. Besides, it does not have any fiberglass back. So, you can handle it without worrying about breaking.
It has a glossy look with a textured bottom. So, no chance you will slip while taking a shower. Because of its mildew-resistant surface, you won't have to clean it too often.
Plus, it will last longer than most regular showers.
Delta has used high-quality materials to make the Classic 400 shower wall. Because of these materials, your shower wall will last significantly longer than others.
Delta Classic 400 is made with ProCrylic high-gloss acrylic. As a result, it looks dazzling.
Its bright white color will match porcelain fixtures. Besides, the single threshold shower base in glossy white color will completely change your bathroom's look.
On top of that, the textured finish in the bottom tray makes it even more attractive.
So, the high-quality material makes your shower wall sturdy, and the excellent look will make your whole bathroom eye-catching.
Required Tools & Materials
Since installing this premium shower wall is easy, you won't need many tools and materials to set the whole thing up. However, a few mandatory tools are needed for installing Delta Classic 400 shower wall.
You will need lumber for bracing the shower wall. Use rags or padding to keep your shower wall safe during bracing. Besides, 2 inches by 6 inches and 2 inches by 4 inches additional lumber will be required for wall studs.
You must use compatible adhesive to install the shower wall. Delta recommends using DAP 3.0, ECO-BOND, and RD 3000 adhesives with Classic 400.
Installing Delta Classic 400 shower wall is relatively easy. Plus, you can complete the whole task very fast. It has a built-in nailing flange which helps install the unit seamlessly.
You won't require any mortar bed to install Classic 400. Just use compatible glue to attach it to your bathroom wall.
All these features make sure you can easily install your Delta shower wall within a short period and save a lot of money and time in the process. That's why you should consider installing this product.
Watch this in-depth installation video.
People expect good warranty terms from a good quality product, especially when paying a higher bill. Warranty always indirectly tells the product quality.
Similarly, the Delta Classic 400 shower wall warranty is also crucial.
Delta offers 10 years limited manufacturer warranty for residential usage and a 1-year limited manufacturer warranty for commercial usage.
But the warranty is applicable for the shower wall only. While it's a pretty good warranty term, it could be better.
Price is another crucial aspect of product selection. You must know the price of Delta Classic 400 before reaching a decision. In fact, it will help you determine whether it's worthy for you.
However, the list price of the Delta Classic 400 shower wall is $600. But you might get a discount on many places.
What Could Have Been Better With Delta Classic 400 Shower?
While Delta Classic 400 comes with many superior features, there are a few drawbacks. But these issues can be improved easily. Solving them will make it an even better product.
So, here are some cons of the Delta Classic 400 shower wall:
You might think a 10 years warranty is not so bad; well, maybe it isn't. But Delta could do better. An extended warranty will give customers the confidence to buy it.
So, Delta should extend the warranty period of the Classic 400 shower wall for both residential and commercial users. Thus, they can showcase the quality of their product and attract more customers.  
You will get only high glossy white color for the Classic 400 shower wall. It matches most porcelain accessories.
But having more color options will give added benefits. Customers can buy this shower wall matching their bathroom interior.
So, Delta must use its R&D to develop more color options. Offering more attractive color options will bring more customers on board and win many hearts.
Final Thoughts
A shower wall not only gives you privacy, but it's also a place where you cleanse yourself. So, it has a spiritual value. You must choose the right shower wall that fits your style and preference. Otherwise, you won't enjoy your time there.
Now that you have read my Delta Classic 400 shower reviews, you know the worth of this premium shower wall. Although it has some cons, they do not affect the quality. To conclude, I would say it's worth a try.