It's not okay to randomly buy a tub. You have to be particular about getting a tub that you can do more than have a regular bath inside. The tub should be designed to help you relax.
You'd deprive yourself of the comfort you can get from having the right tub. So, if you've never been a tub person, you might want to check out Laurel Mountain tubs.
Laurel Mountain is a top-class brand specializing in designing and creating tubs to ease their end-users into relief and relaxation. Their variety of tubs offers unique but similar features. 
Keep reading to discover the tub features in this Laurel Mountain tubs review. 
Features of Laurel Mountain Tubs

Laurel Mountain took the time to weave unique features into each tub to give it an identity. Here, we'll explore these features and how you'll benefit from these features. Keep reading.
One of the first things you should know about Laurel Mountains is that they specialize in creating different tub shapes to fit into any bathroom space. 
They have a freestanding bathtub, also regarded as the centerpiece. You can place it anywhere in your bathroom to improve the overall appearance. 
You don't need to go through any mounting or installation process to fit this into your bathroom. Laurel has something for you if your bathroom needs an irregularly shaped bathtub. 
You can check out the corner bathtub that fits into any corner of your bathroom. Laurel Mountain has a big corner Jacuzzi tub to contain two people. 
This bathtub type saves space in your bathroom. Other bathtub shapes include the alcove tub that fits in between three walls and needs a tiling flange, the drop-in, and the Undermount. 
Choose from the variety of available shapes to fit into your bathroom and contain any number of people. You should know that each tub has been customized to ease stress and help your body relax.
Another feature of Laurel Mountain tubs is that the tubs are carved out of acrylic material. In essence, they're all referred to as acrylic bathtubs. 
If you're familiar with bathtub materials, you should know that acrylic tubs hold many benefits for you and your bath time. When a tub is made from acrylic, the first thing you should hear is "affordability." 
They are pocket friendly but functional at the same time. Also, the heat retention in these tubs, especially the Laurel Mountain tub category, is top-notch. 
Another impressive feature of the Laurel Mountain tub is its softness and comfort. That's why it's so easy for this brand to carve different bathtub shapes and sizes that perfectly fit into any bathroom. 
The Laurel Mountain tubs are also durable, lightweight, and can maintain a warm temperature which helps you relax after a long day. 
Laurel Mountain isn't just about carving or designing random tubs. Their variety of tubs aids different therapy types. 
You'll find a list of tubs for Whirlpool therapy to reduce joint and muscle pain. There are also the Air therapy tubs to help with blood flow and toxins released. 
Another category in Laurel Mountain's therapy tub option is the combo therapy tubs channeled at relieving stress.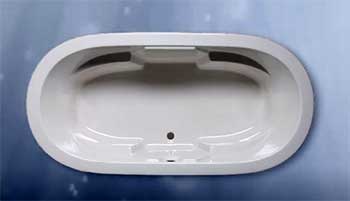 Laurel Mountain is detailed about its tub variety. But beyond that, they're also detailed about their tub's positive impact on your body. 
They offer different accessories that come in handy when attached to the tub to set the tone for both therapies and stress relief.
There's the mood light for Chromatherapy. 
They deploy lights and colors to improve your physical and mental state while you're in the tub. There is also the option of fitting a tile flange on your tub. 
What Can Be Improved With Laurel Mountain Tub?
No doubt, Laurel Mountain put in the effort to create an impeccable line of products with superpowers. 
They sure hit the right spot with their products channeled towards aiding bath therapies and helping clients healthily deal with stress. However, they still have minor flaws that can be overlooked. 
If you'd love to get bathtubs in fancy colors, Laurel Mountain might not be for you. The reason is that their tubs only come in two colors- White and Biscuit color. 
So, if you're trying to create a bathroom with a pink or purple color, you'll be disappointed. Nevertheless, it doesn't hinder the functionality of Laurel Mountain tubs.
Frequently Asked Question (FAQs)
Is Laurel Mountain a good brand?
Yes, Laurel Mountain is a good brand. They are an American brand invested in designing and creating high-quality bathtubs for its target audience. 
Through innovation, they've managed to make their products customizable. Hence, end-users can get minimalist, stylish bathtubs that fit their personality and function.
What product is ideal for cleaning my tub?
Laurel Mountain designed its tubs to be compatible with only non-abrasive cleaning agents. So, if you want to maintain the tub's integrity, it's best to clean it with non-abrasive agents. 
Then, rinse thoroughly. Pure vinegar is an excellent option if you can't get your hands on non-abrasive cleaners. 
What's the best way to get rid of stains on my Laurel Mountain tub?
The best way to get rid of stains on your Laurel Mountain tub is to clean it with pure vinegar. If that doesn't do the trick, 99% alcohol should get rid of it. 
Should I get a tile flange for my tub? 
If you're installing your tub in an alcove setting, you definitely should install a tile flange. With a tile flange installed on your tub, there won't be water dripping between the wall and the tub.
What tool is best for cutting faucet and shower valve holes on my Laurel Mountain tub?
Cutting holes on your Laurel Mountain tub for faucet and shower valves requires a hole saw. You can also use a saber saw. Just ensure that the saw blades are sharp and fine-toothed.
Final Thoughts
Laurel Mountain tubs are primarily functional. They are targeted at giving end-users the best bath therapy to ease stress and aching muscles. 
Their tubs give off minimalist aesthetics, which is another excellent way of relaxing your mind after a typically hectic day at work. 
Hopefully, this Laurel Mountain tub review will move you to consider getting one of their incredible tubs. You'll get a bang for your buck with any of these tubs.