If you're in the market for a new toilet seat, you may be considering KOHLER's popular Rutledge and Cachet models. Both offer high-quality construction, stylish designs, and useful features. But which one is right for your bathroom?
In this comprehensive guide, we'll compare the key pros and cons of the KOHLER Rutledge and Cachet toilet seats to help you decide. We'll look at comfort, ease of cleaning, durability, aesthetics, and more. Read on for the details!
A Brief Comparison Table
| | | |
| --- | --- | --- |
| Feature | Rutledge Toilet Seat | Cachet Toilet Seat |
| Material | Molded polypropylene plastic | Solid oak wood with lacquer finish |
| Style | Softly rounded contemporary | Straight-lined modern |
| Colors | Black, dune, white, biscuit | Black, white, biscuit |
| Finish | Matte | Glossy lacquered |
| Ergonomics | Contoured and sloped for comfort | Standard elongated shape |
| Bidet Option | Not available | Pairs with Novita bidet seats |
| Ease of Cleaning | Easy, seamless plastic resin | Requires more care, wood can stain |
| Durability | Heavy usage rated, more durable | Light usage rated, wood can scratch/dent |
| Price | $99-$130 | $160-$250 |
KOHLER Rutledge Toilet Seat Overview
The KOHLER Rutledge is a round-front toilet seat with an ergonomic design made from durable polypropylene. It's available in four stylish color options – black, dune, white, and biscuit.
Some of the key features of the Rutledge toilet seat include: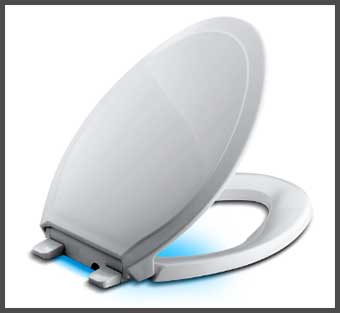 Ergonomic Design: The seat has an ergonomically contoured shape for added comfort. The subtle slope towards the back helps promote proper seating posture.
Quick-Release Function: The hinges allow the seat to be unlatched from the toilet bowl for easy cleaning and sanitizing. No tools are required.
Grip-Tight Bumpers: The seat has rubber bumpers on the bottom to prevent shifting and keep the seat firmly in place.
Quiet-Close Lid: The seat lid has a slow-close mechanism that prevents slamming.
High-Quality Construction: Made from solid polypropylene plastic with stainless steel posts. Designed for heavy usage.
Overall, the Rutledge offers a high-end toilet seat with comfort and convenience in mind. It's a great choice if you want a sturdy, easy-to-clean seat with modern styling.
KOHLER Cachet Toilet Seat Overview
The KOHLER Cachet is also a round-front toilet seat but features more straight-lined contemporary styling. It's constructed from solid wood coated in a glossy lacquer finish and is available in three colors – black, white, and biscuit.
Here are some of the highlighted features of the Cachet toilet seat:
Minimalist Design: The Cachet has a sleek, straight-lined design that pairs well with contemporary bathrooms. The wood construction gives it an elegant, furniture-like look.
Quick-Attach Hardware: Like the Rutledge, the Cachet uses a quick-release mechanism for fast and easy removal for cleaning. No need for tools.
Quiet-Close Lid: The seat lid has an integrated soft-close hinge that prevents slamming.
Durable Wood Construction: The Cachet is made from solid oak wood with a scratch-resistant lacquer coating. It's built to withstand heavy usage.
Matching Bidet Seats: KOHLER offers bidet seats like the Novita that are designed to complement the style and finish of the Cachet toilet seat.
With its straight-lined design and luxe wood construction, the Cachet brings a touch of modern sophistication to any bathroom. It's ideal if you want a toilet seat that makes a stylish statement.
Comfort Comparison
When it comes to comfort, both the Rutledge and Cachet seats deliver. However, there are some differences:
Ergonomic Shape: The Rutledge seat has an ergonomic contoured shape that cradles your body for exceptional comfort. The Cachet has a more standard elongated seat profile.
Molded Design: The Rutledge's polypropylene plastic body is molded for optimal comfort. The Cachet wood seat has a smooth lacquered surface.
Heated Seat Option: KOHLER offers a heated seat bidet lid specially designed for the Cachet toilet seat. No heated option is available for the Rutledge.
Nightlight: The Novita bidet seats made for the Cachet feature an LED nightlight you can turn on to gently illuminate the bowl. The Rutledge doesn't offer this.
Overall for comfort and ergonomics, the Rutledge seat has a slight edge with its contoured shape. But the Cachet offers the optional luxury of a heated seat and nightlight if you add the Novita bidet. It comes down to your personal preferences.
Ease of Cleaning
Both the Rutledge and Cachet toilet seats share convenient quick-release hinges that allow you to unlatch the seat from the toilet bowl for a deep clean. This makes scrubbing and sanitizing much easier compared to fixed toilet seats.
However, there are some differences in cleaning maintenance: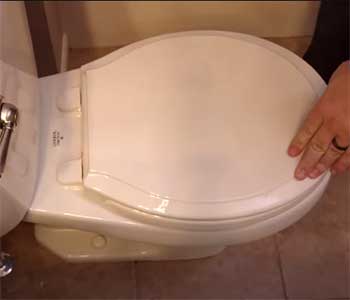 Material: The Rutledge's polypropylene plastic body is easy to wipe down and resists staining, odors, and buildup. The Cachet's wood seat requires a bit more care when cleaning to prevent warping or water damage.
Gloss Finish: The Cachet's shiny lacquered finish shows smudges and water spots more readily compared to the matte Rutledge.
Grooves: The Cachet's straight wood design has slight grooves where the seat attaches to the lid. These can trap gunk and debris over time. The Rutledge's plastic is seamless.
Toilet Bowl Compatibility: Both seats fit most standard two-piece toilets, but you'll want to double check the Cachet wood seat against your bowl shape before purchase.
Overall, the Rutledge's polypropylene body makes it a bit easier to keep clean long-term. But both seats offer hassle-free removal for sanitizing the bowl.
Durability Comparison
How do these two KOHLER toilet seats stack up when it comes to durability? Here's a look:
Materials: The Rutledge seat is made from a solid polypropylene plastic that is highly durable and resists chips, cracks, and wear. The Cachet uses oak wood coated in lacquer that can potentially scratch or dent with rough handling.
Usage Rating: KOHLER rates the Rutledge for residential use up to 10 times per day. The Cachet is only rated for light residential use at 5 times per day.
Load Capacity: Both seats are rated to support up to 1000 lbs, suitable for most users.
Hardware: The Rutledge uses corrosion-resistant stainless steel posts and metal self-tightening nuts. The Cachet relies on plastic washers and nuts that may eventually wear and need replacing.
Warranty: KOHLER provides a 1-year limited warranty on both seats, covering defects in materials and workmanship.
For heavy household use, the Rutledge polypropylene seat is the more durable choice built to withstand repeat usage. The Cachet wood seat requires a bit more care but still holds up well with proper maintenance.
Aesthetic Differences
The aesthetics of your toilet seat play a big role in your bathroom's decorative scheme. Here's how the Rutledge and Cachet compare visually:
Style: The Rutledge has a softly rounded contemporary design. The Cachet is more angular and straight-lined for a sleek modern look.
Material: The Rutledge seat's matte plastic has a subtle stone-like visual texture. The Cachet wood seat is smooth and polished.
Color Options: Rutledge offers black, dune, white, and biscuit. Cachet comes in black, white, and biscuit.
Finishes: Rutledge has a muted matte finish while Cachet has a shiny lacquered gloss finish.
Bidet Integration: The Cachet pairs seamlessly with the Novita line of bidet seats. No integrated bidet option exists for the Rutledge.
Elongated vs. Round: Both are elongated seats. Round bowl options are not available.
Overall, the Rutledge offers an understated, transitional look suitable for a range of bathroom decors. The Cachet makes a bolder, more dramatic style statement with its straight-lined wood design and glossy finish.
Price Comparison
As you would expect given the materials involved, the KOHLER Cachet toilet seat comes at a higher price point than the Rutledge model. Here's a look at typical retail pricing:
Rutledge Toilet Seat

Plastic Elongated: $99-$130

Cachet Toilet Seat

Wood Elongated: $160-$250
The Cachet's wood construction and glossy lacquer finish make it a luxury toilet seat option with about a 50-100% price premium over the Rutledge. However, special sale pricing can sometimes bring the Cachet closer to the Rutledge's regular price range.
You'll also need to budget extra if you want to add the Novita bidet seat to the Cachet toilet. This can tack on $350 or more depending on features. The Rutledge does not offer an integrated bidet option.
Main Differences Summarized
To recap the major differences:
The Rutledge seat features an ergonomic molded plastic design optimized for comfort and everyday durability. It comes in a range of neutral, matte finish color options to suit most bathrooms.
The Cachet seat provides sleek, contemporary styling with its wood construction and glossy lacquered finish. It pairs seamlessly with KOHLER's Novita bidet seats.
Comfort is a close tie, although the Rutledge's contoured shape may have slight edge. The Cachet offers a heated seat if you add the Novita bidet.
For heavy usage, the Rutledge polypropylene plastic requires less maintenance and is more durable long-term.
Cleaning is easier with the Rutledge's seamless, stain-resistant material compared to the Cachet wood seat.
Style comes down to personal preference – the Rutledge offers simple elegance while the Cachet makes a bold fashion statement.
The Cachet wood seat costs 50-100% more than the Rutledge plastic seat in most cases.
Which Should You Choose?
So which of these popular KOHLER toilet seats is right for your bathroom? Here are some final recommendations based on key factors:
For a combination of comfort, durability and value choose the Rutledge toilet seat. Its ergonomic shape, heavy-duty plastic construction, and range of neutral finishes make it a practical yet stylish choice suitable for any bathroom.
If you want a high-end, luxury aesthetic the Cachet toilet seat delivers with its polished wood design and glossy finish. The added option of the Novita bidet seat provides next-level comfort and convenience.
For heavy residential use and maximum durability, go with the Rutledge. Its molded polypropylene plastic stands up better to repeat usage compared to the Cachet wood seat over time.
If you want a seamless match between your toilet seat and bidet, choose the Cachet. It coordinates perfectly with the Novita line of bidet seats from KOHLER.
For straight-lined, contemporary style the Cachet's sleek minimalist look pairs well with modern bathrooms. The Rutledge has a softer, rounded profile.
Budget shoppers will appreciate the Rutledge's relatively affordable price point for a KOHLER-quality toilet seat. The Cachet costs a premium for its wood construction.
Hopefully this detailed comparison gives you a clear sense of which model best fits your needs and bathroom decor. Both the KOHLER Rutledge and Cachet toilet seats are fine choices – the Cachet if you want luxury and style, the Rutledge for comfort, durability and value. Carefully consider your priorities to decide!
Frequently Asked Questions (FAQ)
For more help deciding between the Rutledge and Cachet, here are answers to some frequently asked questions:
What is the tallest toilet KOHLER makes?
The tallest toilet in the KOHLER line-up is the Highline tall height two-piece toilet. This toilet has an overall height of 31-1/2″, making it ADA compliant and ideal for taller individuals or those with mobility challenges.
How to choose a KOHLER toilet seat?
When choosing a KOHLER toilet seat, consider the shape, size, material, color/finish, special features, price, and usage. KOHLER offers elongated and round front seats in plastic, wood, and bidet models. Determine what fits your bathroom decor, comfort needs, and budget.
Will an American Standard toilet seat fit a KOHLER toilet?
In most cases, yes. KOHLER and American Standard elongated toilet seats use industry standard mounting holes and hardware. As long as you match the shape and size, an American Standard seat should fit and function on a KOHLER toilet. Always measure first before purchase.
Will a Bemis toilet seat fit a KOHLER toilet?
Bemis and KOHLER toilet seats are interchangeable in many cases. Like with American Standard, you just need to match the elongated or round shape and size. Make sure to measure the mounting holes to verify compatibility before purchasing.
Summary
This covers some of the key questions around choosing KOHLER toilet seats and models like the Rutledge and Cachet. Carefully consider your bathroom style, needs and budget to decide which seat is right for you.
KOHLER offers two premium toilet seat options with the Rutledge and Cachet models. The Rutledge elongated seat provides durability, comfort, and convenience with its ergonomic molded plastic design and handy quick-release functionality.
For those seeking a touch of luxury, the Cachet elongated seat delivers standout style with its glossy wood construction and integration with Novita bidet seats.
While the Cachet costs significantly more than the Rutledge, keep an eye out for potential sales. Ultimately, the choice comes down to your personal priorities around aesthetics, features, pricing, and how heavily the seat will be used.
Both provide quality, performance and sophistication. Weigh the key differences outlined here as you shop to decide the ideal KOHLER toilet seat for your bathroom needs and decor.