Kohler is a widely known seller of some world-class home products in the United States. But I've seen a lot of people struggling to find the better sink option between their Ladena and Caxton sinks categories.
Both are great, but it is pretty clear that they have their reasonable differences. Caxton is more of a classy sink option where you have less room for a sink installation.
But Ladena is also quite popular these days and is being offered in larger sizes and sink fitting requirements. In addition, Ladena Sinks are a little more expensive than Caxton, with a few bucks difference.
But since they belong to the same brand, they are constructed with the same material. Still, Caxton got EPD-verified sinks in the collection, which is a plus point!
A Brief Comparison Table
| | | |
| --- | --- | --- |
| Features To Point Out | Kohler Ladena Sink | Kohler Caxton Sink |
| Products Availability | Less Variety | More Variety |
| Sink Reputation in the market | More | Less, even if it's a classic sink option from Kohler |
| Pricing | A little expensive | Cheaper sink options |
| Color Availability | These are available in more colors | These are available in fewer colors |
| Size availability | Available in larger sizes of 22 to 26 inches | Available in smaller sizes of less than 22 inches |
| EPD Sustainability | These sinks are not EPD verified | Caxton has a product that is EPD verified |
| Wear & tear and cleaning | Less expected | Less Expected |
| Cleaning | Efficient | Easier and quicker |
Key Between The Kohler Ladena And Caxton Sinks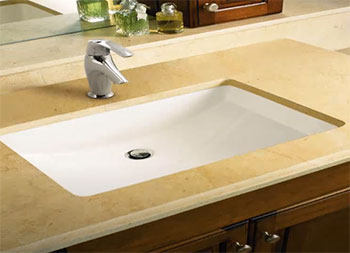 When you browse the Kohler website, you can find Caxton sinks available in more numbers than Ladena.
It means Caxton categories bring more variety to choose from.
You get an easy selection when the variety or options are more for a product.
But if you are limited to a few ones, you will have to decide only from those products.
Ladena is supposed to be a premium sink for most fittings and installations from Kohler. But Caxton is more like providing sink to everyone out there.
Therefore, that's a significant difference between both sink categories available at Kohler.
Sink Reputation In The Market
It is totally correct that Caxton came before the Ladena sinks. People know it as a classic sink at a reputed brand like Kohler.
On the other hand, the Ladena came after that, and these days, it is becoming as popular as the Caxton.
More people have been found discussing their experiences with the Ladena Sinks. They seem happier over the quality, finishing, durability, and installation of Ladena sinks.
Therefore, we'll say that Ladena is more popular than a Caxton Sink in the market now.
Environmental protection declaration states how hygienic or better that product will be if used in your home.
In that case, only one sink from Caxton wins this competition, and no other sink from Ladena or Caxton has this blessing.
That means Caxton has been here for a long while and cleared some tests as well.
Sinks often experience more wear and tear if not used or taken care of properly. Therefore, you must also beware of yours that you've already installed in the kitchen.
These Vitreous China-made sinks from Kohler experience less wear and tear over the long run.
But like any other brand, you must be a little extra careful while using these sinks.
One of the easiest things you can do with Kohler bathroom sinks is their cleaning. They are easily cleanable with the help of a washing liquid or soap.
Besides, you can use any liquid, and it won't affect the skin of the sink. It goes with sinks from Ladena and Caxton, no matter what!
Often, we are too pointy when it comes to deciding on the budget. Even if it's a bathroom or kitchen sink, we want the reliable option at a cheaper budget but will never want to miss the quality.
That's the case when it comes to Sinks from Kohler. However, it can be seen that Ladena is a little more expensive bathroom sink in every shape or size than Caxton.
The average price of Caxton Sinks is lower than the average price of Ladena Sinks. It means when you will buy the Caxton, you will be spending less as compared to the purchase of the Ladena sink.
It's also true that Kohler brings these bathroom sinks in a good collection of colors. But in my research, I've found a single Ladena sink available in more colors than Caxton. But Caxton is never less.
You can also ask the company for a customized sink option or buy the most appealing one that would fit the sealing or flooring of your bathroom.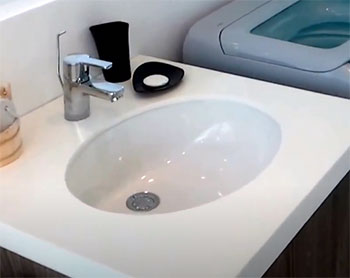 I'll have to say that the major difference between the Caxton and Ladena sinks is their sizes.
Yes, it's true because Ladena sinks range from 22 to 26 inches, requiring more room for fitting and installation.
At the same time, the Caxton Sinks are available only in less than 22 inches, which means they are made for smaller or less room-containing spaces.
That's the reason Ladena sinks are more expensive than Caxton.
So, if you think you need to install a sink and have more space in your bathroom, the family-sized Ladena sink will cover you best.
But if these conditions are customized, you should consider Caxton sinks because they are available in smaller sizes.
Which One Is A Better Bathroom Sink From Kohler?
Choosing a bathroom sink from these categories from Kohler totally depends on you. If you have more space for the sink in the bathroom, your choice would be to consider the Ladena sink.
But ultimately, you will have to spend a little more money on these sinks. On the other side, Caxton is the best-budgeted sink option when you need a smaller sink for a smaller fitting and eventually at a lower price. That's how you make your decision easier.
Wrapping Up
There is nothing bad with either sink option from Kohler Ladena or Caxton sinks because both belong to the same brand. So, you cannot find differences in the quality or material of these sinks.
Yet, one is smaller, and the other is larger and deemed fitting for spaced installation in bathrooms. Hence, you can easily decide which one you need for your bathroom.