Are you looking for a better refinishing kit for your bathtub? 
It is confusing to choose the refinishing kit. You have to look into various tub and tile brands for this. There is always a debate about Homax tough as tile and Rust-oleum tub and tile.
You won't find the difference at a glimpse. That's why you have to know about the comparative features of both. Here you will understand about Homax vs. Rust-oleum tub and tile. 
A Quick Comparison Table
| | | |
| --- | --- | --- |
| Specification  | Homax Tough As Tile  | Rust-oleum Tub Tile   |
| Material  | Acrylic  | Multi  |
| Coverage  | Average  | Good |
| Installation  | Complicated  | Easy  |
| Durability  | Typical  | Strong |
| Weight  | Light  | Heavy |
| Performance  | Decent  | Excellent  |
| Price  | Expensive  | Affordable  |
Differences Between Homax Vs. Rust-oleum Tub And Tile
There are some noticeable differences between these two products. Let's get started with the differences.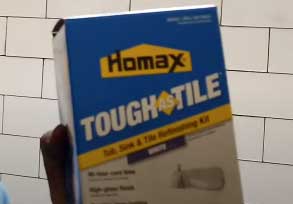 Homax tough as tile has been made of acrylic finishing material. Moreover, Rust-oleum has multi-materials. It includes acrylic and other special finishing. 
Comparatively, the Rust-oleum has better material than the Homax tough as tile. With the multi finishing, Rust-oleum can work on various surfaces. 
But Homax tough as tile can't be compatible with all surfaces. 
Rust-oleum has a smooth texture that makes it better for your toilet tub. On the other hand, some consumers complain about the Homax tough as tile for the materials. 
If you look into the coverage range, Rust-oleum offers good coverage than the Homax tough as tile. According to users, Homax tough as tile provides moderate coverage. 
But Rust-oleum comes up with broad coverage. For longevity, it should cover maximum coverage as well. Homax Tough as tile doesn't cover a decent amount of area. That's disappointing. Isn't it? 
The Rust-oleum can cover around 70 to 110 square feet. In the case of Homax, tough as tile, it can cover a little space. Also, the Rust-oleum tub and tile have a scratch-resistant capacity as well. 
For applying Homax tough as tile, you will need professional help. But Rust-oleum comes up with an easy application process. It won't require more than two coats. 
Homax Tough as tile has a thin coating layer. So, you will need some coating to make it thick. As the Rust-oleum has epoxy, it is easy to apply. Though you have to use it with layers, it is safe. 
While applying Homax tough as tile spray, you will need to take precautions before using it. Also, it can be harmful to your toilet surface.  
The Rust-oleum is more durable than the Homax tough as tile with the thick coating. After applying Rust-oleum, you can relax for long years. It will last with solid quality. 
Moreover, Homax tough as tile won't be long-lasting. Because of the thin coating. You have to reuse it again and again. Thus, it is not possible for everyone.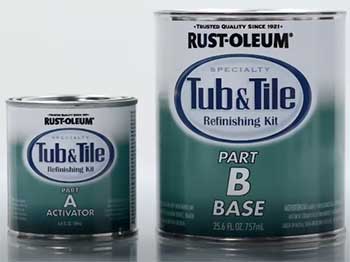 Look into the customer's opinion. You will find the visible differences between Homax tough tile and Rust-oleum tub and tile.
Let me explain. 
Homax tough as tile will give you an average performance over the days. On the other hand, Rust-Oleum will offer the best performance. 
According to the quality, Rust-oleum can help you get rid of poor finishing issues. As you can't spray it correctly, the coating of Homax Tough as tile won't reach everywhere. 
Though Homax Tough as tile comes up with thin liquid and average finishing, it is expensive. Everyone can't afford it for their toilet tub. 
Rust-oleum tub and tile are more affordable than the Homax tough as tile. The price range of Rust-oleum is perfect for all consumers. 
If you can afford Homax tough as tile, then it's your choice. But experts suggest using Rust-oleum for its top-notch quality and features.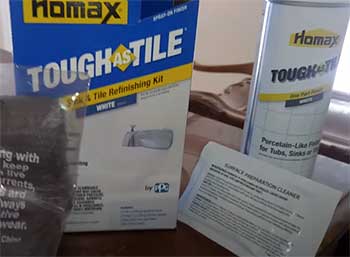 Rust-oleum offers some kit in the package that helps to apply it. Homax tough as tile has fewer kit supplies. Thus, you may need more tools to use it.
You will need stir sticks, foam rollers, sandpaper, and other refinishing kits. These tools will help you to prepare for the application process.  
Furthermore, Rust-oleum tub and tile also provide rubber gloves to apply the coating. Besides, you have to check once before buying it. 
The Homax tough as tile might have some toxic elements. Because of this, it can produce heavy fumes. And it can cause many health diseases. Also, it will give your toilet tub a foul and robust odor. So, it is not eco-friendly at all.  
Nevertheless, the Rust-oleum has some breath-friendly elements on it. It offers a light smell that you will love. You don't have any risk while applying it.
Homax tough as tile provides a spray coating. It will dry faster. But it is not long-lasting. Sometimes you will need more layers for the tub.  
Instead of fast-drying, it won't be a good solution because of its built quality. Alongside, Rust-oleum will take longer to dry. Yet, it is a sustainable solution for your tub.
Which One To Pick Between Homax and Rust-oleum?
Considering all the differences, the best choice for tub and tile will be Rust-oleum. Because it helps the users to maintain the eco-friendly environment of the bathroom tub. 
The coatings enhance the glossiness of a tub. It also makes the tub attractive. Only acrylic finishing won't be enough for durable layers. So Homax tough as tile, can't ensure the proper finishing. It is not affordable. 
Besides, you shouldn't invest your money in a non-durable tub and tile. In every sense, choosing a Rust-oleum tub and tile will be an excellent decision for you.
Frequently Asked Questions (FAQ)
Is it possible to apply Rust-oleum with old sealing? 
No. You have to detach the old sealing. Otherwise, it is not possible to apply the coating properly. It won't work at all.
How can you prepare your surface before applying Rust-oleum? 
First of all, you have to clean your surface. After that, repair all the broken and cracked areas. Then clean up the mildew near it. 
You have to follow the instructions of mixing epoxy and other elements together. Finally, you are ready to apply coatings. 
Is bathtub refinishing toxic? 
If you choose eco-friendly materials, they will be suitable for your bathtub. You will feel a good smell for 4-5 days. 
But a refinishing kit with harsh elements can make it toxic. Also, the pungent odor will irritate you for some time. 
How many days will it take Homax tough as tile for drying?
According to users, it will take approximately 2 days to dry it.
Can you use Homax tough as tile in the kitchen?
No. It is better to avoid using it in the kitchen. Because it may cause eye or skin irritation. Your bathroom and kitchen area require safety. 
Conclusion
After discussing the differences, I hope you have a clear idea about Homax vs. Rust-oleum tub and tile. Now it will be easier for you. Don't forget to prepare the tub surface. 
You have to mix the Rust-oleum tub and tile. Be careful while mixing it. Apart from that, you can use the refurnishing kit on different surfaces of your home. Take care.