Everyone deserves a touch of luxury in their home, and the Eljer Cabrillo™ Whirlpool tub can deliver just that.
A bathtub that combines style, comfort, and technology, the Cabrillo is more than just a place to get clean. It's a place to unwind, relax, and rejuvenate. But is it worth your investment?
Let's delve deeper into what this product has to offer.
A Close Look at the Eljer Cabrillo™ Whirlpool Tub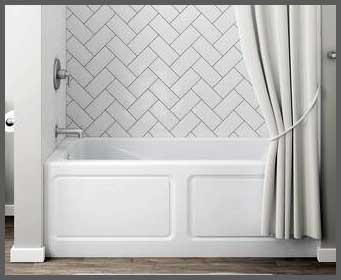 The Cabrillo is one of the popular models from Eljer, a well-established company known for its high-quality bathroom fixtures.
This whirlpool tub lives up to the reputation, presenting an array of features that make it stand out.
One of the key highlights is the hydro-massage system, which boasts six adjustable jets designed to target specific areas of your body.
They're easy to manipulate, ensuring you get a tailored spa-like experience every time you step in.
Moreover, the design doesn't overlook the aesthetics. The Cabrillo model comes with a sleek, modern look that can easily blend into various bathroom decor styles.
Its high-gloss acrylic finish not only enhances the visual appeal but also aids in durability and easy cleaning.
Pros of the Eljer Cabrillo™ Whirlpool Tub
There's a lot to love about the Eljer Cabrillo™ Whirlpool tub. Here are a few key pros:
Superior Hydro-massage Experience
The six adjustable jets are strategically placed to deliver a therapeutic massage experience. They help soothe aching muscles and promote relaxation.
The tub's modern, sleek design adds a contemporary touch to any bathroom. Its high-gloss finish exudes elegance while ensuring longevity.
Eljer uses high-quality acrylic for the tub's construction. This material is known for its durability and resistance to chipping and scratching, promising long-lasting performance.
The Cabrillo's high-gloss finish not only looks good but also makes cleaning a breeze. Plus, the quick drain system prevents water from stagnating, ensuring a hygienic environment.
Cons of the Eljer Cabrillo™ Whirlpool Tub
While the Cabrillo Whirlpool tub has numerous benefits, it's essential to consider the downsides.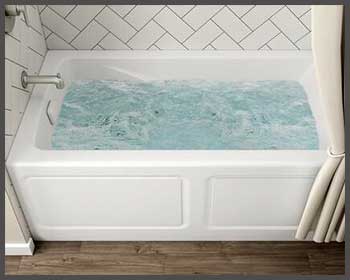 Quality comes at a cost, and the Cabrillo is no exception. The price might be a deterrent for those on a tight budget.
Requires Professional Installation
Due to the complex electrical and plumbing needs, professional installation is recommended, which is an additional cost to consider.
Although the tub's design is versatile, there are limited color options, which could be restrictive for those seeking a specific aesthetic.
The Competition: Comparing the Eljer Cabrillo™ Whirlpool Tub with Other Brands
To give a complete review of the Eljer Cabrillo™ Whirlpool tub, it's important to acknowledge its competitors in the market. Let's look at some similar products from renowned brands and see how they stack up.
Kohler Archer Whirlpool Tub
Kohler is another trusted name in bathroom fixtures. The Archer Whirlpool Tub offers an elegant design and hydromassage functionality.
However, compared to the Eljer Cabrillo, the Archer features fewer jets – only four. This difference can slightly affect the overall massage experience.
In terms of aesthetics, both models sport a modern, sleek design that complements various decors.
American Standard Evolution Whirlpool Tub
American Standard's Evolution tub is another worthy competitor. It features an EverClean surface that inhibits the growth of mold, mildew, and more, which might appeal to those who prioritize hygiene.
However, the Evolution tub also features fewer jets than the Cabrillo. Both models provide a similar luxurious and sleek design, but the Cabrillo's unique jet configuration provides a more targeted and customizable massage.
Jacuzzi J2D6032 WLR 1XX Whirlpool Tub
The Jacuzzi J2D6032 model offers a blend of luxury and technology with its six adjustable jets – same as the Cabrillo. Jacuzzi, being a prominent brand in the spa and whirlpool market, has a strong reputation for quality.
However, the price tag can be significantly higher than the Cabrillo. It comes down to whether the brand name justifies the added cost for potential buyers.
While these competitors offer robust features and quality build, the Eljer Cabrillo™ Whirlpool tub holds its own. Its blend of a modern design, adjustable jet system, and a more moderate price point than the likes of Jacuzzi, positions it as a compelling choice in the whirlpool tub market.
Frequently Asked Questions (FAQ)
How long does a Whirlpool tub last?
With proper care and maintenance, a quality whirlpool tub like the Eljer Cabrillo™ can last up to 20-30 years.
What's the difference between Jacuzzi and a whirlpool tub?
'Jacuzzi' is a brand name often used generically for any bath with jets. A whirlpool tub, like the Eljer Cabrillo™, also features jets but doesn't necessarily have to be a Jacuzzi.
How do you clean an Eljer jetted tub?
Cleaning an Eljer jetted tub is simple. Fill the tub with warm water until the jets are submerged, add a mild detergent or tub cleaner, run the jets for about 15 minutes, then drain and rinse.
Is a whirlpool bath worth it?
A whirlpool bath can be a valuable addition to your bathroom if you value therapeutic benefits like muscle relaxation and stress relief. The Eljer Cabrillo™ Whirlpool tub, with its superior hydro-massage features, offers an exceptional at-home spa experience.
Final Thoughts
In conclusion, the Eljer Cabrillo™ Whirlpool tub ticks many boxes in terms of style, durability, and luxury features.
It may require a significant initial investment, but the myriad of benefits it offers makes it a worthwhile consideration for those seeking a relaxing, spa-like bathroom experience.