If you have a basement that is prone to flooding, a sump pump is an essential appliance to keep water from ruining your floors and belongings. Zoeller and Ridgid are two of the most popular sump pump brands on the market. But which one is right for your home?
In this comprehensive guide, we'll compare Ridgid and Zoeller sump pumps side-by-side, looking at performance, features, noise level, durability, warranties, and cost. We'll also provide pros and cons for each brand and model.
Read on to find the best sump pump for your basement flooding woes!
A Brief Comparison Table
| | | |
| --- | --- | --- |
| Feature | Ridgid | Zoeller |
| Construction | Thermoplastic or cast iron | Cast iron, steel or plastic |
| Horsepower | 1/3 HP to 3/4 HP | 1/3 HP to 1 HP |
| Capacity | Up to 74 GPM | Up to 63 GPM |
| Lift Height | Up to 25 feet | Up to 25 feet |
| Noise Level | Louder, 50-60 dBA | Quieter, 40-50 dBA |
| Warranty | 2 years | 7-10 years |
| Price | $150 – $300 | $300 – $600 |
| Availability | Home Depot | Specialty plumbing stores |
| Debris Handling | Good | Better with vortex impeller |
| Efficiency | 70-75% | Up to 85% |
Overview of Ridgid and Zoeller Sump Pumps
Ridgid and Zoeller dominate the sump pump market, and for good reason – both brands manufacture high-quality pumps built to last. Here's a quick overview before we dive into the details:
Ridgid Sump Pumps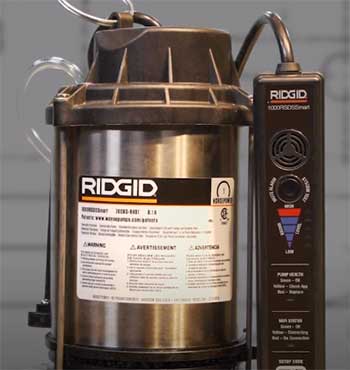 Owned by Emerson, a large appliance manufacturer
Offer cast iron and thermoplastic pumps
Known for power and durability
Tend to be noisier but move more water
Limited warranty
Zoeller Sump Pumps
Specialize in sump pumps and wastewater removal
Offer cast iron, steel, and plastic models
Known for quiet operation and reliability
Move less water but operate smoothly
Industry-leading 7-10 year warranties
Differences Between Zoeller And Ridgid Sump Pumps
Now let's get into the nitty gritty details on how these two pump brands compare.
Let's start by looking at the most important factor – how well Ridgid and Zoeller pumps perform in terms of removing water from your basement.
Ridgid sump pumps tend to have higher pumping capacities than comparable Zoeller models. For example, the Ridgid HP1251 has a capacity of 74 gallons per minute (GPM) while the Zoeller M53 has a max capacity of 45 GPM.
So if you have lots of water flooding into your basement, a higher-capacity Ridgid pump may be better equipped to keep up. However, Zoeller pumps may be sufficient for most homes.
Lift capability refers to how high the pump can push water vertically through the discharge pipe. Both Ridgid and Zoeller make pumps that can lift 15-25 feet.
For most applications, either pump brand will have adequate lift power. Deep basements and homes with overhead sewers may require the maximum lift capacity.
Pumps that can handle debris without clogging will save you headaches. Ridgid and Zoeller pumps both use screens and filters to keep out debris.
However, some Zoeller models use Vortex impellers that are better at handling small debris versus traditional impellers. So Zoeller may have an edge for debris-laden water.
Look for energy efficient pumps to save on electricity. Top Zoeller pumps like the M98 are over 85% efficient compared to 70-75% for typical sump pumps. Ridgid also makes energy efficient models like the PHCC1500 with 87% efficiency.
One of the biggest differences between Ridgid and Zoeller sump pumps is noise output.
Ridgid sump pumps tend to be noticeably louder, especially at peak operation. The powerful motors and high pump rates create a loud hum. Noise levels can exceed 50-60 decibels for some Ridgid models.
Meanwhile, Zoeller focuses more on quiet operation. Their pumps use sound-dampening technologies and rubber feet to reduce noise. Peak noise is usually in the 40-50 decibel range.
So if a very quiet sump pump is important for your basement, Zoeller is probably the better choice. Ridgid pumps move more water, but the tradeoff is higher noise.
Build Quality and Durability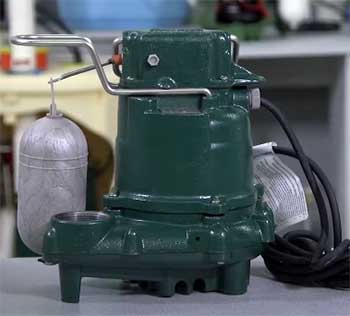 Both Ridgid and Zoeller use heavy-duty materials like cast iron and stainless steel to produce durable, long-lasting sump pumps.
Ridgid uses thermoplastic and cast iron for their pump bodies.
Thermoplastic models are cheaper but more prone to cracks over time. Cast iron bodies are virtually indestructible.
Zoeller pumps are famous for their thick cast iron construction.
Even their plastic-bodied pumps use stainless steel hardware for maximum longevity.
When it comes to longevity, Zoeller's superior warranties reflect their confidence in a long service life. More on that next.
The warranty coverage indicates how long each brand expects their pumps to last.
Ridgid sump pumps come with a modest 2-year warranty. Only major defects are covered, not normal wear and tear.
Zoeller offers outstanding 7-10 year warranties on their cast iron pumps. This shows the long lifespan expected for their products. Even Zoeller's plastic pumps have 5-7 year warranties.
Clearly, if you want the greatest assurance of a long-lasting sump pump, Zoeller's industry-leading warranties instill confidence. This durability does come at a higher upfront cost, however.
When it comes to purchase price, Ridgid sump pumps are generally more affordable than comparable Zoeller models. Here are some example prices:
Ridgid HP1251 cast iron pump: $250
Zoeller M53 cast iron pump: $450
Ridgid PHCC1500 plastic pump: $150
Zoeller M98 plastic pump: $340
So Ridgid offers a pretty substantial cost savings. Keep in mind the warranty differences too.
Availability favors Ridgid as well. Being a mass retailer, Home Depot stores widely stock Ridgid pumps. Zoeller pumps are harder to find at local hardware stores and usually need to be ordered online.
Popular Ridgid Sump Pump Models
Now let's take a look at some of Ridgid's top-selling sump pumps and their notable features:
Ridgid HP1251
Powerful 3/4 HP cast iron pump
Max capacity of 74 GPM
Lift height up to 25 feet
Dual ball bearings for smooth operation
Designed for heavy-duty water removal
Ridgid PHCC1500
Thermoplastic construction
1/2 HP motor
Max 55 GPM pumping capacity
Corrosion resistant design
Affordable price under $150
Ridgid PH4100
High-efficiency 1/2 HP cast iron pump
87% energy efficient motor
Quieter 45 dBA operation
Max head height of 21 feet
Popular Zoeller Sump Pump Models
Here are some of Zoeller's most popular sump pumps and their notable features:
Zoeller M53
Cast iron construction
1/2 HP motor
7 year warranty
Quiet 45 dBA operation
Vortex impeller handles debris well
Zoeller M98
Plastic body with stainless steel hardware
Energy efficient 1/2 HP motor
10 year warranty
Up to 85% efficient operation
Whisper-quiet at 44 dBA
Zoeller M267
Industrial grade cast iron pump
Powerful 3/4 HP motor
Very high 81 GPM capacity
Handles 1/2″ solids
7 year warranty
As you can see, key traits of Zoeller pumps include quiet operation, efficiency, and robust warranties.
Zoeller And Ridgid Sump Pumps: Pros and Cons
Here's a quick recap of the key pros and cons for Ridgid and Zoeller sump pumps:
Ridgid Sump Pumps
Pros:
Strong water removal capacity
Affordable price point
Readily available at Home Depot
Cons:
Noisier operation
Shorter warranty period
Zoeller Sump Pumps
Pros:
Quieter and more efficient
Handle debris well
Long 7-10 year warranties
Cons:
More expensive upfront cost
Lower peak pump capacities
Harder to find locally
To summarize, Ridgid is ideal if you need maximum pumping power on a budget, while Zoeller is better for quiet, efficient operation and longevity.
Frequently Asked Questions (FAQ)
Here are answers to some common questions homeowners have about Ridgid and Zoeller sump pumps:
Is Ridgid a good brand of sump pump?
Yes, Ridgid makes reliable, heavy-duty sump pumps known for high water removal capacity. Their pumps may be noisier and have shorter warranties than Zoeller but they can move more water for less money.
Is Zoeller the best sump pump?
Zoeller is considered one of the very best sump pump brands. Their pumps last longer, operate more smoothly and quietly, and come with outstanding 7-10 year warranties. You pay more upfront but get a finely-engineered pump.
Who manufactures Ridgid sump pumps?
While Ridgid branded pumps are sold at Home Depot, they are actually manufactured by parent company Emerson. Emerson is a large appliance maker that also owns brands like U.S. Motors and Sta-Rite.
What is the best sump pump out there?
For raw power and affordability, the Ridgid HP1251 is hard to beat. But Zoeller pumps like the M53 and M98 offer quieter, more efficient operation and better warranties. It depends on your needs and budget.
The Bottom Line
When comparing Ridgid and Zoeller sump pumps, the choice often comes down to price vs quality.
If you want maximum water removal capacity and lower cost, Ridgid is the way to go. These hard-working pumps move a lot of water quickly to prevent flooding.
For those wanting the highest quality pump built to last over a decade, Zoeller is likely the better investment. What you pay upfront will be saved over years of reliable, efficient operation.
Hopefully this detailed comparison of Ridgid and Zoeller sump pump models helps you select the right brand and pump for your specific needs. Both companies make excellent products – you can't go wrong with either for protecting your basement.