Your bathroom is so dusty simply because your home is dusty as a whole. You can't keep your bathroom dust-free unless your home is dust-free. There could be several reasons behind this.
Some people think the extractor fan or the bathroom fan is responsible to have dust in their bathroom. It is somewhat true if the fan is not functioning properly. A faulty exhaust fan can't extract dusty air from your bathroom efficiently, so dust will build up in your bathroom.
First, we will try to find out possible reasons and then I will talk about what to do about it.
Possible Reasons Of Dusty Bathroom
Dust is made of particles from your very skin, towels, soils, blankets and so on. It is everywhere and since it is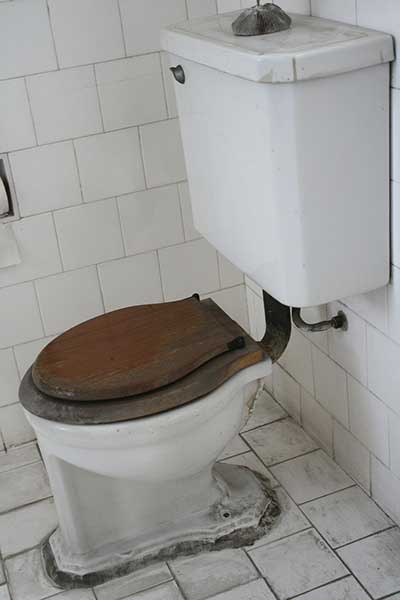 airborne, it is available everywhere in your home – the bathroom is just another place.
So, instead of wondering why is your bathroom so dusty, pay attention to why your home is so dusty.
Carpet Cleaning:

If you vacuum clean your carpets regularly, then you already know how much dust they can store, right?

When you vacuum clean your carpets – it can actually release dust & allergens. It may sound surprising, but it is true unless your vacuum cleaner has HEPA rated filter.
Leaked Air Ducts:

Unless your ductwork is perfect for the forced air system, there will be gaps or holes around the fittings. Sometimes, the joints may be unsealed. That way air can flow through such holes and gaps. That way the dusty air can blow to your conditioned spaces using the ductwork.

In addition to leaky air ducts, your air ducts may become full of dust over the period of time. Which in turn may be responsible for the dust to be escaped and circulated throughout your home.

Unless the air filter has a higher MERV rating (more than 5 to 8 is desirable), your air filter is thin and cheap. A thin fiberglass filter can't catch tiny particles like dust. In fact, it makes the situation a little bit worse. How? Eventually, the coil of your AC evaporator will get dirty. As a result, all the dust will recirculate throughout the home and of course, they will enter into your bathroom too.
Measures To Getting Rid Of Dust
If you do nothing against dust, not just the bathroom, every room will fill with dust. But if you follow the following tips, you can keep it at the minimum level which will be almost unnoticeable. Follow these tips:
Use high-quality air purifiers and clean them regularly. Air purifiers work like a charm to fight against dusty air. But they will stop doing such magical work if you don't keep them clean!

As I have discussed, vacuuming can make the situation worse. After vacuuming, you should use water to clean the rest of the dust as well. Old school cleaning method, but will do the job perfectly.

Clean your beds, rugs, and sofas with microfibers. After vacuuming, microfibers dusting will take care of the rest of the dust. You can use nylon or ostrich-feather duster as well for a quick result.

Keep clean your HVAC filters. Make sure the air ducts are clean as well. Replace or repair them if they are leaked or punctured. Perform a pressure test run by a professional to check whether your ducts need sealing or not.
You can take some preventive measures so that dust can't accumulate in the first place. Following these tips will help you to do so:
Avoid clutter in your bathroom. Your bathroom has limited space having filled with

toilet

, bathtub, and other stuff. Clutter in the bathroom with bottles, hair tools, makeup is a great place for the dust to accumulate.

Dust enters into your home along with your shoes. Take off your shoes when you enter your home to keep the dust outside.

Keep your and all of your family members' unused clothes sealed in box. Make sure to keep your closets clean as well.

Believe it or not, keeping your pets groomed will help to prevent dust.
Last Words
Even if you keep your home always clean, there is no guarantee that your home will be free of dust if the location of your home is full of dust. A dusty location will make it really hard to keep your bathroom and other rooms of your home clean.
Take professional help if nothing of the above solutions work for you. Let the professional do some tests and act accordingly.