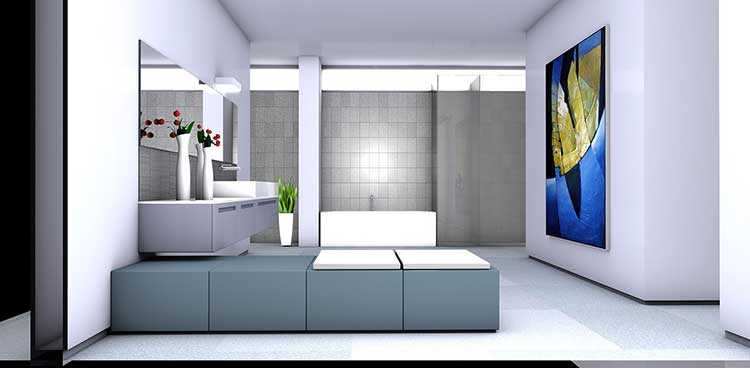 A bathroom is a room in the home designed for taking shower or a bath. Therefore, there is a need to have it decorated.
Generally, there are no set rules on what type of paint to use in the bathroom. Some color choices can steer homeowners on what type of paint to use in the bathroom.
About the painting, you need to take account into the color of your bathroom vanity and other gadgets as well so have a coordinated look. If you don't have one, you consider having a modern bathroom vanity.
The best paint finish for the bathroom should be mildew and mold resistance. This is because bathrooms are splash prone and keep moisture for a longer time.
The bathroom is prone to mildew and mold, especially where there is poor ventilation. To avoid such health hazards, you should choose paint having anti-microbial substances.
Quite a number of options about this paint is available in the market. A good example of these paints is Bath and matte finish. Once painted on the wall, they kill any mold and prevent any new mold to grow. Make sure to use moisture resistance to avoid peeling.
Peeling normally occurs due to moisture seeping in between the surface and paint. The most common area to find this is in the unventilated shower. The steam normally rises then trapped. To avoid peeling, make sure to use moisture-resistant to the walls or the ceiling.
The color of your wall can affect the mirror reflection. Grays, whites, and creams are widely used as bathroom colors. They are calming and good to the eyes. These shades do not reflect in a manner to alter images in the mirror.
Alternatively, homeowners can as well coat the walls of the bathroom with a high-gloss or semi-gloss finish like a matching bathtub. These glossy paints do not keep away molds, but they are easy in cleaning.
If mold appears in the bathroom, removing it will not be difficult. A homeowner who does not prefer glossy paints can go for satin.
You should clean bathroom walls nicely and remove any mildew before using mold-resistant paint. Use the painting tape for blocking the corners, floorboards, and doorways.
When painting the bathroom, start from the corners towards across walls. It is good to have the paint properly dried, before having a hot shower. Consider having good ventilation if you need long-lasting and durable paint.
Painting Bathroom
Generally, the bathroom is small in space and that should be a very easy project. Select all the painting clothes that you will need. Consider having clothes you will not worry about having paint on them. It is very important to select a semi-gloss finish to apply on bathroom walls.
Consider the color of other bathroom gadgets like flushing toilets, faucets, bathtub,s etc. Consider having the same color round or elongated toilet seat with your toilet.
Remove all the old paint. Make sure you have something to cover your eyes. This helps to avoid some chips getting in the eye. You may clear the room and put aside what you do not need. Be very careful with electrical.
Painting Small Bathroom
When painting small bathrooms, use light colors. The ideal way of making a small bathroom look big is by applying light colors. It is not necessary for the entire room to have the same color.
Nevertheless, if you want the small bathroom to appear big, have all colors in the same tone.
You can blend the color of the tile with that of the wall. This makes the room to be like a continuous space. This blending of the wall and the shower tile makes it a very large room. Paint the walls and ceiling same colors.
Short ceilings are major problems for the small bathrooms. When you choose to use dull colors on your ceiling, it will be lower. Avoid using white colors, unless you have the same color on your wall. Make sure to have some vertical stripes in your paintings.
What type of paint to use in the bathroom, is a big determine factor. During painting use, some light colors. These colors should also help in enhancing the mood.
The wall paint can make your small bathroom appear to be bigger. Take into account even small stuff like a toddler step stool for the bathroom to have a coordinated look.
Let space and money not deter you from having appearance bigger bathroom. From the above, you can comfortably make your dream bathroom. It is just a matter of choosing the best color that will suit you. You can also consult available paint experts within your reach.
What type of paint to use in the bathroom matters a lot. It also gives the impression of someone. Choose wisely the colors to use for your bathroom.
One final note. You can paint your bathroom as much as you want. But to keep the stunning look going on, you need to keep cleaning all the bathroom items regularly. Don't forget to use the best toilet cleaner for hard water to avoid frustration cleaning your toilet bowl.