Vevor shower overlay kit has an EPS high-pressure foam board membrane, but the Schluter Kerdi shower kit has a high-quality PVC/CPE membrane. There are many more differences between these waterproofing systems.
In this article, I'll show you a detailed comparison between two very high-quality waterproofing membranes. So, let's begin.
A Quick Comparison Table
Here is a quick comparison table between Vevor and Schluter waterproofing systems for the shower:
| | | |
| --- | --- | --- |
| Aspects | Vevor Waterproofing System | Schluter Waterproofing System |
| Product Type | Premium EPS High-Pressure Foam Board Shower Curb Overlay | A High-Quality CPE Bathroom Waterproofing Solution |
| Kit Items | 9 Items | 7 Items |
| Key Features | Superior Features | Superior Features |
| Benefits | Offers More Benefits | Offers Fewer Benefits |
| Installation | Easier Installation | Easy Installation |
| Price | Less expensive. | More expensive. |
In-Depth Comparisons Between Vevor And Schluter Waterproofing System
Now, we'll look into more details about both products. All the information I'll show here came from authentic customer reviews and professional opinions.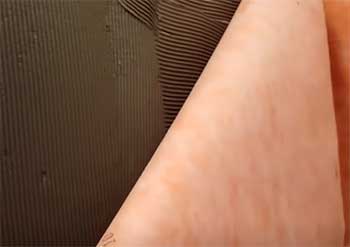 Vevor and Schluter are designed for waterproofing bathroom floors, but I've found them a bit different from each other.
Vevor is a premium quality shower curb overlay.
Vevor has used EPS high-pressure foam boards to make this shower tray.
Because of the high-quality material, it is robust, long-lasting, and offers superior performance.
Besides, a grey impermeable membrane and a fluffy membrane on the surface make the shower extremely strong.
On the contrary, Schluter Kerdi Shower Kit is also a high-quality bathroom waterproofing solution with a solid and durable membrane. This robust membrane is made of higher-grade PVC/CPE membrane sheets.
In fact, Schluter is different than Hot Mop in this regard as well. Because of its watertight feature and thin construction, you will get excellent waterproofing results from this product.
Both Vevor and Schluter shower kits come with many necessary items that are needed for installing them. They have many similar items since they are designed to work in the same way.
However, you will get one shower tray, two shower curbs, one PVC Flange, one Flange Collar, one drainage assistant, one stainless steel grate, one square-toothed stainless steel trowel, and four inside and two outside corners with a Vevor shower kit.
On the contrary, the Schluter kit has one Kerdi shower stray, two shower curbs, one roll of Kerdi waterproofing membrane, one roll of waterproofing strip, one ABS flange, four inside and two outside waterproofing corners, and one Kerdi seal. Schluter separately sells the drain grate.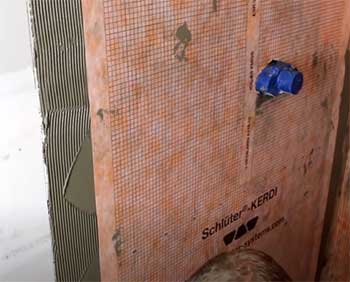 Vevor offers a premium quality shower tray for waterproofing your bathroom.
You will get the necessary drainage accessories with this set.
Its two rolls of HDPE material make water utterly impervious to your bathroom floor.
The large roll is 3.3×32.8 feet, and the smaller one is 5inch x 32.5 feet.  
Schluter Kerdi, at the same time, offers many excellent features. It bonds over excellently with thin-set mortars.
You can install it on your floor as well as on your walls. In my experience, you need only one layer of Schluter membrane to waterproof your bathroom floor effectively.
You will get excellent benefits from Vevor and Schluter. Both membranes feature new technologies that come ready to use.
Vevor has a 4 inches drain hole that lets water go down quickly and fast. You will get a gravity automatic drain grate with the Vevor shower kit.
Plus, it also has a squared-teethed trowel specially designed for working with this membrane.
Conversely, the Schluter Kerdi kit comes with a Kerdi gum that helps you attach the membrane to your surface. They come in ready sizes for different parts of your bathroom.
On top of that, no preparation is needed for installing any of the two waterproofing systems for your bathroom.
Easy installation is one of the reasons why people are moving towards waterproofing membranes instead of traditional hot mopping. Being high-quality membranes, both Vevor and Schluter is pretty easy to install.
Vevor offers all the necessary items and an installation manual with the kit you will need to install it in your bathroom. With this installation manual and the tools, you can quickly set the Vevor waterproofing system in your shower.
On the contrary, Schluter membrane comes in different sizes for different areas of your bathroom. Plus, all the necessary tools make them easier to install.
But with a stainless steel drain grate and a trowel, Vevor is comparatively easier to install than Schluter. You can watch this video for a better understanding.
A Vevor Shower Curb Kit costs around $315. On the contrary, you will have to spend around $355 for a Schluter Kerdi Shower System. Although the price varies in size, Schluter is more expensive than Vevor.
Which Shower Waterproofing System Is Best For You?
Schluter Kerdi is a popular name for its waterproofing membrane. But according to the above discussion and my own experience with these products, Vevor Shower Curb Kit is the better option between the two.
I've talked to many contractors, and they suggest that it's normal to use both shower systems together. So, you can install a Schluter membrane over the Vevor membrane for an optimum waterproofing result.
Frequently Asked Question (FAQ)
Is the Schluter system worth it?
Schluter is a pretty good option for waterproofing a shower. With its robust CPE membrane sheet, you can efficiently make your shower surface waterproof and protect your wooden floor from water.
What is better Schluter or wedi?
Schluter is better than Wedi in terms of performance and quality. Because of the flexibility, you can easily cut the Schluter membrane, which is not the case with Wedi.
What can I use instead of Kerdi board?
There are many alternatives to Kerdi Board. You can use Schluter membrane, Vevor membrane, and various other options instead of Kerdi Board.
Is Schluter Kerdi waterproof?
Schluter Kerdi membrane is waterproof. It has been designed to prevent water from penetrating your floor. That's why they are waterproof.
Final Thoughts
Vevor and Schluter is a new technology for waterproofing shower floors and walls. I'm sure you are also not a fan of traditional wet-mop solutions like me.
In that case, you must choose a suitable membrane.
Now that you have read my Vevor vs. Schluter reviews, it's clear that Vevor is the best choice among these two. So, I suggest you use it in your shower.