Oh…Kimberly-Clark has really lost lots of lifetime customers! Pissed off their customers with their razor-thin and intolerably abrasive papers. 
So, what the hell happened to Scott®'s toilet paper?
Well, they changed their toilet paper a few years back and it's not good! Lots of complaints with Scott's toilet paper. It's no longer anything it used to be. It used to be their beloved toilet paper. But it's not for many!
This is NOT a review of their toilet papers. I will just inform you what users are complaining about them. Here we go!
Complaints Against Scott's Toilet Paper By Kimberly-Clark

Here are some of those issues people are talking about:
They have made it so thin that you can see through it. There are lots of videos and images where customers prove that they can see through Scott thin toilet paper.
That's what happened when you make one-ply toilet paper. People are really pissed-off about this ridiculous change!
There are some people who prefer 'less-fluffy' toilet paper. But even to them, Kimberly-Clark has really crossed a line making it intolerably thinner.
It takes 3 to 4 times more toilet paper compared to other brands. You won't feel comfortable even with 3 folds!
I understand they have made this change to shoot up their profit but that's also how brands lose loyal customers. And not everyone is amazed at their 'fast-dissolving' crappy feature!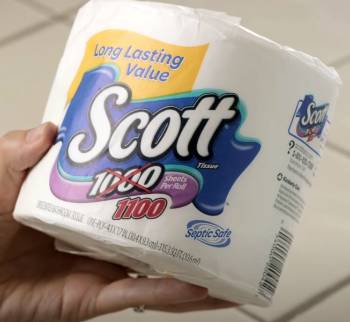 I understand sensitivity is different for people but according to lots of users, they have made it intolerably abrasive by putting large 'texture' on them!
It's not perforated perfectly for sure.
That's worse than what you see in the rest stops of the highway! It feels like sandpaper!
Many loyal customers have switched to other brands due to this stupid change.
According to many customers, it's simply garbage now. I have no idea but people are calling it worse than toilet papers in prison!
Does Not Dissolve Quickly As Claimed
The original Scott's toilet paper never used to float on the toilet bowl water. But due to their recent change, it keeps floating on water when I flush the toilet!
Meaning, you can't flush your toilet until the paper is fully absorbed and it takes a while to fully absorb! People are begging to bring back the original one.
Yes, the latest version of their toilet paper leaves lint as well. I can remember cleaning my glass with their TP because it did not use to leave any lint. 
But now, they have really messed it up! Nobody likes it when it leaves lint on their butts! Also, you can't tear the paper at the perforation easily. It shreds instead!
That's what happens when some stupid come up with the idea to make their toilet papers drastically thinner. 
Females and some people carry toilet paper with them. Scott's used to be their go-to choice. But since it's thinner, it tears into pieces easily. 
So, it's impossible to carry them. Besides, it makes your bathroom dirty quickly as well leaving all those tiny pieces on the floor. 
And yes, it crumbles up too!
You Will End Up Spending More!
Just a few years ago, a single roll of Scotts used to last for a week. Now, it will last for maximum 3 days. So, you will end up buying more of this crap!
They got really greedy… People are actually smart enough to figure out their strategy. 
But hey Kimberly-Clark…
It's a stupid idea if you lose your loyal customers!

Frequently Asked Questions (FAQ)
What is going on with Scott toilet paper?
They kept changing the toilet papers over the years. But they have taken it so far recently where they made the toilet paper thinner, abrasive, the roll is too much narrower too.
Is Scott's toilet paper made in China?
No. The vast majority of their production is in the U.S. Only a few portions is manufactured in Canada and Mexico.
Why do people like Scott Toilet paper?
Their 1,000 Sheets Per Roll Toilet Paper is most popular among people who don't like lint and is environmentally conscious. It's soft and has a quick-to-dissolve design. 
Is Scott toilet tissue bleached?
The pulp they use is not bleached but to whiten the toilet paper, they follow a chlorine-free bleaching step. That's a normal practice for any toilet brand.
Is Scott 1000 toilet paper soft?
It's not soft like cotton but it's not uncomfortable either. 
Closing Remarks
Scott has lost hundreds of thousands of its lifetime users already. And they are perfectly aware of those complaints against their toilet paper.
I just hope they address those concerns soon bring back the old good toilet papers. They are releasing several versions of their toilet papers. You can buy their 2-ply toilet paper too.
You have a bad experience with their toilet papers too, let me know in the comment box. I will include them in this article too!